Binge Or Cringe: Sacred Games 2 Review – It's Bigger, Braver And Yes, Better.
It's been just a few hours since Netflix India's magnum opus, Sacred Games Season 2 hit screens worldwide. The internet is ablaze already and for good reason. Here's our spoiler-free review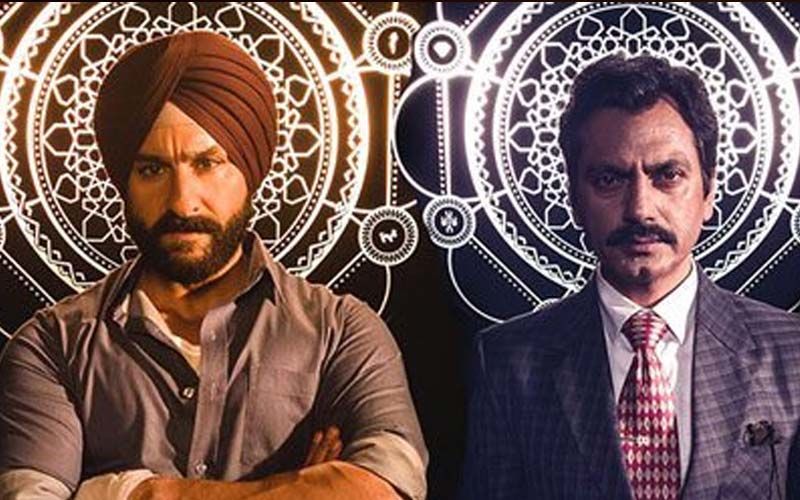 We have waited so long to hear that spine-chilling soundtrack once again. And once the title credits started rolling a few minutes after midnight yesterday, it was clear. We were up for something truly spectacular. As India collectively binged through a show all night, we woke up to our 73rd Independence Day and a great day for Indian television.
Season 2 of Sacred Games takes no time to set up. We see Ganesh Gaitonde (Nawazuddin Siddiqui) wake up on a boat, and you almost expect to see the Mumbai skyline as backdrop. You can't take the Mumbai out of Gaitonde who is trying to swim back to his home. Turns out, it would take him a few hundred years to do so. He is in African waters and once the ruler of Gopalmath would now take over Mombasa with the help of RAW agent, Kusum Devi Yadav, played by the brilliant Amruta Subhash, who we saw as Ranveer's mother in Gully Boy.
Sartaj (Saif Ali Khan) meanwhile is investigating Trivedi's death and the impending threat on the city which leads him to a terrorist organization called Hizbuddin and a man named Shahid Khan (Ranvir Shorey). They are also investigating Guruji (Pankaj Tripathi) and his devout follower Batya Abelman (Kalki Koechlin). The timelines switch beautifully as Gaitonde discovers Guruji in the past and Sartaj investigates him in the present.
There are scenes which are charged with contemporary Indian political references and this is what makes Sacred Games so bold, so fearless. Gaitonde's business flourishes and takes us to some of the most exotic locations around the world. It is safe to say that the makers didn't scrimp when it comes to production value.
As expected by the ensemble of some of the best actors in the country, the performances are brilliant. Apart from Sartaj and Gaitonde, Pankaj Tripathi, Kalki and Amruta Subhash stand out in particular. Ranvir Shorey is underwhelming. The dialogues are crackling and some interactions, especially between Gaitonde and Bunty manage to make you sit up and clap. Gaitonde and Jojo's (Surveen Chawla) is nuanced and beautifully portrayed.
We loved the thrill and rush of Season 1, and Season 2 has more of that and also delves deep into each character. We understand the method behind the madness and this incredible feat deserves applause. Directors Anurag Kashyap, Neeraj Ghaywan and show runner Vikramaditya Motwane along with the writers have managed to craft a thriller with a soul. The cinematography is stellar too, with stand-out moments like a chase sequence where the camera follows the characters up a four storey building.
Sacred Games 2 is a one-sitting watch. The series demands it. It is safe to assume that there will be more to the story than just this, a possible third season? Netflix has given us world-class shows like Narcos and Money Heist and Sacred Games is right up there, in the big leagues. Indian content has finally arrived.
Our verdict: Extremely binge-worthy.


Image Source: Instagram/netflix_in, Youtube/netflix