Sardar Ka Grandson Review: Neena Gupta's Quirky Performance Elevates This Light-Hearted Film
Here is our review of Netflix's, romantic drama, titled Sardar Ka Grandson, starring Arjun Kapoor, Rakul Preet Singh, Neena Gupta, John Abraham, Aditi Rao Hydari, Soni Razdan, Kanwaljit Singh, Divya Seth, and Ravjeet Singh.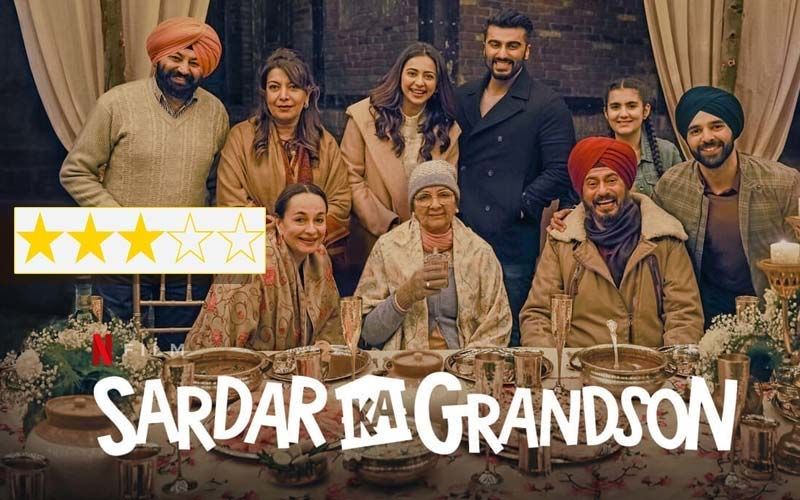 Sardar Ka Grandson, starring Arjun Kapoor, Rakul Preet Singh, Neena Gupta, John Abraham, Aditi Rao Hydari, Soni Razdan, Kanwaljit Singh, Divya Seth, and Ravjeet Singh, with some bumps manages to create a wholesome entertainer
Sardar Ka Grandson, directed by Kaashvie Nair tells the story of Amreek Singh (Arjun Kapoor) who is very clumsy and careless in his work. He runs a movers and packers company named Gently Gently with his fiancé Radha Lakshmi (Rakul Preet Singh) but lacks emotions towards materialistic things. Due to his ego and rude behavior, Radha breaks up with him. Deeply saddened by the break-up, Amreek decides to visit his hometown, Amritsar to meet his grandmother who is suffering from cancer. Neena Gupta plays a 90-year-old woman named Sardar who is short-tempered and sarcastic. Her last wish is to visit her ancestral home in Lahore which she built with her husband Gursheed Singh. Amreek takes up the responsibility to fulfill his grandmother's wish and is ready to go to any length to do so. Will Amreek be able to fulfill Sardar's last wish? Does he keep his promise? The tale unfolds in the movie.
The film explores the theme of never seen before bonding between a grandson and his grandmother. A good shift from general mainstream Bollywood masala. This movie is one that everyone can relate to. Also, Kaashvie has come up with an interesting storyline but could have done better. The movie has few scenes that will touch your heart and many quirky one-liners that will make you burst out of laughter. Neena Gupta has beautifully portrayed the character of a 90-year-old woman who fell prey to partition. She shines as Sardar and the best way to describe her fabulous performance is by confessing that we forgot we were watching Neena. We were all glazed into Sardar!
Arjun Kapoor portrays the role of an ideal grandson perfectly and his on-screen equation with Neena Gupta is realistic. Rakul Preet Singh does quite a justice to her character as the supportive love interest of Amreek. John Abraham and Aditi Rao Hydari play the young couple Gursheed Singh and Rupinder who are an ideal lovey-dovey couple of Lahore. They both are a lovely addition to the story and portray pure grace and elegance. The other supporting cast is loud in the first half but good in the second half.
Kaashvie Nair's direction while good, in parts, could have been tighter. The theme of partition, Indo-Pak love, and politics around it becomes overly melodramatic and illogical. The scenes where Amreek reaches Lahore and takes necessary permission and gets help from Pakistan media is something that is not completely digestible. To create an emotional appeal for the film, it shows some impossible scenes like insulting the mayor of Pakistan, winning the media's trust, impressing the public and the embassy. The touching dialogues help in uplifting the film to a large extent but the stretched content destroys the storyline. In the whole movie, you will wait for that one surprise element but you will never find it. The makers tried to show a powerful appeal-like Bajrangi Bhaijaan where Salman Khan goes against all odds and achieves success. But Sardar Ka Grandson is obvious and does not grant anything new.
Overall Sardar Ka Grandson is a one-time watch for its well-attempted theme and the very talented Neena Gupta. The film's soundtrack is melodious and peppy while the scenic shots of the beautiful landscape of Amritsar, and the Indo-Pak border are well executed.
Sardar Ka Grandson is directed by Kaashvie Nair, written by Anuja Chauhan, and produced by Bhushan Kumar, Divya Khosla Kumar, Krishan Kumar, Monisha Advani, Madhu Bhojwani, Nikkhil Advani, and John Abraham, under the production companies T-Series and Emmay Entertainment.
Image source: Netflix, Youtube/T-series