Domino's India Responds To Pics Of Mops, Toilet Brush Hanging Above Pizza Dough Trays Go VIRAL; Netizens Scream 'DISGUSTING'!
A Twitter user shared pictures on social media which he claimed to have been clicked at Domino's, Bengaluru and it showed Mops, Toilet Brush Hanging Above Pizza Dough Trays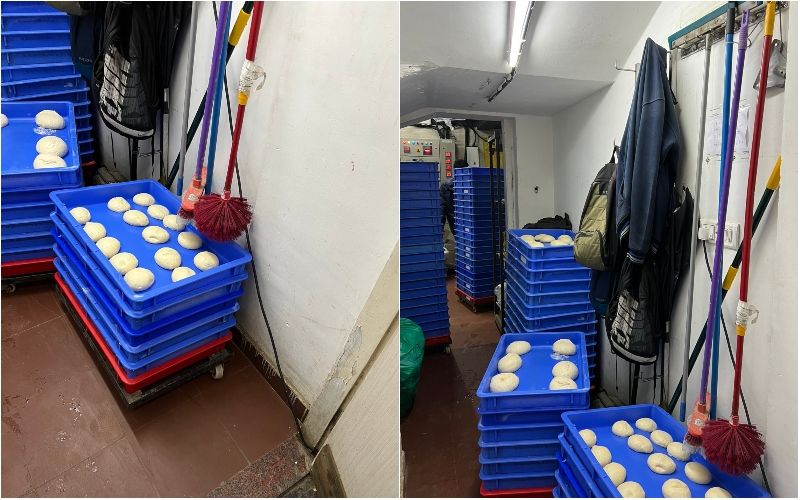 Social hygiene has always been a crucial concern and restaurants need to maintain their sanitation standards for public welfare. Considering the rainy seasons, we frequently avoid eating at roadside stalls owing to their unsanitary methods or conditions under which they prepare food, and instead choose for significantly more expensive global franchises for better health safety.

But, what if even these expensive organizations or franchises do not maintain sanitation standards? What if these franchises are just a mirror copy of the local dhabas and canteens? Is it worthy to trust these organizations?
Unfortunately, Indians have finally a rather sickening incident, several pictures from Dominio's outlet in Bengaluru has been going viral over Twitter.
Photos from a Domino's outlet in Bengaluru wherein cleaning mops were hanging above trays of pizza dough. A toilet brush, mops and clothes could be seen hanging on the wall and under them were placed the dough trays.

Please prefer home made food 🙏 pic.twitter.com/Wl8IYzjULk

— Tushar ॐ♫₹ (@Tushar_KN) August 14, 2022
Taking to Twitter, a user named Tushar shared pictures on social media that he claimed to have been clicked at Domino's, Bengaluru. Shockingly, it shows toilet brushes, mops, and clothes hanging on top of trays with pizza dough in them.
The hanging mops and toilet brushes over the raw pizza dough being readied to bake pizzas at the outlet has disgusted netizens. The horrifying images from the franchise contradict the health standards set by them as it is supposed to deliver clean and fresh pizzas and other food items to its consumers enraged Twitter.
Well, Dominos has finally reacted to the raging criticism on social media and assured its customers that the chain upholds the "highest standards of hygiene and food safety."
"We follow exacting international protocols to guarantee the highest levels of hygienic practises and food safety. We will not tolerate any infractions of these operational guidelines. The incident that has come to our attention will be thoroughly investigated, and on the basis of the results, the proper measures will be implemented. Rest assured that we are still committed to taking all reasonable steps to ensure the safety and wellbeing of our clients," Dominos' statement reads.
appropriate measures will be rolled out.

Rest assured we remain committed to doing everything necessary towards ensuring the safety and well-being of our customers (2/2)

— dominos_india (@dominos_india) August 14, 2022
Last month, a group of customers found a dead lizard in their food while dining at Diggin Café in Chanakyapuri.
Now, that goes beyond yuck!
Image Source: Instagram