How To Perform Hartalika 2020 Puja At Home - Vrat Katha, Puja Vidhi and Shubh Muhurat
Women from all over India celebrate Hartalika Teej is one of the most auspicious occasions of the year. Read on to know how to perform the Hartalika Teej in the right way.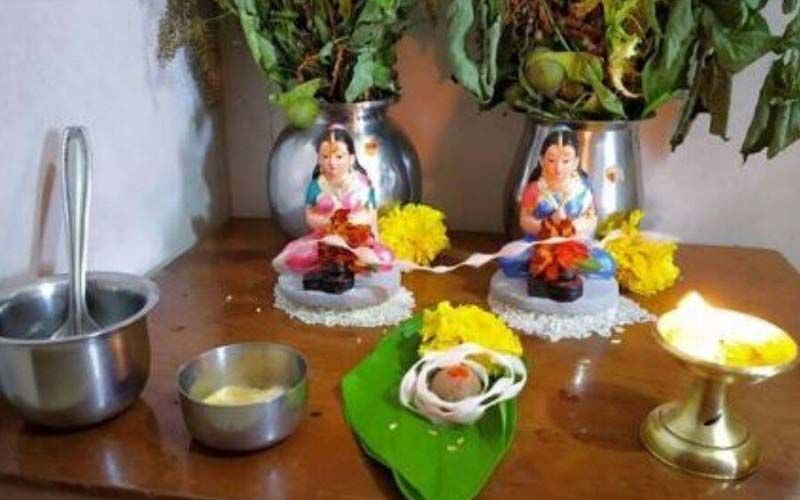 The legend of Hartalika Teej - Vrat Katha
Goddess Parvati performed intense penance for over twelve years bearing harsh weather and dried leaves as the only source of food to please Lord Shiva. Parvati's father, Himavat, couldn't bear his daughter's pain. When Devarshi Narada offered the marriage proposal on behalf of Lord Vishnu, Himavat was quick to accept it. A concerned Parvati plans her own abduction with the help of a friend. Hence the festival is known as Hartalika, meaning "kidnapping of a friend". Parvati continues to do her intense penance and finally, Lord Shiva appears before her and grants her a boon to marry her. Lord Shiva then acquires Himavat's consent to marry his daughter.
Hartalika Vrat Niyam
Thus on the third day of Shukla Paksha in Bhadrapada women fast to pay respects to Goddess Parvati and Lord Shiva. Both married and unmarried women can keep this vrat. Nirjala or Palhari, i.e. meaning fasting without water and food or fasting with only fruits and water respectively.
Devotees should get up early and take a bath and perform the pooja. For the pooja, you can worship the three clay or metal idols of Lord Shiva, Mata Parvati, and Lord Ganesha. Take a fist full of rice and draw in front of the deities in the form of circles extending eight lines to the eight corners. In a Kalash, add some water, supari, akshata, and currency coins and put mango leaves on the neck of the Kalash and place a whole coconut on top of it. Place the Kalash on the rice spread in front of the deities. Light your diya with ghee and offer snan to your idols. Apply chandan, offer datura, vilva, panchamrit, and then clothes, and decorations. You can offer fruits, paan, supari, dhoop, and finally the bhog.
One must take a Sankalpa by taking the names of Mahadev and Mata Parvati, the divine couple who symbolize the ideal marriage. Those who have opted for Nirjala vrat must not consume water, under a Phalhari vrat, one can eat fruits during the day. Maintaining celibacy is a must. One can chant Shiva Mantras or Shiv Parvati Bhajans for a better experience. One can break the fast by consuming the bhog only on the next morning.
Shubh Muhurat for Haritalika Pujan:
Morning 5.54 am to 8.30 am
Evening 6.54 pm to 9.06 pm
Haritalika starts from 21 August 2020, 02.13 am to 22nd August 2020, 11.02 am.



Image source:- marathi.latestly