Independence Day 2022: Tamil Nadu-Based Miniature Artist Paints 'Tiranga' In Eye To Mark 75th Year Of Independence Day-WATCH VIDEO!
Tamil Nadu-Based Miniature Artist UMT Raja painted his right eye with the tri-colour and we strongly suggest you not to try this at home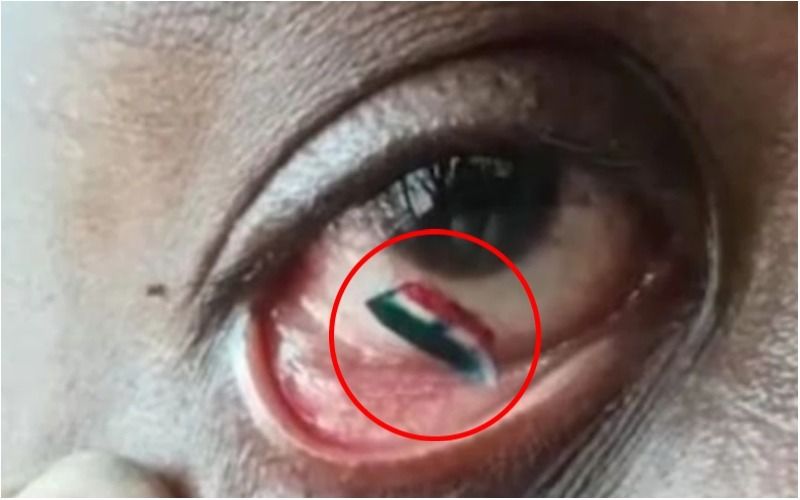 Patriotism has no end and the Har Ghar Tiranga Campaign has just added to the excitement among Indians ahead of India's 75th Independence day. The campaign has gained popularity across the country and many are known to go great lengths to express their love for the nation. Now, an artist and social media activist from Tamil Nadu has reportedly painted his right eye with the tri-colour.
Ahead of India's 75th Independence Day which will be celebrated on August 15, 2022, a 52-year-old goldsmith identified as UMT Raja created buzz for his love and reverence for the Indian flag.
As per the News18 reports, the Coimbatore-based man flaunted his patriotism when he added paint to a fine cloth-like film on the white embryo inside the eggshell and later pressed it to the sclera on the eye for 20 minutes.
UMT Raja performed the miniature artwork in the presence of Dr. A Sasikala Elizabeth, an eye doctor.
Well, Raja's antics to show off his patriotism and devotion to the Indian flag has made him a social media sensation. Notably, Raja is a class 9 dropout well known for creating a miniature signature of late chief minister K Karunanidhi and displaying his creative skills during the Covid-19 era.
NOTE: We strongly suggest that you do not try this at home. The act in question has been performed in the presence of professionals because the substances used to draw the Tricolour could cause allergy and itching in the eye.
Image Source: youtube