Aai Kuthe Kaay Karte, September 08th, 2021, Written Updates Of Full Episode: Sanjana Tells Nikhil About Her Divorce
Aai Kuthe Kaay Karte, September 08th, 2021, Written Updates Of Full Episode: Sanjana Tells Nikhil About Her Divorce. Further, after Krishna Janmashtami Pooja, Sanjana gets into an argument with the Deshmukh's.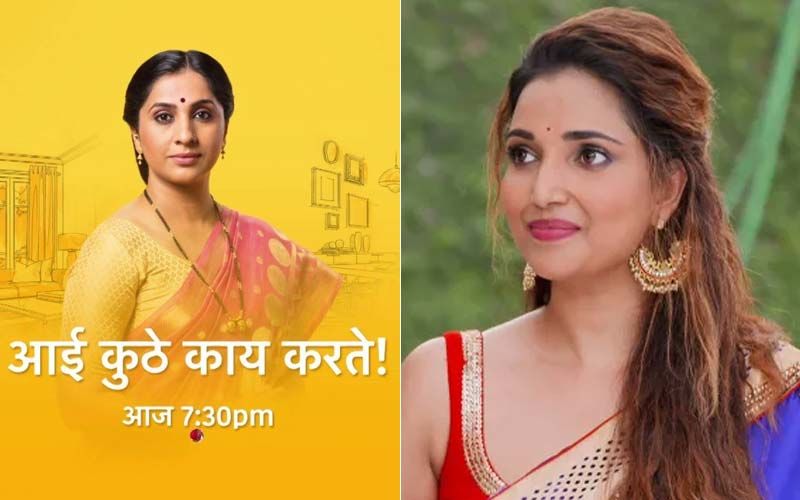 Kanchan asks Arundhati to do the Gokulashtami Pooja, but Sanjana tells her that she wants to do it, as she's the elder daughter-in-law of the family. After that, while everyone is decorating the house, Sanjana gets ready for the Pooja. As she asks Vishakha about the timing of Pooja, Vishakha tells her that the Pooja will be held at midnight. Vishakha then asks Sanjana to get changed and help with the house chores.
Now, in today's Aai Kuthe Kaay Karte episode, Sanjana goes to her room to get changed. As he wakes up at the same time, Aniruddha asks Sanjana why is she getting ready? Sanjana then tells him what happened downstairs. As Aniruddha tells her how he does Pooja with Arundhati every year, Sanjana tells her that she's decided to do it this year. Doubting her conviction, Aniruddha makes fun of Sanjana as she tells him that she'll do fast and everything required for the Pooja. Further, Sanjana tells Aniruddha that she's called Nikhil to her room and she wants to tell him everything. After a while, Nikhil comes to her and Sanjana makes him sit on a chair. She then tells him that his father and mother have been separated and now Aniruddha's uncle is his father. While Sanjana tells this, little Nikhil keeps asking questions to Sanjana to which she fails to answer. Sanjana then asks him to go downstairs and cries at Aniruddha, as she feels sad after seeing her son's condition.
At night, Kedar starts buttering Kanchan, as she gets angry at him for not coming to see her when she was sick. While they're having a fun talk, Sanjana comes down and asks Kedar why wasn't he there at her and Aniruddha's wedding. Kedar gives a savage reply to Sanjana, saying that he's pretty selective and he himself decides which program he wants to attend or not. Kedar then criticizes Sanjana even further, as she tells him that she and Aniruddha will be giving everyone a party. As the atmosphere seems tense, Arundhati changes the topic by praising Nikhil for beautifully decorating the swing. Then Appa commences the Pooja. While going to sit for the Pooja as a couple, Sanjana and Aniruddha have a tense moment when they look at Arundhati. As Sanjana and Aniruddha sit as a couple Nikhil asks Sanjana why did she sit with Aniruddha, instead of Arundhati. Arundhati diverts his mind with her answer and Appa starts the Pooja. Aniruddha does the Pooja like every year, but while worshipping Lord Krishna he gets flashbacks from the past when he used to do this with Arundhati. The Pooja gets complete and everyone worships Lord Krishna and gets ready for dinner. As tries to serve the dinner, Vishakha stops her and asks Sanjana to work. As Sanjana refuses to do it, she faces taunts from Kedar.
Kanchan then tells her that after Pooja they first do the offering to the god and then all the men sit first for the dinner. Hearing that, Sanjana gets into a dispute with the Deshmukh's saying that why should all the men sit first, when females are the ones working all day. As Kanchan and Kedar answer her, Sanjana criticizes the family saying that they are old-fashioned. As she keeps lashing at them, Arundhati also confronts her telling her that few flaws don't make the culture wrong. And even though their thinking is not as free as hers, the Deshmukh's certainly are not backward thinkers. She then tells her to sit for dinner if she wants. And just before starting the dinner, Yash tells her that every year Arundhati sings a devotional song before the dinner, and then Vishakha tells that the kids dance after that. Further, Arundhati blesses everyone's ears with her soothing voice, singing the devotional song Keshava Madhava. Gauri also joins her at one point.
Image source: Hotstar