Aai Kuthe Kaay Karte, September 15, 2021, Written Updates Of Full Episode: Arundhati Receives Her First Paycheck For Singing But Sanjana Spoils The Mood
Aai Kuthe Kaay Karte, September 15, 2021, Written Updates Of Full Episode: Arundhati Receives Her First Paycheck For Singing But Sanjana Spoils The Mood - Sanjana loses her job and Nikhil is blamed for it.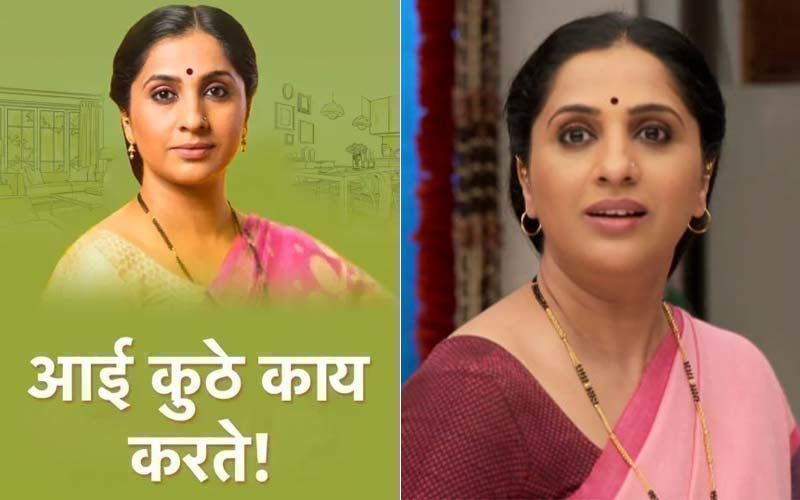 Now, in today's episode of Aai Kuthe Kaay Karte, Arundhati has finished her first professional song in the studio and got the fees as well with a contract of next song to which the music director promises to insert in the end scrolls. Arundhati refuses to take the money but Yash force her and handover the envelope of money forcibly to Arundhati and to tease her, the music director requests her to give an autograph as he assured that this song is going to be the blockbuster hit and Arundhati will earn a huge fame then. Yash and Arundhati leave the recording studio with immense happiness.
It's late evening now and Kanchan, Appa and Isha are waiting for Yash and Arundhati to come back after finishing the recording. Kanchan asks about Sanjana's presentation as she was very excited and sure about winning the contract. But, Isha was very much sure about her mother Arundhati's success in recording the song whereas, little unsure about Sanjana's winning contract. Meanwhile, Anirudha arrives and asks 'for whom are they waiting?'. Kanchan replies, for Arundhati, as she recorded her first song professionally.
Arundhati and Yash arrive with a winning sound, informing everybody that Arundhati has done a miracle with her singing talent and got one more contract of song. Whereas, Arudhati simply says that she was nervous in the beginning and by saying that she wants to sit and relax. Yash asks Isha to bring warm water for Arundhati and she goes inside. Arundhati suddenly picks the envelope and tries to give it to Appa. Whereas, Appa says it's Arundhati 's hard earned income so she should keep this money. Isha brings water for her and demands a Pizza Party.
Here, Sanjana enters the house with a great sorrow and Anirudha informs her that Arundhati has completed her first recording successfully and surely Sanjana also got success in impressing the clients to win the contract.
Sanjana twists happiness into sorrow as usual. She informs that her owner Mehta has sacked her and asked to take a break for 2 months. When Anirudh tries to find the reason she reveals that the presentation was deleted from her laptop and she not only lost the contract but job as well which was very important for her career. Sanjana says that this job is her real identity and she cannot afford to lose the job as Anirudh has already lost his. Anirudha tries to find the reason for deletion of files from the laptop and somehow he blames Sanjana for her in-vigil behaviour. Sanjana is unable to take this blame and bursts out on Anirudha. All the four members listen to the conversation between Sanjana and Anirudh. Sanjana, wants to quit from there and suddenly she realizes that Arundhati was using her laptop in the morning. Appa tries to console Sanjana and he suggests waiting for 2 months and searching for other options.
Sanjana still pesters Arundhati blaming her for deleting the files. But, Arundhati says that Nikhil was trying to show her something on the laptop and he was very vigilant while using it.
In fierce anger, Sanjana calls Nikhil and asks him strictly what he did with his laptop. Nikhil said he is innocent; he did not delete any file but was attending his online classes. Arundhati was also very sure that Nikhil did nothing wrong with her files. But, Sanjana does not understand and she chastises Nikhil badly and hurts him emotionally. Arundhati embraces Nikhil and tries to console the little child.
Now, Abhi, Yash and Isha are chapping fallen and discussing that Sanjana always spoils the happiness of their mother Arundhati. But, Abhi expresses his diffidence that Sanjana is unaware of Arundhati's success and she is in great sorrow of losing her job in these present tough times. Isha and Yash are taken aback with Abhi's revelation and three of them take it into a serious discussion about how to take forward the situation to sort out the existing issues.
Then Yash recalled the day to two of them when she got a job in Isha's school and brought the cheque of her first salary but was ignored because the amount of her salary was lesser than the amount of Anirudh's increments and she sacrificed her career for all of us. Abhi was convinced with Yash's statement and admitted that Sanajana has always done wrong and he asked for forgiveness from Yash. Whereas, Yash suggested that we all should help her to perceive her career by opening a grand music school.
Meanwhile, Nikhil enters the room and requests them to sleep in their room. He reveals that Sanjana is in a very bad mood and she is continuously chastising him, which he is not able to take anymore. He also went to Aaji and Appa's room but their bed was not enough to accommodate him. Nikhil is very hurt emotionally and feeling lonely at the moment so he wants to adjust himself with Yash, Abhi and Isha. Isha, out of fierce anger, suggests Nikhil never to go back to Sanjana. But, Abhi consoles him and tells him the importance of a mother. Nikhil says that he will ask his father to take him back to his home but by folding his hands he requests to sleep with them tonight, however, they get touched with this gesture and agree and make him sleep on their bed.
Nikhil feels a little relaxed and happy, so he requested Abhi to tell him a bed story as his father does before sleeping. To tease Nikhil, Abhi asks Yash and Isha which story should we tell him and Yash suggests a ghost story. Nikhil asks them not to put off the lights, seeing him in dread, all of them burst into laughter.
Image Sources: Hotstar