Aai Kuthe Kaay Karte, September 17th Written Updates Of Full Episode: The Deshmukhs Plan For Ganesh Chaturthi While Sanjana Makes A Demand To Anirudha
Aai Kuthe Kaay Karte, Avinash arrives and they all are planning to celebrate Ganeshotsav enthusiastically. Later, Avinash reveals to Arundhati about his financial problems.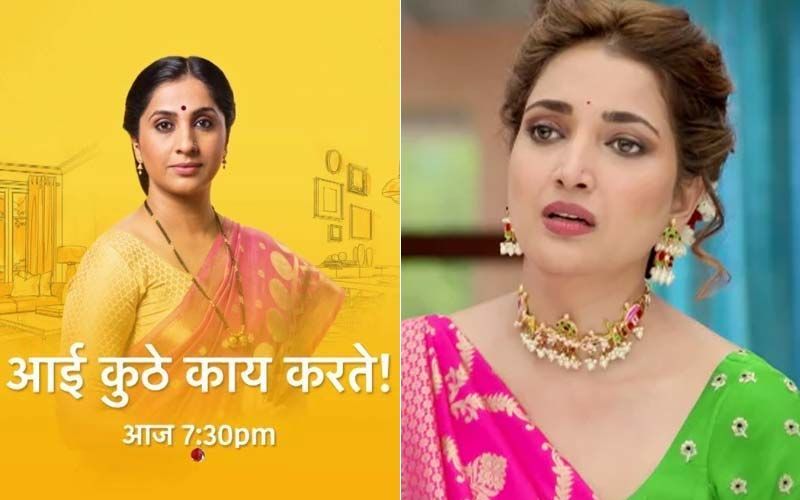 Today's episode starts with the conversation of Arundhati and her Mother-In-Law Kanchan discussing the preparations of festivals and Kanchan also shares distress she feels because of Sanjana.
Yash with her lady love Gauri preparing decorative items for Ganapati and she is concerned about Arundhati, also she promises Yash that she will wholeheartedly support Arundhati's decisions always. Gauri also expresses her concern about the patch-up of Anagha and Abhishek. Yash assures her that everything will eventually fall back into place. Yash is very enthusiastic and asks Gauri not to worry just concentrate on celebrating Ganapati Utsav, presently, all the family members are reunited.
Avinash arrives home, Appa (Vinayak Deshmukh) and Aai (Kanchan Deshmukh) are discussing whereabouts. Appa says that Sanjana also lost her job so let us see what will happen next. Avinash also tries to console Appa by saying that post Pandemic globally the life is changed and one who proves the mettle will only survive. Arundhati, who went to the market to shop for groceries, arrives with heavy shopping bags. Avinash tries to help her settle down. Meanwhile, Isha enters and greets her uncle Avinash and he demands a cup of coffee for everyone. Isha happily nodded her head in agreement as she is very happy and wants to celebrate a family reunion.
While going inside, Isha bumps into Sanjana and when Sanjana sees Avinash she sarcastically welcomes her, but Avinash also gives befitting answers to her. Meanwhile Aniruddha enters and requests Avinash to stay, he shares his idea of celebrating Ganapati Utsav as they used to during childhood and immediately the two brothers start distributing the responsibilities of preparations. Appa and Aai feel happy to see their son's reunion and Kanchan also shares some incidents from their childhood. But, Sanjana interrupts her and informs Kanchan that she and Aniruddha are taking their leave for shopping.
When Aniruddha and Sanjana sit in the car, she shows some selected designs of furniture for their bedroom. Aniruddha finds them costly and shows his disagreement on buying them. He also gives the reason that they have festivals in coming months, they have already lost their jobs and they need money for children to buy new stuff as well. But, Sanjana insists on buying the furniture and says that she will buy the furniture with her earned money and they go shopping.
Avinash expresses his problems to Arundhati that he took a loan from an unauthorized person to fulfill Nilima's demands and he also took a personal loan from the bank to help financially Nilima's maidens. Now, he is not able to return the money to the person and is getting death threats. That is why he suggests Nilima stay with her sister and he will stay at Appa's home until the arrangement of money is done. Arundhati suggests Avinash to discuss this issue with Appa but Avinash denies it as it will hurt Appa then suggests taking a loan from the Bank, but Avinash informs her that he has already taken Home Loan, Car Loan, and Personal Loan. Avinash plans to sell his Vashi's house and will repay all the loans. He will rent an apartment where he and Nilima can live happily.



Image Source: hotstar