Aai Kuthe Kai Karte, June 3rd, 2021, Written Updates Of Full Episode: The Deshmukhs Celebrate Kanchan And Appa's Wedding Anniversary
Aai Kuthe Kai Karte, June 3rd, 2021, Written Updates Of Full Episode: The Deshmukhs Celebrate Kanchan And Appa's Wedding Anniversary. The family sees some joy after too long.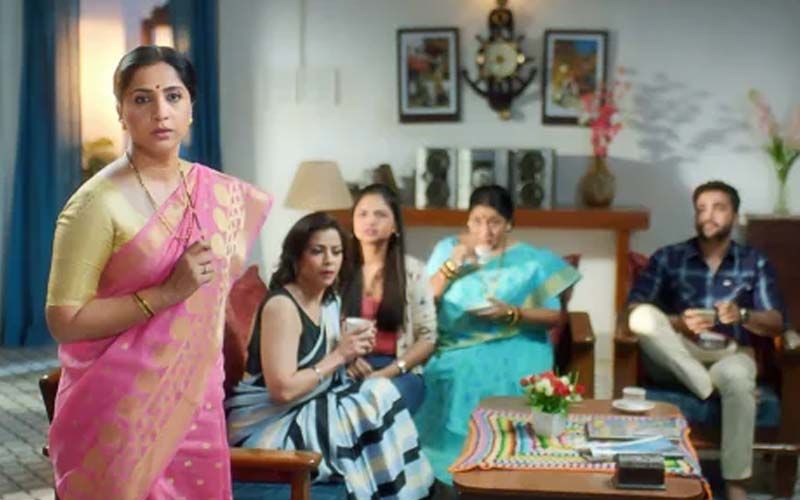 The Deshmukh's are planning a celebration for Kanchan and Appa. The children are helping out with household chores and talking about Kanchan and Appa. Arundhati is nostalgic about how they have been a perfect couple all along. The kids too share old memories about them. This is when Aniruddha enters the room. Isha asks Aniruddha if he remembers what day occasion is it today. When he doesn't remember, she says, it's a classic trait of men to forget important days. Yash says, dad never remembered mom's birthday but she never made an issue out of it. Gauri stops him from treading into troubled waters. Just when Ankita enters the room, she overhears the conversation and gets excited to be a part of the special celebration plan. Isha shuns her from taking part in plans and asks her not to make everything about her! Gauri intervenes and says we should all play cards and let Kanchan win. Arundhati feels energetic to plan the celebration. Yash and Gauri sneak out with an excuse of some work. Ankita feels insulted at everyone's ignorance towards her.
Meanwhile, Appa takes Kanchan on a short stroll that eventually leads to a surprise. He decorates a park swing with flowers. Kanchan is delighted at this grand gesture. Appa and Kanchan share some fun yet romantic taunts with each other. They express gratitude and love for each other for spending 50 years together. Appa tie a Gajra on her hair and Kanchan is mesmerized. The next surprise is Kanchan's favorite - Saree. She too reciprocates with a rose for her husband.
Kanchan feels sad that Aniruddha is making a big mistake in his life. She misses her daughter too. She feels sad about Sanjana and Ankita living in their house. Appa tells her to be strong like Arundhati. They both agree that Arundhati is like their loving daughter now. Kanchan plans to bid adieu to Sanjana on this day. Now that it is the 50th wedding anniversary, Kanchan and Appa reveal a truth they never said to each other. Appa admits that 50 years ago he confused Kanchan's sister as Kanchan and tied a gajra to her hair. Kanchan also admits all these years she has been pretending to have a hearing problem to avoid listening to Appa.
Ankita is furious at Abhi that his family mistreats her. Ankita throws a fit and enrages Abhi. He tries to calm her down. He asks her to start consulting as a doctor. Ankita refuses. She wants to focus on winning everyone's attention. She doubts Abhi as he constantly gives her an example of Anagha. She is mistakenly about to reveal that she faked suicide for thier marriage, but quickly distracts him. She plots how to separate Abhi from the family.
Sanjana is calling Shekhar for Nikhil's school fees, she asks Aniruddha for his phone. This is when Aniruddha finds an opportunity to convince Sanjana to go back for Nikhil and see for herself if Shekhar is able to take care of him. She asks Aniruddha to accompany him. Aniruddha says that he needs to be there for Arundhati. Precisely at this moment, Aniruddha gets a call from his lawyer for his divorce process update. His paperwork is about to get finalized. Sanjana grows suspicious about the call but Aniruddha hides it from her.
Everyone dresses up and gets ready for the celebration. Yash and Appa start singing romantically. Aniruddha wishes his parents and Arundhati also shares her happiness. They all miss all their relatives and friends but decide to enjoy with the ones who are here now!
Image source: Hotstar