Aani Kay Hava 3: MX Player Brings Back The Most-Loved Marathi Couple On Screen Again For A Brand New Season
Umesh Kamat and Priya Bapat are back with the 3rd season in the famous web series Aani Kay Hava.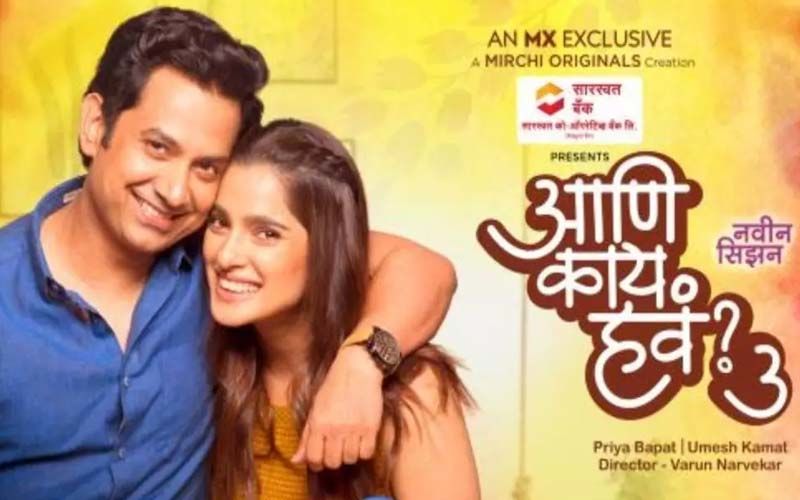 The slice-of-life series Aani Kay Hava starring the favorite couple of M-Town, Umesh Kamat, and Priya Bapat won many hearts with its beautiful story. The initial seasons celebrated the firsts in Jui and Saket's marriage but as the initial years go by and they hit the 5-year mark, the couple finds new ways to keep boredom in a relationship at bay. This is the backdrop of the third season of the much-loved franchise - Aani Kay Hava.
The sweet story of a newlywed Jui and Saket, trying to get accustomed to their life as a husband and wife, touched everyone's heart. Directed by Varun Narvekar, the series gained huge response and launched the second season which also gained popularity. Now after giving two hit seasons, the couple is back with another season of the series to win everyone's heart. All episodes will stream for free starting 6th August, exclusively on MX Player.
Recently, Umesh took to his Instagram to announce the series is coming back with a season 3. "Jui aani Saket parat yet aahet tumhala entertain karayla! Aani Kay Hava? #AaniKayHava3, trailer releasing on 28 July."
Speaking about the show, Priya Bapat said, "This season takes us through married life during a lockdown and this period truly saw multiple dynamics change in the relationship for many of us. It's important to never let your marriage stagnate and to keep rekindling the excitement with maybe new hobbies, or a project that you decide to work on together, or to simply find things that you both enjoy doing as a couple. After 5 years of marriage in Jui and Saket's life – they continue to grow together and handle the curveballs that life throws their way, and it is for this reason that I enjoy playing this character. I know Umesh and I have gone through some of these moments ourselves and we can't wait to bring Jui and Saket back to your homes."
Umesh Kamat said, "For a successful marriage, there has to be good communication and companionship in the relationship. It's important to try to understand your partner and we have tried to highlight this message in a lighthearted manner through this series. The fun banter between this couple and supporting each other through our problems mirrors Priya's and my relationship offscreen as well. I truly feel like there is a small bit of ourselves that we instill in Jui and Saket and I think Varun brings that alive on screen brilliantly."
Director Varun Narvekar added, "Our previous seasons for this franchise have received heart-warming responses. The third edition is a beautiful take on modern relationships and how certain aspects of the same were redefined as a by-product of the lockdown. Jui and Saket have lived the graph of the honeymoon phase, cementing their bond and at the onset of 5 years in the marriage, they continue to keep the spark alive and navigate through the course of life. Aani Kay Hava has really relatable characters which are why they feel so organic on-screen, and I couldn't have asked for a better cast than Priya and Umesh to play Jui and Saket."
Image source: instagram/umesh.kamat, wikiwiki