CM Uddhav Thackrey Felicitates 'Maharashtrachi Hasyajatra' With This Prestigious Award
The team of 'Maharashtrachi Hasyajatra' is bringing happiness and laughter in everyone's lives during these rough times. The hardworking team recently got lauded by Chief Minister Uddhav Thackeray with Ashok Mulye's 'My Award'.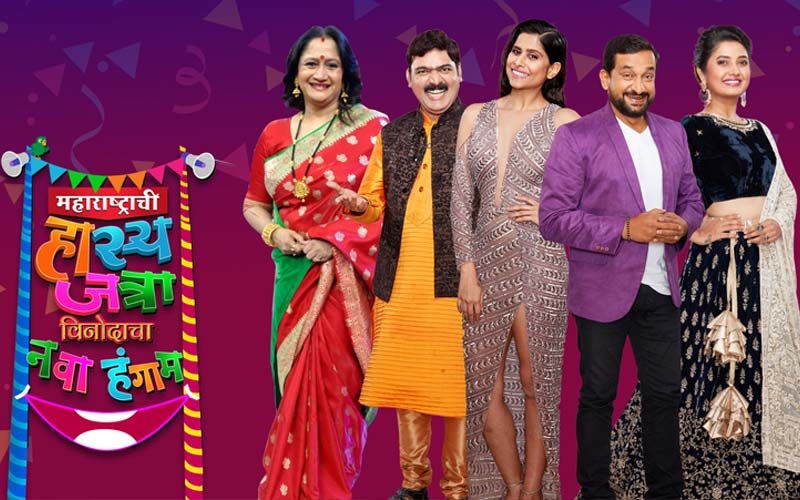 Corona is currently causing an atmosphere of anxiety and depression. Sickness, anxiety, and overall fear make people forget to smile. Sony Marathi Vahini's 'Maharashtrachi Hasyajatra' played an important role in giving such patients a moment of entertainment and making them laugh heartily.
Messages and emails to the effect that the comrades were relieved and their mental health improved during the quarantine period were appreciated by the team. Recently, the artists in this program were honoured by the Chief Minister. During the Corona period, the comedy family faithfully did the job of giving comedy therapy to the audience. Honourable Chief Minister Uddhav Balasaheb Thackeray presented the "My Award" to the winners. This was the twelfth year of Ashok Mulye's 'My Award' initiative. Artists from Sony Marathi-produced 'Maharashtrachi Hasya Jatra' were selected for this year's awards. All these awards were distributed by Chief Minister Thackeray at Varsha Niwas. Chief Minister Shri. Thackeray presented awards to writer Sachin Mote, producer-director Sachin Goswami, writer-actor Sameer Chowgule, actor Prasad Khandekar, Visakha Subhedar, Gaurav More and Namrata Sambherao.
Chief Minister Thackeray said, "It is important what kind of work you do, what the consequences are. When the crisis is over, looking back, you realize the importance of that work. No one likes restrictions. But restrictions, rules, and illness make many people frustrated. Humour is important at that time." "The machine should not make noise. It lubricates it to run smoothly. In the same way, humour is a lubricant in our daily lives. Humorous writers and artists do a great job of creating humour. Laughing consistently is a difficult task. "We are organizing a comedy fair. We will always support the artists who are doing a good job and the entertainment sector," Uddhav Thackeray further added.
The event was attended by Sony TV's Ajay Bhalvankar, producer-director Prasad Oak, actress Prajakta Mali and comedians Vanita Kharat, Amit Phalke, Dattatraya More, Amir Hadkar, Chetna Bhat, Shivali Parab, Prithvik Kamble, Omkar Raut, Omkar Bhojane and Pandharinath Kamba.



Image Source: Instagram/sonymarathi/fillamwala