Phulala Sugandh Maaticha, August 10th, 2021, Written Updates Of Full Episode: Shubham Prepares A Speech For Kirti's Felicitation
Phulala Sugandh Maaticha, August 10th, 2021, Written Updates Of Full Episode- Shubham prepares a speech for Kirti's felicitation. He surprises Kirti by buying a new saree for her special day.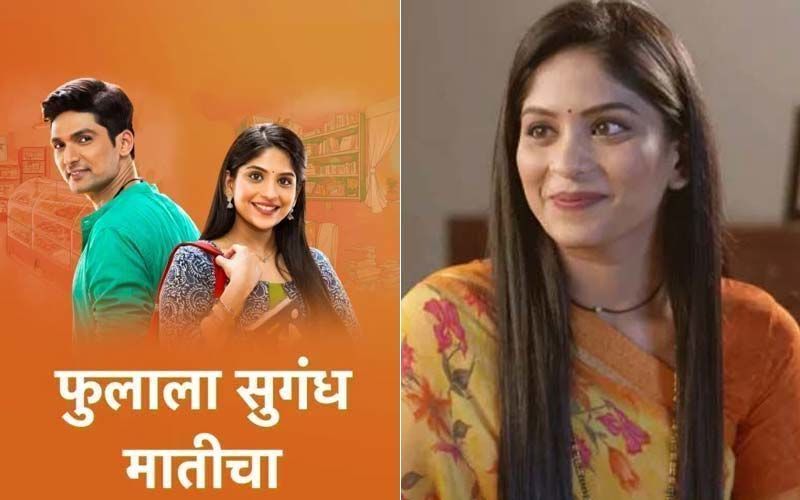 Kirti returns home with her in-laws. Shubham surprises her by hanging a portrait of her parents in their room. He then opens the envelope that Sagar gave him but fails to see the letter that Sagar kept in it. Shubham rushes to his shop as Babu calls him. Further, Kirti helps Jiji Akka in lighting the stove. As Jiji Akka criticizes her, Bhau comes to her help and gives her his newspaper to use as a fire starter. As Kirti runs out of it, Bhingri brings more newspapers along with Shubham's envelope. And without knowing that something's inside that envelope, Kirti uses it on the stove. Meanwhile, at the shop, Shubham and Babu talk about their childhood, while praising Kirti.
Now, in today's Phulala Sugandha Maaticha episode, Babu comes up with an idea as he talks with Shubham about his childhood speech. Explaining his idea, Babu asks Shubham to give a speech on Kirti's felicitation. Shubham likes the idea and starts writing the speech, as Babu insists him to do. He does many trials and gets many errors, after which he comes up with an amazing speech for his wife's felicitation. Back at the house, Kirti successfully lights up the stove. As she celebrates her new achievement, Bhau encourages her, but with her bitter words, Jiji Akka asks Kirti to prepare tea on the stove.
After a while, as he is returning home, Shubham's eyes get caught up by a beautiful silk saree outside, Vikram's shop. As Vikram asks him to come inside the shop, Shubham tells him that he was just passing by when he saw this beautiful saree and thought it would look great on Kirti. Hearing him say that, Vikram grabs the brand new piece of the saree and gives it to Shubham. And as Shubham tries to pay him for saree, Vikram refuses to accept money from his brother. While this is happening, Sonali sees everything from the window and gets angry at Vikram for giving out, one of his saree for free.
Shubham returns home with the saree and he gets stopped by Kirti just as he enters the door. Kirti offers him the tea and as he tries to say that he needs to freshen up first, Kirti insists on Shubham tasting the tea. After knowing that Kirti made it herself on the stove, Shubham praises her tea. After a while, Kirti asks him about the bag that he brought with him. Shubham surprises Kirti with the saree that he brought for her and asks her to wear it for her felicitation. Kirti gets so happy to receive such an amazing gift from her husband and promises him that she will wear it.
Further, Sonali visits Vikram's shop and shows him that she's upset about the saree that he gave Shubham for free. Vikram tries to put some sense into her greedy mind, but engulfed by greed, Sonali tells him about how will she be getting returns for that saree. As the time of Kirti's felicitation comes near, Shubham asks everyone to hurry up and get ready. While hearing him saying that, Sonali gets filled with jealousy. Vikram comes to her to see if she's alright. But as he comes to know what's wrong, he teases her for being jealous. Meanwhile, Bhingri asks Bhau to get ready as Jiji Akka would get mad at him if he doesn't get ready in time. As Bhau leaves, Babu gives Bhingri dishes to clean.
While cleaning the dishes, Bhingri remembers something that she needs to tell Babu. She gets the flashback from Kirti and Shubham's room when she went there to collect the newspaper. In the flashback, it is shown that Bhingri opens Shubham's envelope and takes out the letter inside it. Thus, remembering that, Bhingri tells Babu to hand over the letter to Shubham. Babu mistakes that letter for Shubham's speech and asks Bhirngri to deliver it to Shubham herself, as he is busy with other work. Further, Kirti sneaks up on Shubham as he rehearses his speech. As Shubham tries to hide his speech, Kirti snatches it from his hands and tries to read it. The couple has a cute moment while Shubham chases Kirti, as she tries to read his speech.




Image Source: Instagram/phulala_sugandha_maticha_001, hotstar