Phulala Sugandh Maaticha, August 11th, 2021, Written Updates Of Full Episode: Sonali Pretends To Be Sick To Make Kirit Late For Her Felicitation
Phulala Sugandh Maaticha, August 11th, 2021, Written Updates Of Full Episode: Sonali Pretends To Be Sick To Make Kirit Late For Her Felicitation - Shubham and everyone waits for Kirti at the ceremony, but Kirti gets engaged in more work.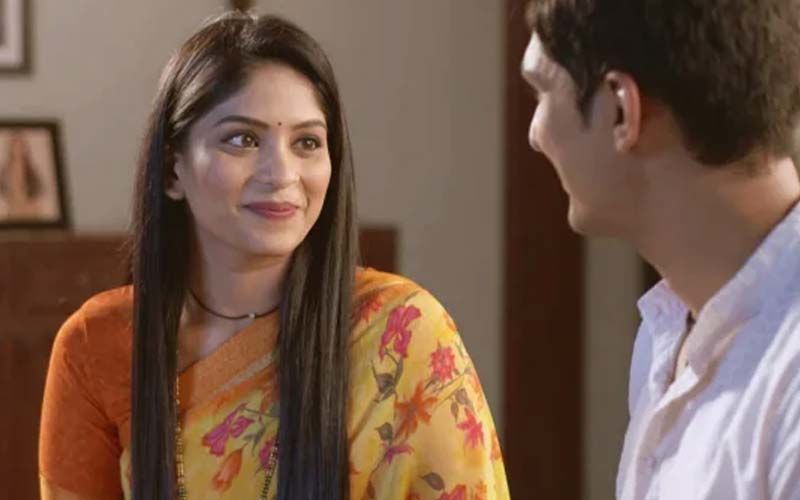 Shubham prepares a heartfelt speech for Kirti's felicitation. Meanwhile, Bhingri finds the letter that Sagar kept in Shubham's envelope. She keeps it to herself, as Babu asks her to secretly deliver it to Shubham. As the felicitation is getting closer, Shubham rehearses his speech. While he is doing that, Kirti appears near him. Curious about what he is doing, Kirti grabs his speech and runs around, while Shubham chases her.
Now, in today's Phulala Sugandha Maaticha episode, Kirti refuses to give Shubham his speech back. Shubham then plays a trick by telling her that Jiji Akka asking her to do something. As Kirti gets distracted after hearing Jiji Akka's name, Shubham grabs his speech from her hand and runs away. As the time of felicitation is just hours away, Jiji Akka and Bhau get ready and wait for Kirti and Shubham. Kirti and Shubham appear in front of them after a while. Seeing them, Bhingri remembers about the letter. She takes the letter and comes to them, praising Kirti. As she hugs Kirti, Bhingri sneakingly puts the letter in Shuham's pocket. Then they head out for the ceremony.
But just as they are about to leave, Janhavi stops Jiji Akka and Bhau, telling them that her future mother-in-law is in Shirdi and wants to meet them. Seeing the urgency and the situation that they are in, Jiji Akka takes the decision to meet Janchavi's future mother-in-law. Kirti also says that it's okay as Bhau apologizes to her. Meanwhile, Sonali gets happy to see that Jiji Akka and Bhau are unable to visit Kirti's felicitation. Further, she plots a foul plan to stop Kirti and Shubham from going as well. She asks Bhingri to leave, making sure that Shubham and Kirti are the only ones left in the house with her. And just as they are about to leave as well, Sonali falls down acting like she's sick. Kirti and Shubham rush to her help. As she tells them that she's not feeling well, Kirti and Shubham take her to her room and Kirti prepares lemonade for her.
Meanwhile, Sagar appears at the ceremony and calls Shubham to see if they've left the home or not. Shubham tells Sagar about the situation at home and assures him that they'll be there soon. Sonali then asks Kirti to leave, telling her that she'll take care of herself. Shubham asks Sonali to quickly contact them if she needs anything. And as they head towards the door, Sonali rushes out of her room, acting like she's vomiting. Kirti gets worried about her health and asks Shubham to go ahead as he has to deliver the sweets as well. She assures him that she'll join her soon. Further, DCP arrives at the ceremony and talks with Sagar when Shubham appears in front of them. He asks Shubham about Kirti and Shubham tells him that she'll arrive soon. As everyone is waiting for her, Shubham calls Kirti asking where she is. Kirti tells him that she'll leave in five minutes. Then while taking care of Sonali, Sonali asks Kirti for almond milk as she feels weak. But as Kirti looks for the milk in the refrigerator, she finds out that the milk has turned into curd. It is actually done by Sonali who further makes Kirti go and buy a new milk packet for her. Kirti then prepares almond milk for her. Sonali thanks her for her help, regardless of that she's the one who is responsible for making Kirti late for her felicitation. Then she asks Kirti to hand her a bowl.
Back at the felicitation, Sagar asks Shubham if he has read the letter or not? Shubham answers him saying yes, thinking that he asked about the speech. Sagar then gets confused about why Shubham is acting like that after reading the letter. Further, while he waits for Kirti, Shubham hears everyone talking about Kirti. Hearing their praises for his wife makes him feel proud. But at the same time, he is worried as Kirti hasn't arrived yet.
Image source: SpotboyE