Phulala Sugandh Maaticha, June 11th, 2021, Written Updates Of Full Episode: Jiji Akka Says I Love You Kirti
Phulala Sugandh Maaticha, June 11th, 2021, Written Updates Of Full Episode: Jiji Akka Says I Love You Kirti. Hearing her call Kirti her daughter makes Kirti's eyes tear.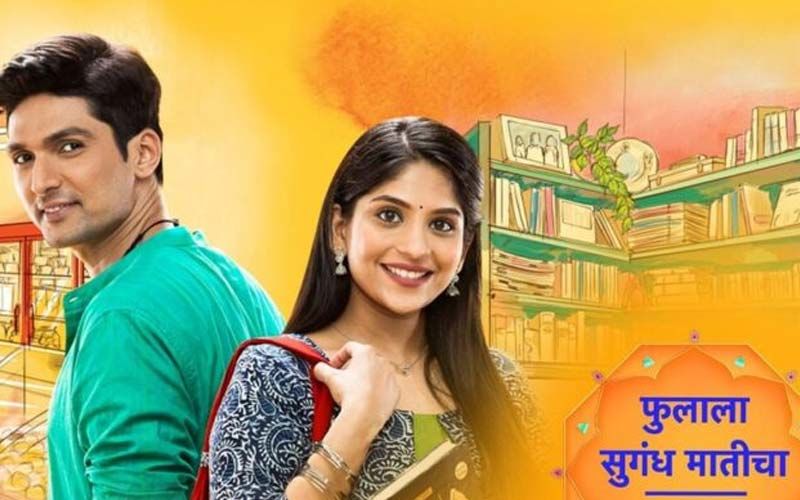 While enjoying their ballroom dance, Kirti accidentally sprains her ankle. Seeing that she's unable to walk, Shubham picks her up in his arms and takes her to the couch nearby.
Now, in today's episode of Phulala Sugandha Maaticha, Shubham massages Kirti's feet. While Shubham and Kirti are talking to each other, Bhau comes to them with a worried face. Being distressed by what he has done, Bhau tells them everything about how he mistakenly gave Jiji Akka alcohol instead of juice.
Worried about her Shubham, Kirti, and Bhau rush towards Jiji Akka to find her sitting on the couch. They ask her about how she's feeling. Telling them that she's fine, Jiji Akka starts acting like a drunk person. As the alcohol shows its effect on Jiji Akka, She starts pouring out her deep feelings. Walking towards Kirti, she starts insulting her saying that she never wanted a well-literate daughter-in-law. She tells her that she always wanted a daughter-in-law who is an expert housekeeper and good at household chores. Bhau and Shubham try to stop her but Jiji Akka continues with her insults.
She grabs Kirti's hand and takes her to the couch. The first sentence that comes out of her mouth leaves everyone astounded. Contradicting what she previously said, Jiji Akka calls herself the luckiest mother-in-law to have Kirti as her daughter-in-law. Thanking Kirti for always supporting and staying by her son's side, Jiji Akka starts praising her. Furthermore, she takes Kirti and gathers everyone's attention. After that Jiji Akka proudly announces that Kirti is not a daughter-in-law but a daughter to her. Saying that she says "I Love You !" to Kirti, expressing how she really feels about her. Kirti's eyes get filled with tears as Jiji Akka praises and calls her a daughter to her. Seeing the sweet side of hot-headed Jiji Akka, everyone gets surprised. It even makes Bhau and Shubham's eyes tear to see Jiji Akka saying such things.
The next morning, Jiji Akka wakes up with a headache. Bhau offers her lemonade while she asks him about last night. Seeing that she has forgotten everything about it, Bhau tells her a different story. Meanwhile, Shubham and Kirti take a walk around the hotel. Still surprised and happy about last night, Kirti cherishes what Jiji Akka said to her.
Image source: IMDb