Phulala Sugandh Maaticha, Spoiler Alert, August 12th, 2021: Although Sonali Stalls Kirti From Going To The Felicitation She Manages To Reach There
As Shubham stands in front of the podium to give a speech, he reads Kirti's letter instead of the speech.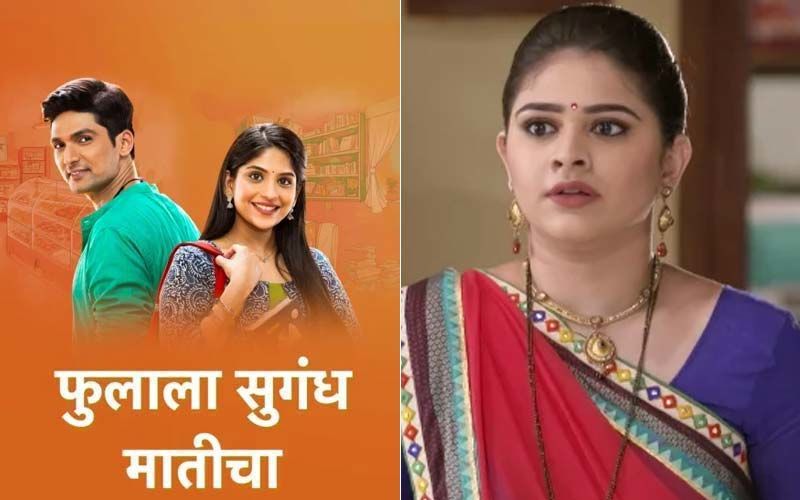 Kirti tries to read Shubham's speech as she grabs it out of his hand. But Shubham somehow takes it back. Further, as everyone gets ready to leave for Kirti's felicitation, Bhingri sneakingly slips Kirti's letter in his pocket. Everyone heads towards the door, but Janhvai stops Jiji Akka telling them that her future mother-in-law is in Shirdi. As Jiji Akka and Bhau have to meet her, Jiji Akka asks Shubham and Kirti to go by themselves. Kirti and Shubham then get ready to leave for the ceremony, but Sonali puts her plan to work by acting like she's in front of them.
Seeing that she's sick, Shubham and Kirti look after her rather than rushing to the ceremony. Further, as they are getting late, Kirti asks Shubham to go ahead. Delaying her more, Sonali keeps acting sick and asks Kirti to help her. Meanwhile, Shubham and Sagar wait for her at the ceremony. As DCP asks Shubham, where Kirti is? Shubham replies saying that Kirti is stuck in an emergency so she'll come soon. As they wait for her further, the time of the ceremony gets closer. As he stands at the door, Shubham hears everyone praise Kirti when people are passing from him.
Further, in tomorrow's Phulala Sugandha Maaticha episode, Kirti somehow manages to be on time for the ceremony even though Sonali tries to make her late. Everyone gets happy as Kirti arrives at the ceremony. The Police department felicitates her for her courageous work in saving people.
After his talk, the DCP asks Shubham to come on stage and speak something about his wife. As he stands on the podium, Shubham takes out his speech. But while taking it out, Shubham finds two letters in his pockets. As he gets confused, Shubham opens one of the letters. Fortunately, he opens the letter Kirti wrote for her niece. As he reads it further, Shubham gets shocked to learn about Kirti's dream.



Image source: Hotstar