Vijeta: Subhash Ghai's Most Awaited Marathi Film Starring Subodh Bhave - Pooja Sawant To Release On THIS Date
Subhash Ghai proudly shared the poster of his upcoming Marathi film titled Vijeta starting Subodh Behave and Pooja Sawant. He also revealed the release date, read on to know more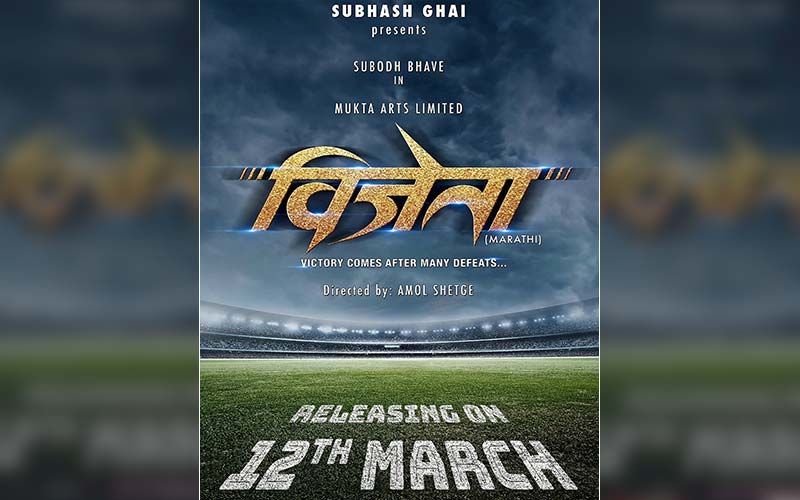 Vijeta is a fourth Marathi film under the banner of Mukta Arts by Subhash Ghai. After the huge success of his debut film Sanai Choughade starring Sai Tamhankar, Subodh Bhave, Shreyas Talpade, and Santosh Juwekar, Subhash Ghai nearly rocked a hattrick with Valu - The Wild Bull and Samhita.
Last year in August, the shoot of his fourth Marathi film Vijeta kicked off with Junglee fame Pooja Sawant, Bigg Boss Marathi stars Sushant Shelar and Maadhav Deochake and Leila star Neha Mahajan. It also features Sushant Shelar, Manasi Kulkarni, Tanvi Kishor, Devendra Chougule, Dipti Dhotre, Krutika Tulaskar, and Gaurish Shipurkar in pivotal roles. Subhas Ghai released the poster of Vijeta announcing the release date of the film as 12th March 2020.
Subodh Bhave, who is the quintessential superstar of the Marathi film industry, has always amazed his fans with his performance. Subhas Ghai appreciated Subodh for his work in Vijeta too. Pooja Sawant is the leading lady in the film and Madhav Deochakke is also an important part of the story. This film is almost on its final leg of post-production and we will witness the story of how leaders are built from repeated failures.
Amol Shetge's Vijeta was earlier scheduled to hit the theatres on 24th January but the makers announced that the release date of the movie got postponed. Shetge has given a number of hard-hitting Hindi and Marathi films to his credit like Gunaah, Rain: The Terror Within..., Sau Shashi Deodhar, One Way Ticket, etc.


Image Source:-Instagram/subhashghai1