Priyaank Sharma On Starting Dhamaka Records With Mom Padmini Kolhapure: 'I Can't Sing But I Always Wanted To Take My Family's Musical Legacy Ahead'-EXCLUSIVE
Priyaank Sharma, who recently launched his own music label Dhamaka Records with mother Padmini Kolhapure, talks about his new business venture, getting into business with his mother, his aim for the label, his acting plans, joining his dad's production house and more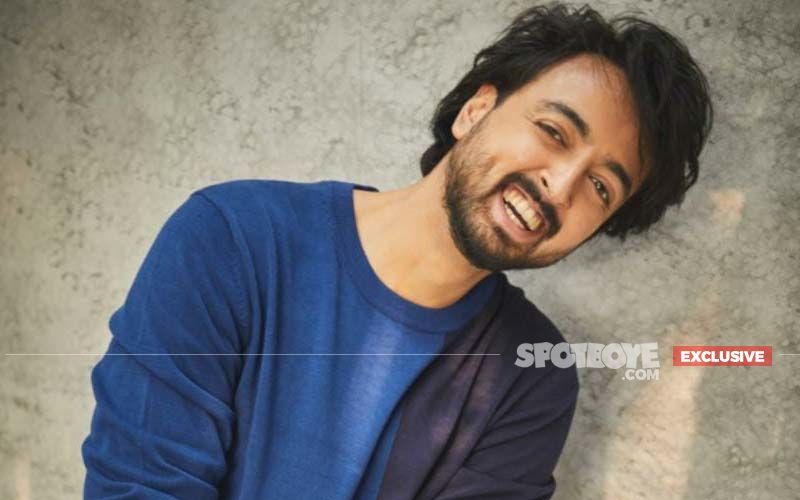 Recently, veteran actress Padmini Kolhapure and her actor-son Priyaank Sharma launched their own music label venture named Dhamaka Records with their business partner Paras Mehta. Their first song under the label, titled Hum Hindustani, saw 15 legendary artists like Lata Mangeshkar, Amitabh Bachchan, Padmini, Anil Agarwal, Sonu Nigam, Kailash Kher, Alka Yagnik, Shabbir Kumar, Shraddha Kapoor, Sonakshi Sinha, Shruti Hassan, Tara Sutaria, Ankit Tiwari, Siddhanth Kapoor and Jannat Zubair come together for this track dedicated to the frontline warriors. It was released around Independence Day.
In an exclusive conversation with SpotboyE.com, Priyaank talks about his new business venture, getting into business with his mother, his aim for the label, his acting plans, joining his dad's production house and more.
Priyaank, Dhamaka Records has had a bumper opening with Hum Hindustani. How did the idea behind this venture originate?
I have always wanted to take my family's musical legacy ahead. Unfortunately, I can't sing but everyone from my mom's side can, be it my brother, sisters, aunts, my grandfather, his brothers or the legendary Asha ji and Lata ji. I always wanted to take that ahead from my own perspective and this idea was put on the back burner as I got busy with being launched into films as an actor. But as soon as my film came out, we were hit by the pandemic. All of us were trying to make sense of the situation and that's when I got a lot of time to reflect on a lot of things and one of them was this aspect. I thought it was time to take this forward and I went with it.
You are so young and new to the business side of the industry. Where did you get that courage and confidence to take this big and bold step?
I have been working since I was 15. So, from the business perspective you just have to take that plunge and go for it. With any aspect of life, you can never be 100 per cent ready, so I took that leap of faith. But dad has always been there for any guidance I needed, so with his support, I went for it.
How has it been getting into business with your mother?
It has been amazing. Whatever I do in life, I try to involve my mom and dad in it. I always take their guidance. So, to start something with mum is just amazing. I always used to push her to sing first and that's how this idea originated as well. I keep telling her that people need to hear her voice as she sings so well. I was fortunate enough to have Dhamaka Records launched and have such amazing legendary singers be a part of it. Mum was one of them.
At home, our parents usually get the last word. But now, since you are in business with your mom, who gets the last word in business matters?
See, Dhamaka Records is mine, so I would like to believe that the last word is mine. But maa to maa hai (laughs).
So, what is your aim for the label?
I want to work with accomplished singers and music directors but also promote new talent through this label. One major agenda behind Dhamaka Records is that we believe there is so much talent out there that needs a platform and the world needs to hear them. When we announced the launch of Dhamaka Records, it was on Asha Bhosle ji's show Asha Ki Asha and for the winner of that show, our track is the first project they have done. So, we are definitely promoting new talent.
How has it been receiving such high praise for Hum Hindustani where you were able to bring 15 legendary artists together on your first track?
It's overwhelming and we have immense gratitude that these talents were a part of it and they resonated with our idea that we wanted to pay tribute to the frontline warriors. Whatever proceeds come our way through that, we are going to donate it in the Covid relief fund. This initial thought resonated with everybody and that's why they came on board. I never even imagined that this would be the level of the inaugural track of our label.
The track of Hum Hindustani is made by this composer named Kashish in Goa. He made that music and put it out on Instagram. My partner saw it and he sent it to me. We asked him to take it out from his social media as we wanted to make it big and the rest is history. This is how things happen, one track emerged from Goa and connected with such legendary artists. I can't believe it as it feels too good to be true just the way everything happened.
You also got married this year and now such professional success. Do you feel your wife is your lucky charm?
Absolutely. We have been together for 16 years even before we got married, so I have always thought of her as my lucky charm in everything I do and I also involve her in everything. She is not just my better half but my best half.
So, what is in the future of this label?
We are working on a couple of tracks that include some originals as well as some iconic remakes. I don't want to target one specific genre; I want to do it all. I want to experiment in music as well and then do classical music too. I just have to see how can I integrate that all as I don't want to do just commercial sound.
What about your acting career? There hasn't been any announcement since Sab Kushal Mangal last year…


Very soon a big and exciting announcement is going to be made on that front.
So, there is work happening on the label front and the acting front, what's next for you?
I am focusing on my next track, my next film and I am also taking my dad's banner ahead in production. Very soon, something will materialise and an announcement will be made.



Image source: Communique PR