5 Outstanding Duets Featuring Lata Mangeshkar And Asha Bhosle
Lata Mangeshkar and Asha Bhosle have come together to sing around 80 songs. Here's a list of 5 of their best duets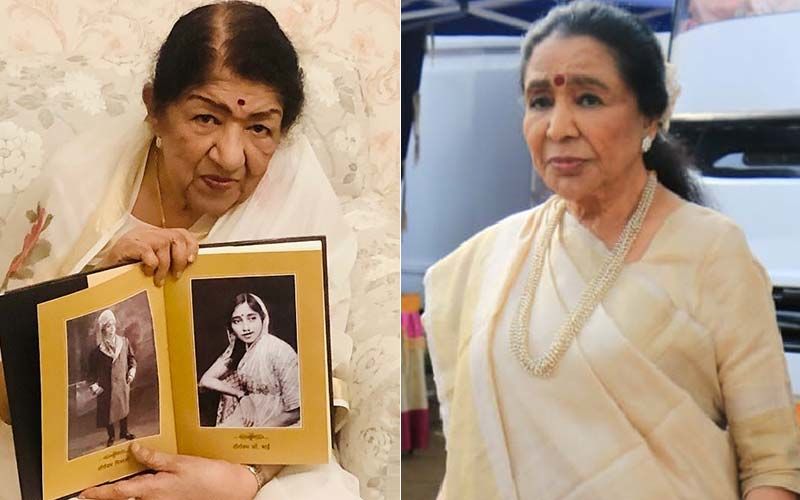 The Mangeshkar sisters Lata and Asha have ruled the 'ear'waves for over 60 years. Apart, they are institutions in their own right. Together they constitute a force to reckon with. The two sisters have sung approximately 80 Hindi songs together. Here are 5 of the choicest Lata-Asha duets.
1. Kya hua, yeh mujhe kya hua from Jis Desh Mein Gangta Behti Hai (1960): The formidable Raj Kapoor was an unabashed fan of Lataji's voice. He has gone on record to state that Lataji was his muse and the voice of RK Films. But hear this. When sister Asha Bhosle was roped in for a duet, composers Shankar-Jaikishan made sure they did full justice to both the sisters. This dizzying dance number has the two sisters sharing the mike with a vivacity that cuts across all allegations of rivalry between the two. If you notice the singing neither of the two maestros are heard trying to upstage one another. It's just the two singers and the song…and ecstasy!
2. Mann kyun behka ri behka aadhi raat ko from Utsav (1985): This is the most well-known Lata-Asha duet, though I wouldn't say the finest song they came together for. But the Laxmikant-Pyarelal composition possesses a tremendous quality of warmth and sharing as the two sahelis on screen, Rekha (singing in Lataji's voice) and Anuradha Patel (given Ashaji's voice) share giggly confidences about the lover who crashes into their hearts at midnight. Aadhi rat ko…the erotic fragrance of two ladies who have more on mind than just romance pervades this joyous celebration of sensuous sisterhood.
3. Paake akeli mohe chhed raaha from Jail Yatra(1981): It wasn't easy for RD Burman to balance out his equation between the two sisters. While one was his muse, the other was his wife. And the muse constantly felt sidelined. Bringing them together for this neglected zingy dance number in a little-known Vinod Khanna starrer couldn't have been easy. And yet when they burst into the dance moves, we hear nothing but the two singers having a whole lot of fun. The tune has elements of RD-Lataji's Bangle ke peeche. It's a top-nautch duet with the potential of being a chartbuster. Sadly, it went unnoticed. Just like the other Lata-Asha duet Tu badi kismat wali hai in Sanjog that RD recorded.
4. Jab jab tumhe bhulaya tum aur yaad aaye from Jahan Ara(1964): The single greatest Lata-Asha duet, by far the most accomplished composition that touched their collaborative lips. The great composer Madan Mohan was a diehard Lata Mangeshkar fan. But here in this Ghazal, he let Ashaji also have her voice heard at its most evocative. The two singers' joint lament about love takes tune to the depths of poignancy and the heights of sublimity. A melodic masterpiece.
5. Koi ayega ayega from Professor (1962)
: Of all the great composers who had the privilege of bringing the two singing divas together, it was Shankar-Jaikishan who got them together the maximum number of times. From Man bhavan ke ghar aaye gori in Chori Chori to Aankhon aankhon mein in Janwar, Lataji and Ashaji sang their way into a great storm of emotions every time their colossal chords collided. This number is outstanding in its use of the two greatest voices the country has ever produced.
Image Source: Instagram/lata_mangeshkar, spotboye archive images, youtube/shemaroofilmsgaane/sonymusicindiavevo/atanuraichaudhury/filmygaanesuneansune/redchilliesentertainment