Award Gaya Bhaad Mein, Rants Amaal Mallik After Getting Nominated For Baaghi!
Here is another one joining the brigade of those who detest award shows. Music composer Amaal Mallik vents his emotions on Facebook regarding the same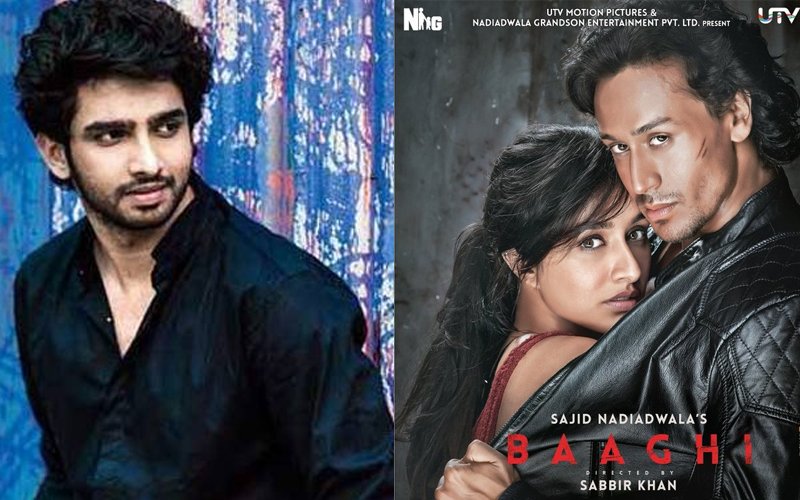 Amaal Mallik's name figures twice in the list of nominees for the Best Music Album at the 62ndFilmfare Awards. But that has not stopped the music composer from taking a dig at award shows. What seems to have ticked him off is the fact that he has been nominated for Baaghi.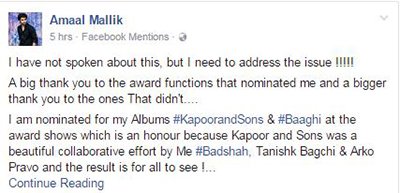 Image Source: facebook/amaal mallik
Amaal took to Facebook today to rant and this is what he had to say:

I have not spoken about this, but I need to address the issue !!!!!
A big thank you to the award functions that nominated me and a bigger thank you to the ones That didn't....
I am nominated for my Albums #KapoorandSons & #Baaghi at the award shows which is an honour because Kapoor and Sons was a beautiful collaborative effort by Me #Badshah, Tanishk Bagchi & Arko Pravo and the result is for all to see !

But if you nominate a #Baaghi that has had average music, only a #SabTera #ChamCham & till a point it was #AgarTuHota that did decent, it's unbelievable because a #BaarBaarDekho & #MSDhoni are bigger albums with 4 successful songs in each.

It is so funny & surprising that you go out of your way and give a star kid all the new comer awards for the best debut, for a performance no one even saw.....

Whereas a #DiljitDosanjh who deserved that award for #UdtaPunjab is nowhere !!

#Sarbjit had #RandeepHooda almost kill himself to bones, and play that character, and you nominate only #AishwaryaRaiBachchan hahahahaha !

Why forget albums like #Kahaani #Neerja by a new composer, #BaarBaarDekho #MSDhoni #Airlift #Jugni and what about a super albums like #Fitoor & #Banjo....

#MSDhoni makes it to the Oscars and it doesn't even get considered as a best film by the award functions.....

#NeerajPandey not nominated for #MSD, #RajaMenon not nominated for #Airlift, and no #AkshayKumar for Best Actor seriously ?

Why don't these honest to script yet commercially successful films and albums make it to the nominations list.....

A nomination is an acknowledgment of Good Work , well that's what I know, but we are disragarding the contribution people have made to the year with their good music and good films, and great performances.

What happened to Aligarh & Airlift as films, #ManojBajpayee was incredible and so was #AkshayKumar.

When I won for Roy last year at almost every award function I was disappointed the most, that an album like #Badlapur was not even considered, it was an album on par with Roy, if not better.

That year even #BajrangiBhaijaan was a great album, but Dilwale and Tamasha were considered better whereas there was so much musical Range #PritamDa showed in #BB

Coming to folk Hindustani music, why not nominate #PremRatan then,it was beautiful folkish melody, which works with rural india just like a #Mirziya.....

No they nominated #Piku lol !

By not nominating some ones' work is a mark of disrespect to that Individual.

First things first to clear out - #AeDilHainMushkil is by far the best music album by Pritam Da and Arijit is the best singer and Amitabh Bhattacharya is the best lyricist.....And I root for that album as it is the greatest album of the last 5 years.

But and a very big BUT !!!!!!!

Why do you have a jury that is still working in the film industry, you need a non-biased jury, not people who are still part of the industry, who end up nominating themselves lol for their own music, their own productions and directorials.....

I am ashamed to be nominated for #Baaghi, and I know my director and producers might hate me for making this remark, but it was a a very pathetically average album....I'm not crying about my self here, I should be happy I have 2 nominations almost everywhere this year but yes it's funny !

Please do a survey and you will know only #ADHM #Dangal & #Sultan #KapoorAndSons #BaarBaarDekho #Airlift & #SanamRe till a point are the albums that the public has loved....

Please be fair and nominate a #Dangal that was honest to script too and yet is a rage today and is topping charts....

Out of respect for seniors you can't just keep nominating them for stuff that hasn't Even been appreciated or even heard by 90% of india....

That's the funniest thing I've seen in long

Winning or Lose doesn't matter the point is, After tremendous hit singles like #JabTak #KaunTujhe #Besabriyaan #SabTera #BolDoNaZara , the award jury decided not to nominate Armaan Malik for his work.

Now coming to the final crux, this is me as a 3rd person who is seeing things happen, and I'm not speaking as a brother here.

The problem lies in the way people operate here, we all ball talk about welcoming youngsters with open arms and supporting them, well I think the rise of #ArmaanMalik as a voice has barely begun, and even if you try to duck youngsters like him, they will keep bouncing back and hitting charts.....

Not nominating Manoj Muntashir for his work in #MSD & Kumaar for #Airlift and Rashmi Virag for #BolDoNaZara is as unbelievable as it can get, Amitabh Bhattacharya will win and he deserves it too, but if you don't nominate good work you aren't even inspiring the deserving hard working people to deliver better....

Nominating music & albums that no one has ever heard, that's crazy as hell boss !!!!

A last request, please don't nominate music that only your jury members sit at home and applaud over starters and drinks.

Really ?!???

Award Gaya bhaad mein yaar, but atleast nominate people as per their talent and their body of work every year....

By not doing so you are making a joke of our film industry and the public backslash is huge, every accolade seems so so unreal and planned, new awards to keep people happy are coming up....

If after this post even if I don't get nominations ever in my life, it is okay, I've always voiced my opinion, and I stand by it!

Thumbnail Image Source:facebook/amaalmallik/hdwallpapers