Here's A List Of 5 BEST Rishi Kapoor And RD Burman Songs That You Must Listen To On Pancham Da's Birth Anniversary
As many already know, the music of RD Burman has played a huge hand in shaping Rishi Kapoor's career. Having said that, here are 5 soundtracks of the duo that you shouldn't miss.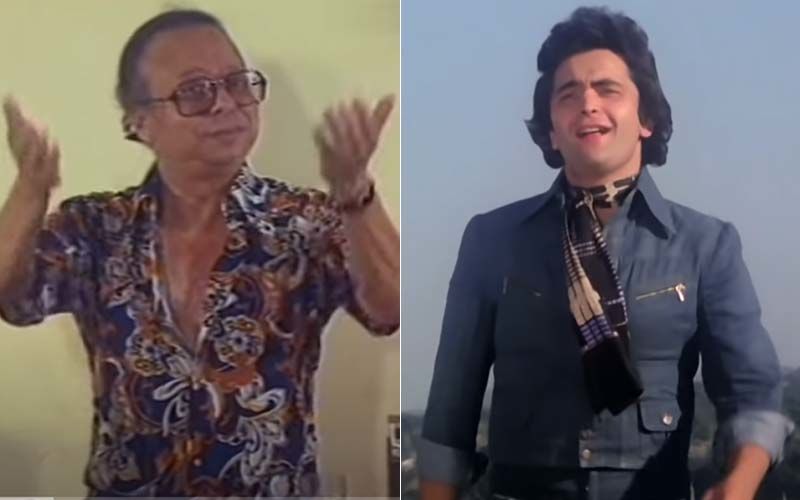 Whom was R D Burman more musically inclined towards, Rajesh Khanna or Rishi Kapoor? Hard to say. RD gave music in 16 of Rishi's films. The music of Burman played a huge hand in shaping Rishi's career. Rishi once spoke to me about his close association with RD. He said, "R.D. Burman was like family to me. He used to come home and I used to visit him. Ashaji used to cook for us. Like me he was very fond of eating and drinking. At the start of my career RD did music in my Zehreela Insaan and Khel Khel Mein. These had evergreen songs like O hanseeni and Khullam khulla pyar. I had become a big star after Bobby. I wanted to work with Pancham.'
He added, 'I vibed with him much better than with Laxmi-Pyare who did Bobby. Pancham was way ahead of his times. Picture chale na chale RD's music was damn good. His music suited my age and image. Pancham loved watching me shoot his songs. He told all my directors, 'Chintu perform kar rahaa hai mera gaana? I want to see him do it.' I'd get nervous. On the sets of Nasir Husain's films Hum Kissise Kam Nahin and Zamane Ko Dikhana Hai he'd have lunch with Nasir saab and then watch me dance. It was a great compliment.'
For the song Dil dena khel hai dildar ka zamane ko dikhana hai pancham came on the sets twice because the choreographer Suresh Bhatt was also Pancham's buddy. He used to shout, 'Buck up, buck up'. We were all a team." "Pancham (RD Burman) and I were great buddies. Just before he died, this was the time when Naddem Shravan had taken over, he called me and said, 'I'm not short of cash. But I desperately need work'. I explained to him that producers came to me with pre-decided music directors. After Deewana and Bol Radha Bol I had succeeded with Nadeem Shravan and Anand Milind. These two became music directors in all my films," says an emotional Rishi Kapoor.
"I remember I was working with Raj Santoshi in Damini which had music by Nadeem Shravan while Santoshi's Ghaatak had music by RD. I remember how unhappy RD was about this. You know on Pancham's birthday I got thinking about all the amazing work that we did together. A die-hard Pancham fan named Brahmanand was making a documentary on him. He spoke to all the people who've worked closely with Pancham, like Gulzar Saab and me." " I met this ardent fan of RD from Kalikat. And he happens to be a die-hard fan of the Rishi Kapoor-RD pair. He pointed out that I had done seventeen films with music by R.D. That fan has sent me all the songs from those 17 films on MP3. Now I've all the music composed for me by R.D. Burman on MP3. Imagine being given such an invaluable gift on Pancham's birthday! These are rare songs for me by Pancham from my forgotten films like Raja, Naya Daur, Aan Aur Shaan, Gunehgaar which I had almost forgotten.'
'Though my first film Bobby had music by Laxmikant-Pyarelal my maximum hit songs were by Pancham. There's one thing that you must note about RD's music . All of his youthful music was for Rishi Kapoor. The other heroes like Rajesh Khanna and Amitabh Bachchan were older. But for Rishi Kapoor, Pancham could really unplug the grooviest sounds. Shah Rukh, Aamir, Salman to paida nahin huey . And there were filmmakers like Raveena's dad Ravi Tandon, Ramesh Behl and Ramesh Sippy who made the kind of films where Rishi Kapoor and R.D. Burman fitted in."
Rishi pauses in remembrance. "In his prime Pancham gave all his youthful music to Rishi Kapoor. In Naya Daur he used empty bottles to create a special effect in the song Paani ke badle peekar sharaab sung by Kishore Kumar and Danny Denzongpa."
Here are the 5 best RD-RK soundtracks:
1. Khel Khel Mein(1974): For a star who kicked off his career on the high notes of Laxmikant-Pyarelal in Bobby it is astonishing how Rishi Kapoor(RK) quickly gravitated towards RD . Khel Khel Mein was their second collaboration after the failed Zehreela Insaan(which contained sparkling gems like O Hanseeni and that underrated Kishore-Asha duet Mere dil se yeh nain). In Khel Khel Mein every song rocked. Kishore and Asha became the voices of Rishi and Neetu as they sang their way into our hearts with Khullam khulla pyar, Ek main aur ek tu and my favourite Aye lo pyar ke din aaye. Shailendra Singh who was RK's ghostvoice in Bobby sang the zingy Humne tumko dekha whole RD-Asha rounded off this outstanding album with the dreamy Sapna mera toot gaye. Wow!
2. Hum Kisise Kam Nahin(1997): Okay , known trivia .This chartbusting soundtrack's biggest hit Bachna ae haseeno is the title of Rishi's son Ranbir's film.Hum Kisi is a kissable contoured album from the word go. From the Abba –inspired Aa dil kya to the original and thoughtful Chand mera dil,to the rumbustious title track, this album showed why the RD-RK team had so much steam.
3. Yeh Vada Raha(1982): Though the film flopped the Kishore-Asha duets are hummed to this day, from the haunting Tu tu hai wohi to the rhythmic Ishq meri bandagi hai to the underrated Maine tujhe kuch kaha ttha and Jeene ko to jeete hain sabhi. Every song was laden in luminosity.Interestingly RD seemed more inclined to use Asha Bhosle's voice in Rishi starrers than her more illustrious sister's.To rip a lyric from a Kishore's solo in this album Aisa kabhi hua nahin jo hua khoob hua. Touche!
4. Bade Dil Wala(1983): A rare RK-RD album where Lata Mangeshkar's voice ruled .we simply drooled.Songs like Jeevan ke din, Aaj kahin mat jaa, Kaho kaise rasta bool pade and Tujh mein kya hai….An absolute gem of a soundtrack which didn't get its its dues. The story of RD and RK's lives.
5.
Zamane Ko Dikhana Hai(1981): A followup to the musical extravaganza Hum Kisi Se Kam Nahin ,this soundtrack too dazzled with a variety of songs from the catchy Pucha na yaar kya hua to the folksy Hoga tumse pyara kaun to the intense Dil lena khel hai dildar ka….Rishi lip-synced in this film in three different voices Mohd Rafi, Shailendra Singh and R D Burman with equal perfection. He could sing on screen as though the words belonged to him. He felt the music. And the music felt for him.
Image Source: Instagram/rdburmanofficial, youtube/broadcastimaging/yrf/saregamamusic/songs4u/shivamahajan