Paani Ch Madhani: Gippy Grewal's Sons Ekom, Shinda And Gurbaaj Take Us On A Laughter Riot With Their Latest Video On Trailer Dialogues
Gippy Grewal and Neeru Bajwa's 'Paani Ch Madhani' is releasing on Diwali 2021 i.e. November 4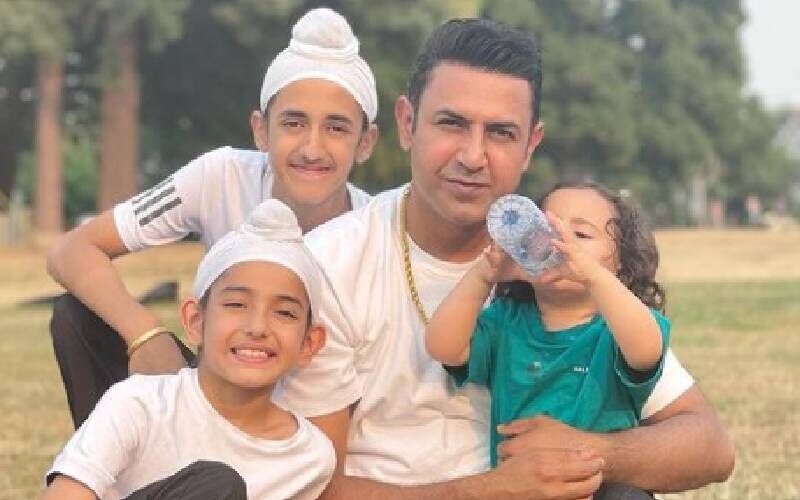 Gippy Grewal and Neeru Bajwa starrer 'Paani Ch Madhani' is all set to hit the box office on November 4, 2021. The trailer of the film has released a week back and it created a solid buzz. In fact, the dialogues from the trailer are taking rounds on the internet. When the entire Punjabi audience is enjoying it, why don't Gippy Grewal's sons have some fun? The supremely talented kids are again here with their hilarious version of trailer dialogues from the film 'Paani Ch Madhani'.
Gippy Grewal's sons' squad Ekom Grewal, Shinda Grewal and Gurbaaz Grewal have their separate fanbase on social media. These adorable kids make many funny and adorable videos together which always melts hearts of the netizens.


Recently, Gippy Grewal took to his social media handle and posted a video featuring three of his sons having fun with the dialogues from the film and entertaining fans in with their cute comedy. In the video, you can see how the naughtiest and cutest Gurbaaz is peeing on his brother Ekom's neck and Shinda is enjoying the entire scenario. Gippy captioned the video as, "Aj Kyun Ni Bolda #paanichmadhaani #5Nov2021 #gippygrewal"
A few days back, Gippy Grewal posted another video featuring his eldest and younger son Ekom Grewal and Shinda Grewal enjoying their own version of the song 'Jean'. Take a look at this hilarious video.
Image Source: Instagram/gippygrewal