Malik Actor Fahadh Faasil: 'I Have Never Experienced Stardom; I Have Always Been Just As Good As My Last Film'- EXCLUSIVE VIDEO
As Mahesh Narayanan's Malik, featuring Fahadh Faasil, releases today on Amazon Prime Video, the director-actor duo talks about the film, cinema crossing language barriers and more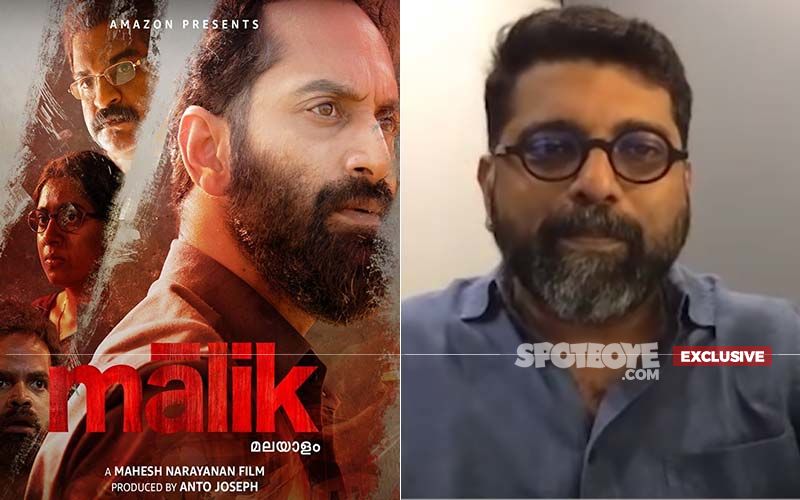 Over the last few years, cinema has been crossing the barriers of language and subtitles, and Mahesh Narayanan's Malayalam film Malik, headlined by Fahadh Faasil, seems to be going on the same path. The film released today on Amazon Prime Video and has been garnering unanimous praise for its story and especially Fahadh's performance.
In an exclusive conversation with Spotboye.com, the director-actor duo of Mahesh and Fahadh spoke about the film, what keeps pulling them back to each other and more. Read excerpts from the interview:
Mahesh, as it has been eminent, films are crossing the boundaries and barriers of language and subtitles today. What do you think is it about Malik that will have that universal appeal?
Mahesh: I always feel that the more local you go in your story, the more its reach it is. Narrating a story with rooted emotions increases the reach as emotions are universal. So, when you write a screenplay close to your heart, there is no barrier and OTT has sorted out the visibility problem so any barrier that there was, has been crossed.
Fahadh, did you take any reference from the mainstream media or real-life people for your role of Sulaiman in Malik?
Fahadh: Malik is not based on anyone, but Mahesh is inspired by some real-life incidents that landed among the narrative. As for me, Malik talks about the 30 years of the history of Kerala coastal region. My character Sulaiman, is basically the voice of the community, and I believe there is a Malik in every community. Since I play my character in three different timelines, the challenge was to make these three stages look convincing and make it believe that it is one single character.
Speaking of that, whenever there is transformation across age groups is concerned people talk about the physical aspect of it, but how challenging was it for you to get the mental aspect right?
Fahadh: It's very human as I have seen my dad and uncles. I have started noticing my dad since I was 15. I am 38 now, so I have noticed the change he has undergone in these 23 years, the difference in his patience and how he gets angry. I didn't base it on one person in general, but all the people I have met and observed. While doing Malik, I realised, I have met someone like Sulaiman in my life.
Mahesh, you shot Malik in reverse. What were the challenges you faced going this unconventional way?
Mahesh: It was because of the logistics for the arts department primarily. Malayalam cinema is of not of so much budget compared to the Telugu, Tamil or Hindi cinema. We had to build the entire terrain and the principal photography of the film happened on the set built on those six acres of land. 75 percent of the shooting happened there, so for the arts department's convenience, we had to shoot it in reverse. For them, to build it for the beginning days then going back to the older period was easier and that was the only way I could do the film.
However, that puts a lot of limitations. Actors had to trust me on maintaining the continuity. I constantly had to kept briefing them and we always had a written draft to follow and track, and even the technicians used as a reference. Although, at one stage, I thought it would be tiring for the actors but after a point even Fahadh told me that it was very much helpful for him to play his character's younger self due to the reverse order as the traits of the older age could be explored better during the younger age, since as a character he already knew about them.
Mahesh, touching the subject of religion, community or politics is always a risky business in our country. You do that in Malik too. So, were there any apprehensions in your mind at all regarding that?
Mahesh: For me, I always consider that if I am missing out on these things then I am not doing justice to the film. If I am addressing a community and then not showing them properly, it's not right. If you look at the coastal side anywhere in India, religion is a big factor and their faith and trust in that. But that's only a layer not the whole plot of the story. This film is a human drama and you will see all emotions love, romance, hatred and revenge. Religion is only a part of it. But the problem is that the moment we see certain bits and pieces, we start highlighting those things, but I don't care about that. I have something more to tell, a huge timeline, so I am focusing more on that.
Fahadh, even though you have acted mostly in Malayalam films, you have found acceptance pan-India. How does it feel to get approval from an untapped audience for you?
Fahadh: When I started, I kept wondering if even the Malayalis would watch my film. I was actually worried if my own people would see my films. Now, it's more than what I could have asked for. The fact that cinema is travelling across languages is in itself a big thing for me. It's a big blessing to be a part of the industry in this stage. My generation is actually witnessing a big change happening across the world. I am very fortunate, and as in school I used to say, my timing is very right.
Even after all these years, you are finding new things to do, like debuting in Telugu cinema with Pushpa. Do you still get those first-time jitters?
Fahadh: I believe that I have to feel that every film of mine is like a new thing that I have never done before. I have to feel that I am trying to do it for the first time. That is important.
So, are there any Hindi film offers for you?
Fahadh: Yes, talks are happening. Let's see how it pans out.
What kind of roles or films would you like to do in Bollywood?
Fahadh: I like Rajkumar Hirani's films and I really enjoy them.
Mahesh, you struggled a lot for a theatrical release for Malik. But seeing Fahadh has already achieved success on OTT with some of his previous film, do you feel like it might have been a good decision to take the OTT route?
Mahesh: I feel this film will work on every platform, but the problem is we waited a lot because we desperately wanted it to get a theatrical release. When we started shoot also, it was intentional and everything was done for a theatrical experience. But now, we can't give an exact date for that to happen and I also strongly believe that there is an expiry date for a particular type of content. My films are always time-driven and at one stage it has to be told. So, we had to get it out and we all had to move to other projects. Me and Fahadh finished C U Soon, collaborated again on Malayankunju and Fahadh did other projects too. We have to let the film free and celebrate it and thankfully Amazon has been a great platform for it.
Malik is your third project with Fahadh and you are collaborating again on Malayankunju after this. What brings you back to Fahadh time and again?
Mahesh: Saji (Sajimon Prabhakar, director of Malayankunju)) used to be my associate and he and Fahadh had been planning a film for a long time. When Saji asked me if we could collaborate on a project, I bounced an idea with him which he then shared with Fahadh. So, it's like doing films within friends. That's a beautiful thing as there's an understanding between us all.
Also, it's my first-time doing cinematography and Fahadh's father is a big director and he is the producer of Malayankunju as well. So, I would keep asking Fahadh for his response.
Fahadh: (Laughs) After every shot, he would ask me 'did you see anything that he won't like'.
Fahadh, you have experienced theatre stardom in your career, does this OTT success sometimes feel alien to you?
Fahadh: I have never experienced stardom. I have always been just as good as my last film. For me, at a point when the whole world is stuck, I cannot be selfish and complain about what I have and don't have. What I did was I made films and asked whoever can take it, to take it. Amazon was kind enough to explore that opportunity and take it. I have just tried to do my job, just the exhibition has been different. We are all going through a period of change.
Image source: Instagram/maheshnarayan_official/fahadhfaassil,
youtube/filmcompanion