Sunil Grover's Indirect Message To Kapil Sharma: Dignity Is More Important Than Money
From the looks of it, Sunil Grover has no intentions of joining Kapil Sharma back for money. It will be long before things fall in place for The Kapil Sharma Show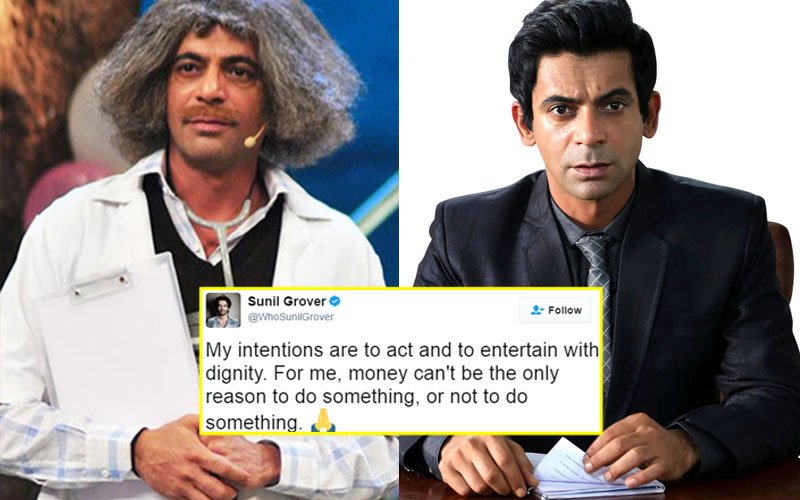 Amongst reports that Sony has given Kapil Sharma one month's time to get his act together before they decide on continuing with the show, comes in a tweet that from Sunil Grover, which, from the looks of it, is bad news for the host.

Sunil wrote, "My intentions are to act and to entertain with dignity. For me, money can't be the only reason to do something, or not to do something."
My intentions are to act and to entertain with dignity. For me, money can't be the only reason to do something, or not to do something. 🙏

— Sunil Grover (@WhoSunilGrover) 5 April 2017
It seems, Sunil is in no mood to negotiate with the channel or Kapil Sharma and will not return to The Kapil Sharma Show. After he sent out this message, Karan Wahi and Kushal Tandon commented on the post in his favour. While Karan said, "Well said paaji," Kushal wrote, "Super.....but keep your wine safe now.... (sic)."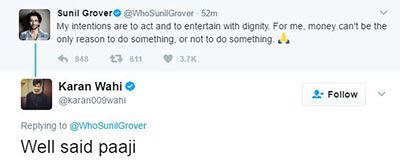 |
Karan and Kushal are just two of the many stars who have spoken against Kapil Sharma.
This morning, we woke up to Karan Patel taking a dig at the comedian when he said, "Kapil Sharma's incident proves that if you want to be LOVED and RESPECTED for LIFELONG and NOT MOMENTARILY ... there just one simple thing to do ....Head on your shoulders and feet firm on the ground (sic)."
Soon after, TV czarina Ekta Kapoor and Anita Hassanandani reacted to the post agreeing with Karan.
Ekta said, "So true (sic)."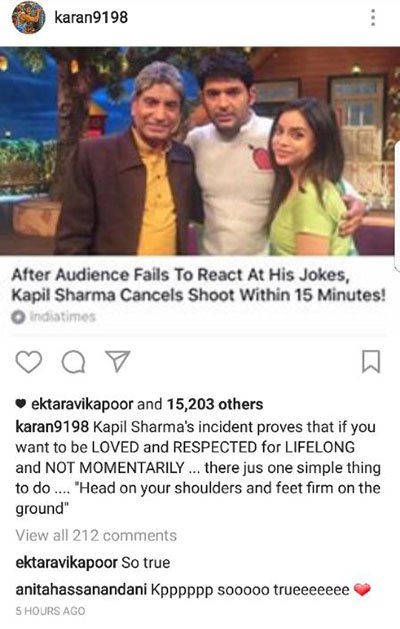 Ekta is a big name in the television world and it's no news that she has contributed greatly in making the television industry what it is today. Also, she doesn't go on record or social media to comment on ongoing matters. Hence, if she chooses to react on Kapil Sharma-Sunil Grover brawl, it definitely carries weight.
As for Kapil, when someone so influential speaks against you, it definitely is not good news.
Anita Hassanandani, on the other hand, simply said, "KPPPPP sooooo trueee...(sic)"
Clearly, the TV industry is taking sides and they SUPPORT Sunil Grover.

Thumbnail Image Source: storynotch & urbanasian