Akanksha Puri's DANGEROUS Rapid Fire: Deepika Padukone, Salman Khan, Jacqueline Fernandez Find Place In Her Answers- EXCLUSIVE VIDEO
Here is a fun and candid rapid fire with Akanksha Puri where the actress reveals all things dangerous in her life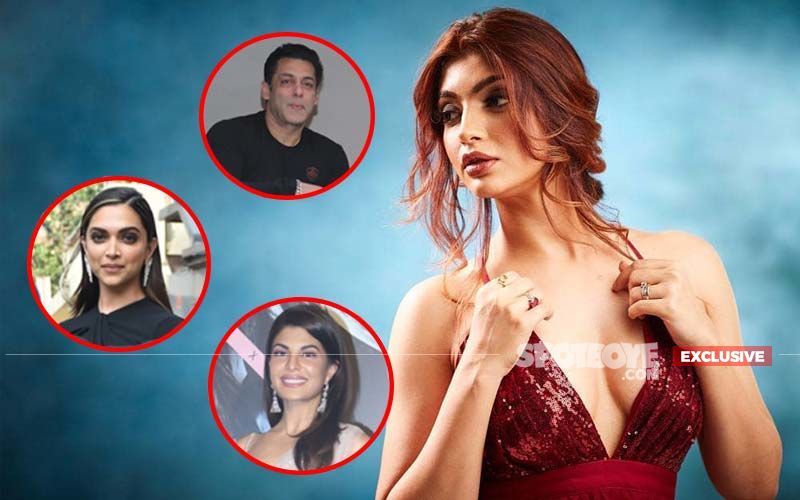 Akanksha Puri recently made people move of her music video 'Dangerous Lak' with Shrey Singhal. And while promotions we asked her some dangerous questions about her love life, habit, co-star and much more. Here's what all she answered to us;
The actress who has a dangerous lak in B Town?

I think Jacquiline Fernandes. I am very much inspired by her body. I really love the way her lak is which she moves dangerously. I really like her fit body.
Bollywood actor who has the most dangerous smile?
Salman Khan has that dangerous smile. His smile reaches his eyes and that's killer.
Akanksha can die for his/her dangerous look?
I can die for Deepika Padukone's look. I love the way she carries herself with so much class and simplicity. She has always been my style icon.
Tell us the dangerous co-star you have worked with till now?
My co-star Malkhan Singh who used to play lord Shiva in my show Shree Vighnaharta Ganesh. Unhone maahol kaafi dangerous bana diya tha mere liye while we used to shoot. But he was a very good artist so negativity between us never got reflected in our scenes. We couldn't become good friends as we never got along on many things. Now I miss all those things as I am no more shooting for it. Maza aata tha unse ladne aur argue karne mein (laughs). We were on a different page and our vibes didn't match but he was a good person otherwise.
A dangerous text message Akanksha sent was to....
A lot of people but recently I sent a message to one of the casting manager. Ek touch mein rehne ki baat ko unhone itna exaggerate kar diya that I lost it completely.
Social media post done by you which got you some dangerous response?
I have posted a picture where I am backless and showing off my lower back tattoo. After which I definitely got some very dangerous feed back. But at the same time I also get maximum likes and comments on it so I don't regret posting that.
Any dangerous thing you have done in love?
Pyaar mein log bhaut kuch kar jaate hain. But I feel doing things after knowing the fact that the person is not right for you and you still continue to do that is dangerous according to me. It's a risk so I would suggest people not to do that as the results are even more dangerous. People say opposites attract but I feel it is important to have someone in your life who is just like you.
Akanksha also answered the kind of life partner she is looking for, the dangerous habit she has and much more in the excluisve video above.
Image source: Instagram/akanksha8000/SpotboyE archive