Anupamaa SPOILER 12th September 2023: Anu Drags Romil By His T-shirt To Know About Pakhi's Whereabouts; Samar-Toshu Set Out To Find Their Sister
Anupamaa will confront Romil about kidnapping Pakhi, will be left worried for her daughter's well-being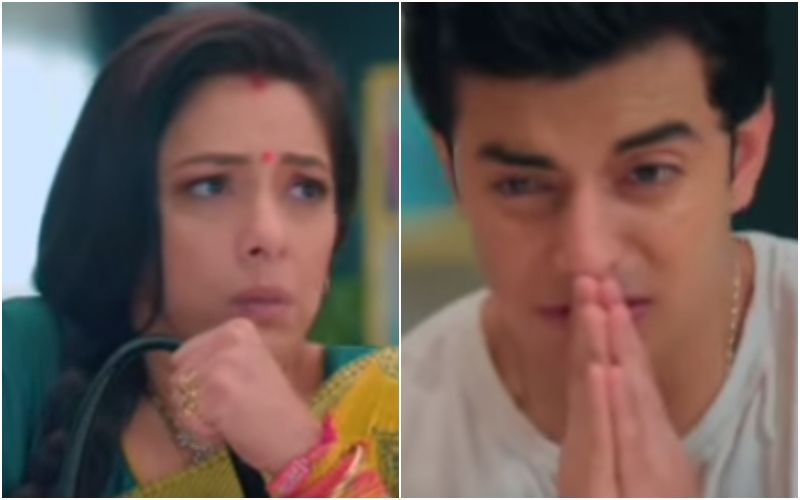 Star Plus' television serial Anupamaa has been raking in all the love from the audiences ever since it started airing in 2020. Starring Rupali Ganguly, Sudhanshu Pandey, Madalsa Sharma, Apara Mehta and Gaurav Khanna, the show tops the BARC ratings every week. It enjoys a huge fan base on social media as well. The drama in the serial is at an all time high as it is revealed that Romil kidnapped Pakhi to take revenge on Adhik and Barkha.
In today's episode it will be seen that Romil will be shocked to know that Anu followed him to the apartment where he had kept Pakhi hidden. Anu gets hysterical after seeing her daughter's purse. She searched for Pakhi's phone, which is missing. Romil begins to regret his actions. At the Shah's, Vanraj starts preparing to leave the house in search of Pakhi. Baa and Bapuji try to stop, but Vanraj doesn't back down. Samar and Paritosh convince their father to stay home by stating that they will go and search for their sister instead.
ALSO READ: Anupamaa SPOILER ALERT 11th September 2023: Anu Suspects Romil To Be Pakhi's Kidnapper, Follows Him To A Deserted Apartment
Toshu informs Samar that he knows a few people that would help them find information about Pakhi, however they are not good people. Back at the deserted apartment, Anu looks around the place for Pakhi and questions Romil where she is. He stands mum as Anu demands an answer from him. She berates him by stating that he stayed quiet even after seeing how worried and emotional everyone was. From the police coming to their house to Adhik getting arrested, Romil didn't utter a word. A determined Anu holds Romil by the collar and drags him out of the apartment.
ALSO READ: Anupamaa SPOILER 10th September 2023: Romil Starts Getting Worried As Police Gets Involved; Adhik Realises His Mistake Of Mistreating Pakhi
Samar and Toshu come across a girl who looks like Pakhi while they are travelling. All the while Anu is still dragging Romil by his t-shirt. Romil starts profusely apologising and tells Anu what actually happened. He explains how he had just locked Pakhi in that apartment to take revenge on Adhik and Barkha for torturing him. He explains how he did this as a prank after Pakhi failed to understand that Adhik is emotionally manipulating her. He goes on to state that he doesn't know where Pakhi is right now. As Romil justifies his actions Anu gets very angry.
In the upcoming episode it will be seen that Anu warns Romil and states that if anything happens to her daughter, she will not spare him. Pakhi falls down on the ground from exhaustion when three goons find her.
Image Source: Instagram