Anupamaa SPOILER 24th August 2023: Anu Advices Romil To Get Addicted To Music Rather Than Cigarettes; Anuj Asks Pakhi To Show Professionalism
In the upcoming episode of Anupamaa, Romil explains to Anu how smoking is considered as swag, she advices him to get addicted to music instead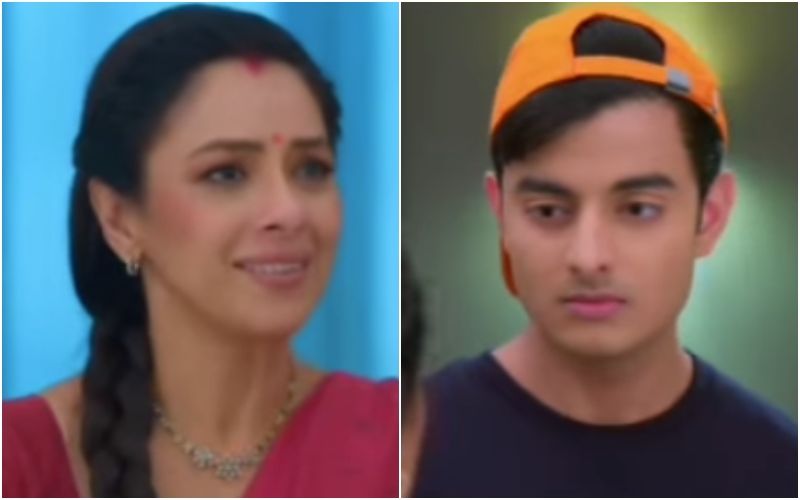 Starring Rupali Ganguly, Sudhanshu Pandey, Madalsa Sharma, Apara Mehta and Gaurav Khanna, Anupamaa is one of the most-watched shows on Star Plus and it always tops the BARC ratings. The high voltage drama in Rajan Shahi's Anupamaa continues as Pakhi stays adamant on giving her marriage with Adhik another chance, despite her mother trying to explain her otherwise. In the upcoming episode of the show Leela will introduce Dimpy to cleaning supplies and tell her to clean her side of the house.
Today's episode will start with Adhik being extremely lovey-dovey with Pakhi during breakfast. Romil, Anu and Anuj will see-through his ruse, Pakhi will bask in his fake love and concern. As everyone starts eating, Pakhi and Adhik will feed each other, leaving Romil thinking how he can't bear his fake act of love. Ankush and Anuj start discussing work, when the latter asks Anu and Pakhi to join them at the office. Adhik expresses his wish to join them on the London project, to which Anuj says that he can take a break, which leaves him irked. Further during the breakfast Pakhi points out that she is thinking of taking a break, which leaves Anu concerned. Pakhi tries to convince them that they should give the project to Adhik. Frustrated by the argument that ensues, Anuj schools her and tells her to show professionalism, as they hired her based on her talent.
ALSO READ: Anupamaa SPOILER ALERT 23rd August 2023: Anu-Anuj Fondly Watch Romil Play The Guitar; Kavya Decides To Divorce Vanraj
Back at the Kapadia mansion, as Romil gets up from the breakfast table a packet of cigarettes falls from his pocket. Anu witnesses the same and questions him about it. As Anupamaa tries to school him about it, he gets irritated and explains to her that smoking is considered swag. Anu makes him understand that if he wants to get addicted to something, it should be to music. She calmly reminds him of how beautifully he plays the guitar. In the next episode it will be seen that Dimpy will question about the lights being off. Leela will tell her to pay her electricity bill. As Dimpy suggests the Shah's should pay for it since Samar is away, Anu reminds her of being separated from the family.
It will be interesting to see what turn the story takes in the future episodes. With the interesting upcoming plot twists and high-voltage drama, fans have been waiting with baited breath to know how the makers will take forward Anu and Anuj's love story. Will MaAn finally get their happily ever after or not?