Anupamaa SPOILER ALERT 23rd August 2023: Anu-Anuj Fondly Watch Romil Play The Guitar; Kavya Decides To Divorce Vanraj
Anupamaa and Anuj will start bonding with Romil as they discover his talent of playing the guitar, Anu is also worried about her daughter Pakhi being in an abusive marriage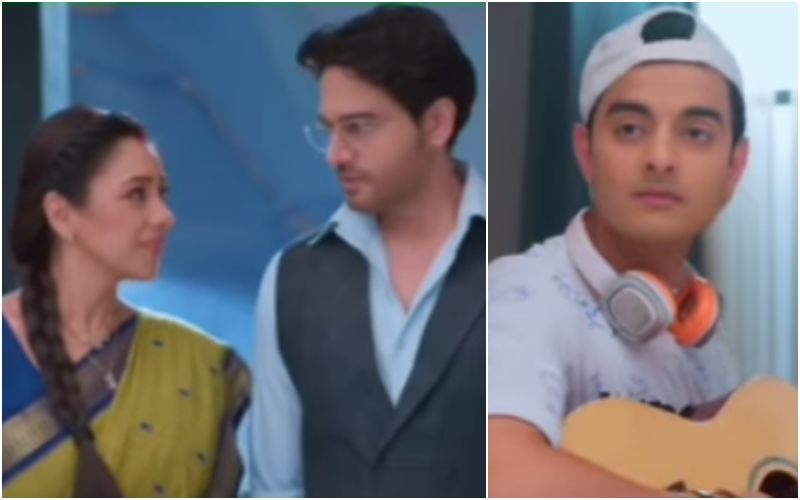 Starring Rupali Ganguly, Sudhanshu Pandey, Madalsa Sharma, Apara Mehta and Gaurav Khanna, Anupamaa is one of the most-watched shows on Star Plus and it always tops the BARC ratings. The high voltage drama in Rajan Shahi's Anupamaa continues as Pakhi stays adamant on giving her marriage with Adhik another chance, despite her mother trying to explain her otherwise. In the upcoming episodes it will be seen that Anu and Anuj will start bonding with Romil after watching him play the guitar.
In today's episode of Anupamaa it will be seen that Anu will worry about her daughter Pakhi being in an abusive marriage with Adhik. Anuj makes her understand that they need to handle the matter with care because if they force Pakhi, she will never tell them about her grievances. In the midst of it all they hear someone playing the guitar and come across Romil's room. They watch fondly as the teenager plays the musical instrument. When they ask him about it he informs them that he learnt it online. Anuj questions if he wants to be enrolled in a course for playing the guitar. Romil shuts them off and asks them to leave. It will truly be interesting to see if Romil opens up to Anu-Anuj and if he bonds with them.
ALSO READ: Anupamaa SPOILER 22nd August 2023: Pakhi Suggests Anuj To Give Her Project To Adhik Leaves Anu Furious, Daughter Lashes Out At Her Mother
For the past few episodes, things have been strained between Vanraj and Kavya. While she has been living in guilt of being an adulterer and carrying her ex-husband's baby, he has been in a dilemma on whether he should support the baby or not. In the upcoming episode we might see Kavya asking Vanraj for a divorce as she cannot stay in their loveless marriage with a guilty conscience. Vanraj will be left torn as he doesn't want to leave Kavya but he cannot accept someone else's child.
ALSO READ: Anupamaa SPOILER ALERT 21st August 2023: Anupamaa Urges Pakhi To Take An Action Against Adhik; Samar And Toshu Left Furious
It will be interesting to see what turn the story takes in the future episodes. With the interesting upcoming plot twists and high-voltage drama, fans have been waiting with baited breath to know how the makers will take forward Anu and Anuj's love story. Will MaAn finally get their happily ever after or not?
Image Source: Instagram