Anupamaa SPOILER 22nd August 2023: Pakhi Suggests Anuj To Give Her Project To Adhik Leaves Anu Furious, Daughter Lashes Out At Her Mother
The high voltage drama in Anupamaa continues as Adhik will start emotionally manipulating Pakhi so that he and Barka can stay in the Kapadia house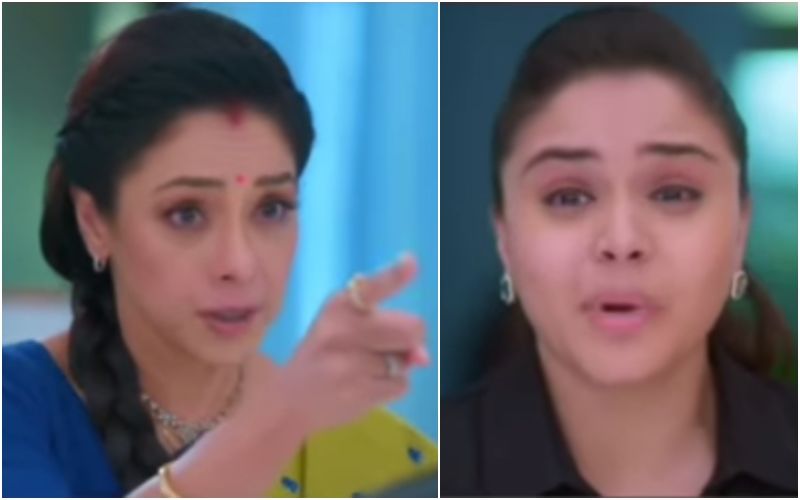 Star Plus' show Anupamaa has been raking in all the love from the audiences ever since it started airing in 2020. Starring Rupali Ganguly, Sudhanshu Pandey, Madalsa Sharma, Apara Mehta and Gaurav Khanna, the show tops the BARC ratings every week. The show enjoys a huge fan base on social media. The high-voltage drama in the Rajan Shahi's serial continues as Pakhi stays adamant on giving her marriage with Adhik another chance, despite her mother trying to explain her otherwise.
The drama continues in today's episode as Adhik starts crying in front of Pakhi and begging her to forgive him. As Anu and Vanraj warn her of his tactics she makes Adhik stop crying and consoles him. On the other hand, Vanraj states that since Pakhi has seen too many relationships failing, she wants her marriage to work. Babpuji adds that she might be fearing the society's backlash, however her life is much more important. Adhik asks Pakhi for another chance and she says yes. She holds his hands and Anu reminds her that the hand she is holding was the one that hurt her the most. Anu tries to make her daughter understand the difference between love and a forceful relationship, however Pakhi stays adamant.
ALSO READ: Anupamaa SPOILER ALERT 21st August 2023: Anupamaa Urges Pakhi To Take An Action Against Adhik; Samar And Toshu Left Furious
Vanraj, Baa and Bapuji return to the Shah house, where they inform everyone what happened. While Samar and Toshu get furious upon hearing that Adhik is abusing their sister, Dimpy takes Adhik's side. She explains how Adhik is very calm and mature and how he wouldn't have done what he did if Dimpy behaved. Leela interrupts her, warns her not to talk ill about Pakhi and to not interfere in their family matters. Samar and Pakhi leave from there. In the upcoming episode it will be seen that Leela will pass on cleaning supplies to Dimpy and inform her to clean her side of the house, which leaves her shocked. At the Kapadia mansion, Adhik will be seen taking extra care of Pakhi which will irk Anu. This will start getting worse after Pakhi suggests that her project should be given to Adhik as he is more talented, which leaves Anu furious.
ALSO READ: Anupamaa SPOILER ALERT 20th August 2023: Anupamaa-Vanraj Lash Out At Adhik For Abusing Pakhi; Barkha Tries To Save Her Brother
It will be interesting to see what turn the story takes in the future episodes. With the interesting upcoming plot twists and high-voltage drama, fans have been waiting with baited breath to know how the makers will take forward Anu and Anuj's love story. Will MaAn finally get their happily ever after or not?
Image Source: Instagram