Anupamaa SPOILER ALERT 21st August 2023: Anupamaa Urges Pakhi To Take An Action Against Adhik; Samar And Toshu Left Furious
In the upcoming episode of Anupamaa it will be seen that Pakhi will stay adamant on giving her marriage with Adhik another chance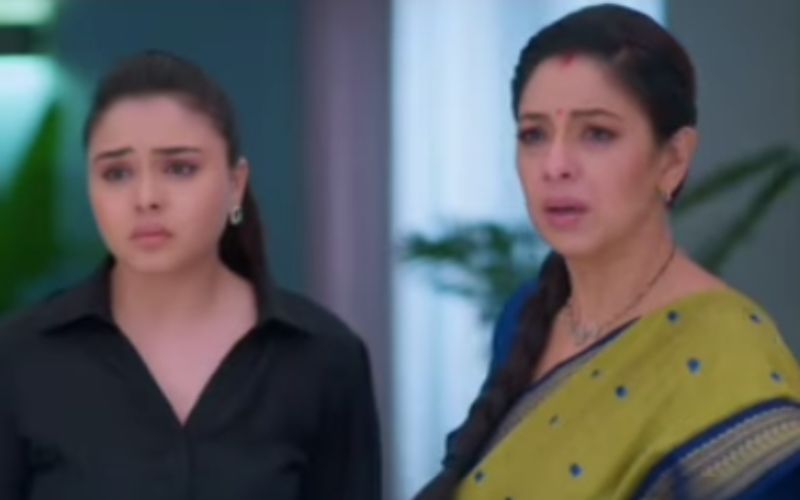 Star Plus' show Anupamaa has been raking in all the love from the audiences ever since it started airing in 2020. Starring Rupali Ganguly, Sudhanshu Pandey, Madalsa Sharma, Apara Mehta and Gaurav Khanna, the show tops the BARC ratings every week. The show enjoys a huge fan base on social media. The high-voltage drama in the Rajan Shahi's serial continues as Pakhi stays adamant on giving her marriage with Adhik another chance, despite her mother trying to explain her otherwise.
The drama from yesterday's episode will continue today as Anupamaa will try to make Pakhi understand that no matter how many chances she gives Adhik he will not change. Anu gives her own example by stating that when Vanraj's relationship with Kavya was revealed she took the bold step of getting out of her marriage as there was no respect left. Pakhi reminds her that it took her 25 years to do that, which leads to Anu asking her if she will stay in her abusive marriage for 25 years. Anu goes on to tell her that by willingly staying in an abusive marriage she is letting down the women who are fighting for their right of respect in a marriage. Pakhi stays adamant on giving Adhik another chance. Anuj recognises Adhik's ploy to emotionally manipulate Pakhi.
ALSO READ: Anupamaa SPOILER ALERT 20th August 2023: Anupamaa-Vanraj Lash Out At Adhik For Abusing Pakhi; Barkha Tries To Save Her Brother
In the upcoming episodes it will be seen that Vanraj, Baa and Bapuji will return to Shah house and inform everyone what has happened. On one hand, Dimpy will stand by Adhik and state that he can never do any wrong. She will throw Pakhi under the bus by saying that she must have done something to instigate Adhik, which leaves everyone shocked. On the other hand, Samar and Toshu will be furious to know that their sister is going through something so traumatic. They will be ready to go to the Kapadia mansion and bring her home. However, Vanraj will stop them and request them to handle the situation with calm and patient mind.
ALSO READ: Anupamaa Upcoming PLOT TWIST! Anu Fails To Save Pakhi From Her Toxic, Abusive Marriage With Adhik? READ BELOW TO KNOW MORE
It will be interesting to see what turn the story takes in the future episodes. With the interesting upcoming plot twists and high-voltage drama, fans have been waiting with baited breath to know how the makers will take forward Anu and Anuj's love story. Will MaAn finally get their happily ever after or not?
Image Source: Instagram