Anupamaa SPOILER ALERT 10th July 2023: Choti's Condition Keeps Getting Worse, Anuj Refuses To Call Anu For Help
In the upcoming episode of Anupamaa, Anuj will decide not be a burden on Anu and to let her fulfil her dreams by going to America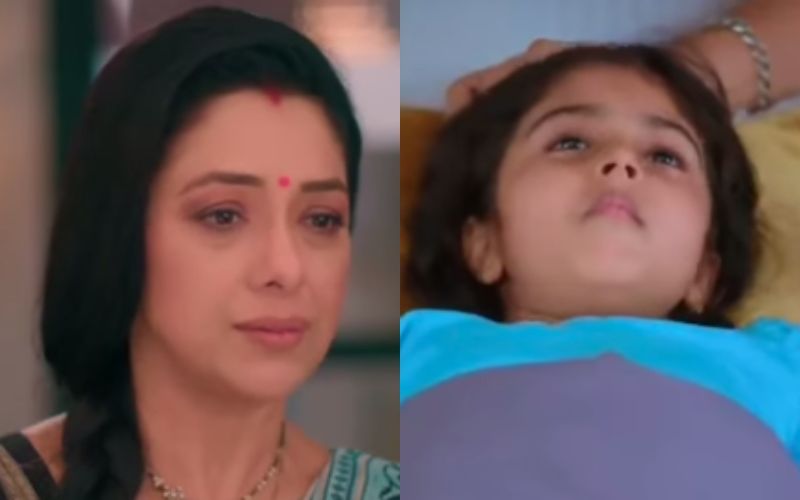 The makers of Star Plus' hit show Anupamaa have been keeping the audiences entertained with the twists and turns on the show. Starring Rupali Ganguly, Chhavi Pandey and Gaurav Khanna in the lead, the show enjoys a huge fanbase. Apart from topping the BARC ratings every week, the show also constantly trends on social media. In the previous episodes it was seen that Choti Anu receives the shock of her life when she overhears Anuj saying that Maya passed away while trying to save Anu's life.
As Anu reaches gurukul Malti Devi advises her to check all the props and accounts. She goes on to state that she would have told Nakul to do the task, interrupting her Anu says she understands her Gurumaa wanted her to be present. As Gurumaa emphasises on how a student should never betray the trust of their teachers, Anu reassures her that that will never happen. The teacher goes on to express how she cannot be certain until Anu boards the plane and it takes off. Anupamaa starts recalling Choti suffering panic attacks, Mayaa's untimely demise and Anuj's emotional state as Gurumaa reminds her that only 11 hours are pending, until she has to leave for the airport.
Further in the episode it will be seen that Anupamaa will feel restless and ask Anuj about Choti's health. While all the family members are urging him to call Anu once, he adamantly refuses and states that he will not be a burden on Anupamaa and will let her live her life the way she has always dreamed of.
With the three year leap just around the corner, fans have been eagerly waiting to know how the makers plan on taking Anu and Anuj's love story ahead. Will Anupamaa go and settle in the US alone or will Anuj and Choti Anu follow her and become her pillar of support again are some of the burning questions the audience is eagerly waiting for.
Image Source: Instagram