Anupamaa SPOILER 9th July 2023: Anu Reaches Kapadia Mansion After Choti Suffers Panic Attack, Anuj Vows To Let Anu Go To America
In the upcoming episode of Anupamaa, Anu will reach Kapadia mansion after knowing the Choti is suffering a panic attack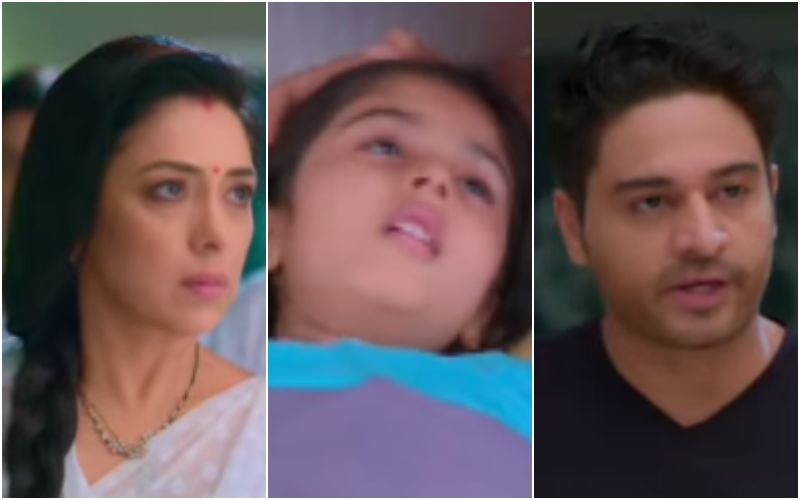 The makers of Star Plus' hit show Anupamaa have been keeping the audiences entertained with the twists and turns on the show. Starring Rupali Ganguly, Chhavi Pandey and Gaurav Khanna in the lead, the show enjoys a huge fanbase. Apart from topping the BARC ratings every week, the show also constantly trends on social media. In the previous episode it was seen that Choti Anu receives the shock of her life when she overhears Anuj saying that Maya passed away while try to save Anu's life.
In the upcoming episode it will be seen that the Shah's come to know about Choti suffering panic attacks. While Leela expresses that only a mother can handle their kids during such tough times, Toshu and Vanraj assert that Anupamaa should focus more on herself now. Vanraj expresses how Anuj might use this as a tactic to hold Anu back from going to America and fulfilling her dreams. On the other hand, a frantic Anu reaches Kapadia mansion upon knowing what her youngest is going through.
ALSO READ: Anupamaa SPOILER 8th July 2023: Pakhi Faces Domestic Violence At The Hands Of Adhik; Anu Stays Back To Take Care Of Choti?
In the hopes that Choti gets peace in her sleep, Anu sings her a lullaby while praying that her kid gets well soon. Choti wakes up and calls out for her maa and Anupamaa assures her that she is right there with her. Watching them interact, Barkha wonders if Choti Anu heard the truth while observing the way the kid is looking at her mother. Further in the episode, Anupamaa cooks porridge and milk for Choti and feeds it to her. Pakhi records this and sends it to the Shah family, so that even they have a peace of mind.
ALSO READ: Anupamaa SPOILER ALERT 7th July 2023: Samar Wants To Divorce Dimpy for Hating Shah Family; Wants To End Their Misery!
The next day, as Malti Devi and Nakul are headed to the Gurukul, she expresses how Anu needs to go to the USA as her money and fame is at stake. As Guru Maa calls Anu repeatedly, Anuj disconnects the calls so as to not disturb Choti who is sleeping. However, she picks up the call and informs Malti Devi that Anu is in the washroom. She lashes out at him and questions why she never answered any of the calls. She goes on to say that Anupamaa has an early morning flight which is why she is needed at the dance academy. As Anu inquires who he was talking to, Anuj returns her phone. He asks her to not sacrifice her dreams for him and Choti. He decides he will not be a hurdle in her life like the Shah's and encourages her to go live her dreams.
With the three year leap just around the corner, fans have been eagerly waiting to know how the makers plan on taking Anu and Anuj's love story ahead. Will Anupamaa go and settle in the US alone or will Anuj and Choti Anu follow her and become her pillar of support again are some of the burning questions the audience is eagerly waiting for.
Image Source: Instagram