Anupamaa SPOILER ALERT 11th August 2023: Dimpy Demands Her Share In The Shah House, Adhik And Bharkha Get Jealous Of Pakhi's Success
In the upcoming episode of Anupamaa, Anuj and Anu will be seen making tough decisions for their family members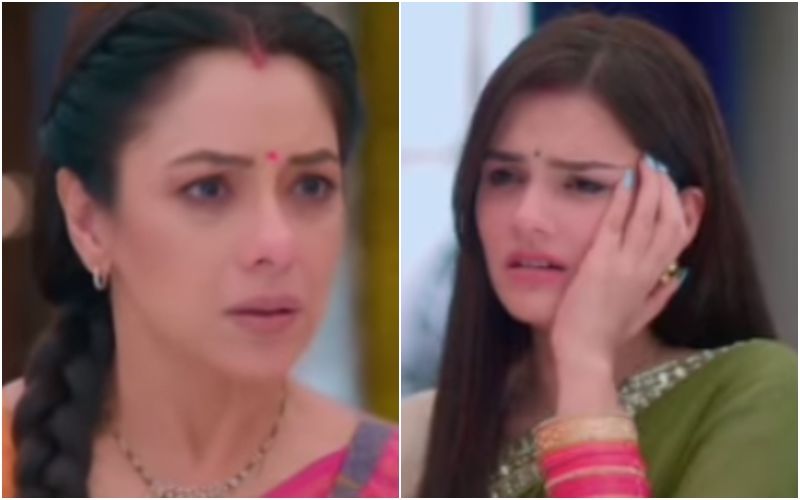 Star Plus' show Anupamaa has been raking in all the love from the audiences ever since it started airing in 2020. Starring Rupali Ganguly, Sudhanshu Pandey, Madalsa Sharma, Apara Mehta and Gaurav Khanna, the show tops the BARC ratings every week. The show enjoys a huge fan base on social media. The high-voltage drama in the Rajan Shahi's serial continues as Anuj and Anu will be seen making tough decisions for the Shah and Kapadia.
In today's episode, the couple will be seen schooling their family members. On one hand Anuj will be seen pointing out how Akush's parenting style with Romil is wrong, Anu will get into a war of words with Dimpy. The tension in the Shah family will intensify as Dimpy calls out all the family members on their bad behaviour. Enraged by Dimpy's rude behaviour and harsh words, Anu slaps her. As Samar goes to intervene, Anu stops him with a threat of hitting him too. As the episode further progresses, it is seen that Dimpy demands her fair share of the property. Since the house is under Anu's name, Bapuji gives her the responsibility of doing what is right.
ALSO READ: Anupamaa SPOILER 10th August 2023: Malti Devi Terminates Samar And Dimpy's Contract, Latter Throws A Tantrum In Front Of Everyone
In the Kapadia mansion, Anuj slams Ankush for his bad parenting and spoiling Romil by giving him money instead of correcting his wrong behaviour. Anuj explains that as a parent it is Ankush's responsibility to correct Romil's behaviour. Ankush tries to reason with Anuj and state that Romil is going through a tough time as he is not only dealing with his mother's departure but also Barkha and Adhik's hatred. An angry Barkha lashes out at Ankush and points out mistakes in Romil's upbringing.
ALSO READ: Anupamaa SPOILER ALERT 9th August 2023: Anu Tells Malti Devi She Doesn't Deserve To Be Called Guru, Anuj Dances With His Wife
Fed up with the constant arguments, Anuj asks everyone to focus on work, implying that he knows about Barkha and Adhik using the company for personal gains. It is also seen that Anuj holds one-on-one meetings with all his family members and appoints Pakhi in the marketing department. Barkha and Adhik start getting worried as they might get sidelined from the business because of Pakhi, Romil and Anupamaa. Adhik decides to teach Pakhi a lesson.
In the upcoming episode it will be seen that fed up with Dimpy, Anu will separate the couple from the Shah family. It will be interesting to see what turn the story takes in the future episodes. With the interesting upcoming plot twists and high-voltage drama, fans have been waiting with baited breath to know how the makers will take forward Anu and Anuj's love story. Will MaAn finally get their happily ever after or not?
Image Source: Instagram