Anupamaa SPOILER ALERT 19 November 2023: Pakhi Gets Frustrated With The Shahs And Leaves The House; Baa-Bapuji Faint After Falling Down
Anupamaa asks Pakhi to go help the Shahs as Choti is unwell, however she returns after a fight with Dimpy in the upcoming episode of the show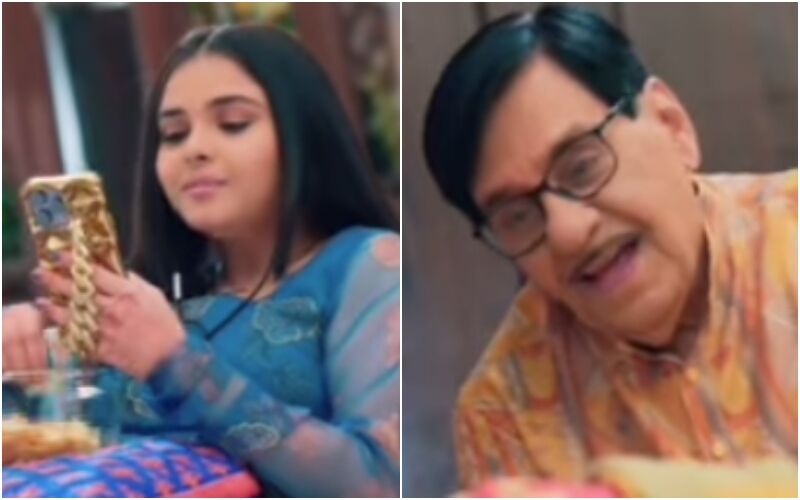 Star Plus' television serial Anupamaa has been raking in all the love from audiences ever since it started airing in 2020. Starring Rupali Ganguly, Sudhanshu Pandey, Madalsa Sharma, Apara Mehta and Gaurav Khanna, the show tops the BARC ratings every week. It enjoys a huge fan base on social media as well, however, the ongoing track of the show has left the audience with mixed reactions. In the last few episodes, Pakhi has been acting rude towards everyone and Anu has started taking care of Baa and Bapuji after Kinjal and Toshu leave for abroad.
Today's episode starts with Barkha and Malti Devi talking ill about Toshu and Kinjal for pushing their responsibilities on Anupamaa and going abroad. Anuj schools them for their thoughts and asks Malti Devi to be more understanding of Anupamaa's condition. Choti comes there and tells Anuj that she is feeling unwell. Anuj checks her temperature and finds out she has a fever. Choti asks him to call her mother. On the other hand, Anu is busy taking care of everything in the Shah house. She gets worried after Anuj's call and after persuasion from Baapuji leaves to go to the Kapadia mansion.
ALSO READ: Anupamaa SPOILER ALERT 18 November 2023: Anu, Anuj And Shahs Get Emotional As Kinjal And Toshu Leave For Abroad
As the episode comes to an end it is seen that Baa and Baapuji get hurt and faint after falling down, while Kavya and Dimpy are out of the house. Anu gets Baapuji's call asking her to come there and Choti hugs her. In the upcoming episode of the show, Anuj tells Anu that he brought Baa and Baapuji to the Kapadia house to relieve her tension. This leaves Malti Devi and Barka upset.