Anupamaa SPOILER ALERT 28th August 2023: Choti Anu To Witness Adhik Physically Abusing Pakhi; Kavya's Baby In Danger
In the upcoming episode of Anupamaa, everyone will rush Kavya to the hospital after she accidentally falls on her stomach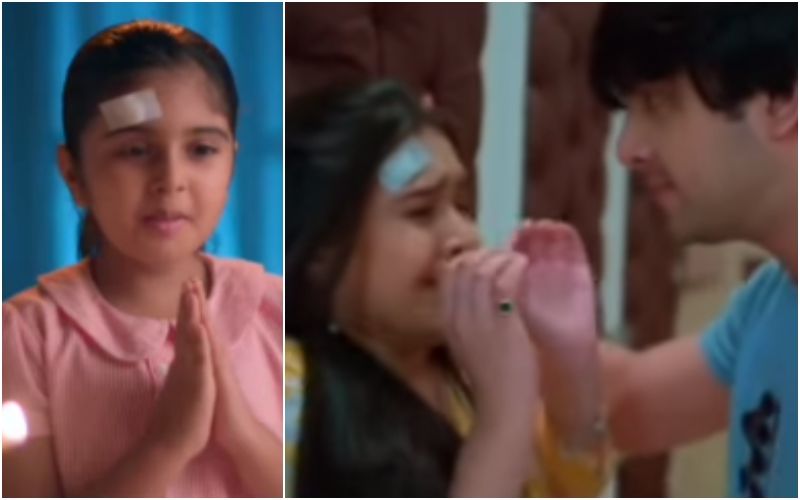 Starring Rupali Ganguly, Sudhanshu Pandey, Madalsa Sharma, Apara Mehta and Gaurav Khanna, Anupamaa is one of the most-watched shows on Star Plus and it always tops the BARC ratings. The high voltage drama in Rajan Shahi's Anupamaa continues as Pakhi stays adamant on giving her marriage with Adhik another chance, despite her mother trying to explain her otherwise. In the past few episodes it was seen that Romil has been constantly butting heads with Barkha and Adhik, who instigate him for being an orphan.
Today's episode will start with Kavya getting into an accident and falling on her stomach after slipping on the wet floor. Vanraj, Anu and Anuj will rush her to the hospital where an emotional Kavya will express that she will die if anything happens to the baby. While everyone in the Kapadia mansion is worried sick about Kavya and her baby, the doctor informs Anumpamaa and Vanraj that both the mother and the baby are safe. She goes on to inform them that Kavya will be kept under observation for 24 hours as she is still experiencing stomach pains.
ALSO READ: Anupamaa SPOILER 26th August 2023: Anu Scolds Barkha For Trying To Punch Romil; Kavya To Suffer Pregnancy Complications
Back at the Kapadia mansion, Pakhi asks Romil if he wants some jelly as she is already making some for Choti Anu. He says he loves jelly and enters the kitchen to talk to her. He goes on to suggest that Pakhi shouldn't tolerate Adhik's abusive and manipulative behaviour. As Pakhi warns him, he compares her situation to the damsel in distress' portrayed in movies that stay loyal to their husbands no matter what they do. Pakhi explains to him how she considers him a younger brother and that he shouldn't fight with Adhik as it might affect Choti Anu.
ALSO READ: Anupamaa SPOILER ALERT 25th August 2023: Romil Urges Pakhi To Test Adhik's Love, Duo Form An Unexpected Friendship
Well, if reports are to be believed, in the upcoming episodes Choti will be left alone in the house with Adhik and Pakhi. She will witness Adhik physically assaulting Pakhi and get scared. She will inform Anupamaa as she is concerned for Pakhi and knows that whatever is happening is wrong. On the other hand, Pakhi and Adhik will be unaware of this. It will be interesting to see how future episodes pan out. In the midst of all this not only will Anuj come to know that Kavya is carrying her ex-husband's baby but also a dishevelled Malti Devi will again make an appearance in Anupamaa's life.
Image Source: Instagram