Anupamaa SPOILER ALERT 2nd July 2023: Kanta Slaps Maya For Disrespecting Anu; Blames Anuj For Ruining Her Daughter's Life
In the upcoming episode of Anupamaa, tension in Kapadia mansion are at an all time high as Maya lashes out at Anu and wishes death upon her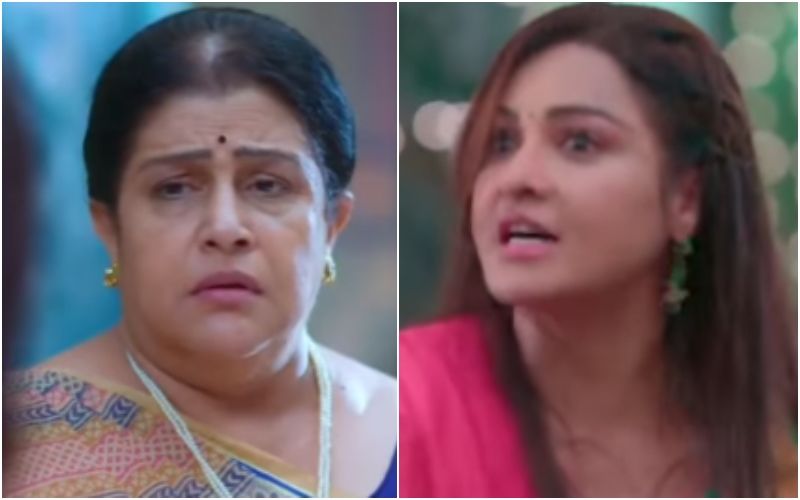 One of the most-watched shows on Star Plus, Anupamaa enjoys a huge fan base. Starring Rupali Ganguly, Gaurav Khanna and Chhavi Pandey, produced by Rajan Shahi, the show has kept the audiences hooked with its high-voltage drama and unexpected twists. While the makers of the serial often come under the scanner for ruining the character development of the leads, the show always tops the weekly BARC ratings. In the previous episode it was seen that Anupamaa reaches the Kapadia mansion for her farewell party, where Maya causes a ruckus as she finds Anuj's visa papers that states he will be going to the US.
Everyone is left shocked at the turn of events and Maya's unruly behaviour. In today's episode it will be seen that Maya will accuse Anu and Anuj of wanting to start a new life in America. Ankush interrupts and asks her who she is to interfere between the couple, to which Maya says that she is Anuj's responsibility. While Ankush calls her a burden, Maya forces Anuj to reveal the truth. An enraged Anuj tells her that he isn't following Anupamaa to the US, but will be going there on business, more than a month after Anu's departure. He advises her to not take advantage of his kindness and warns her to not misbehave with Anu.
ALSO READ: Anupamaa SPOILER ALERT 30th June 2023: Anuj SLAPS Maya For Insulting Anu, During Her Farewell Party; Leaves Everyone In Shock
Unable to accept the truth, Maya starts harassing Anupamaa and asks Anuj to not lie to her. She expresses how he plans on taking Choti Anu with him to the US, so that they can all live like a happy family there. In her rant, Maya tells Anupamaa to die which leaves everyone angry. As Anuj is about to retaliate, Kanta slaps Maya for insulting her daughter. She warns Maya to not speak ill about Anu. Kanta then lashes out at Anuj and asks him if he had called them there for this drama. Comparing Anuj to the Shah family, Kanta accuses Anuj of making her daughter unhappy. She goes on to advise him to admit Maya in a mental institute and abandon her completely. As Anuj apologises to everyone, Bhavesh urges Anupamaa to leave the party.
ALSO READ: Anupamaa Upcoming Twist: Anuj Saves Anu From Maya's Evil Plan, Sends Her To A Mental Asylum-READ BELOW
With Maya left fuming and jealous of the love Anu and Anuj share, it will be interesting to see how the upcoming episodes pan out. According to recent reports, Maya will try to kill Anupamaa, before she jets off to the USA. Fans have been eagerly waiting for Maya's track to end. They have been wanting to know how the makers plan on taking Anu and Anuj's love story ahead. Will Anupamaa go and settle in the US alone or will Anuj follow her and become her pillar of support again?
Image Source: Instagram