Anupamaa Spoiler Alert: Rupali Ganguly's Character Recovers From Her Illness, Sudhanshu Panday And Madalsa Sharma Reach Shah Residence
Anupamaa is happy to go back to Ahmedabad, Kavya is thrilled to take on responsibilities of Shah family after marrying Vanraj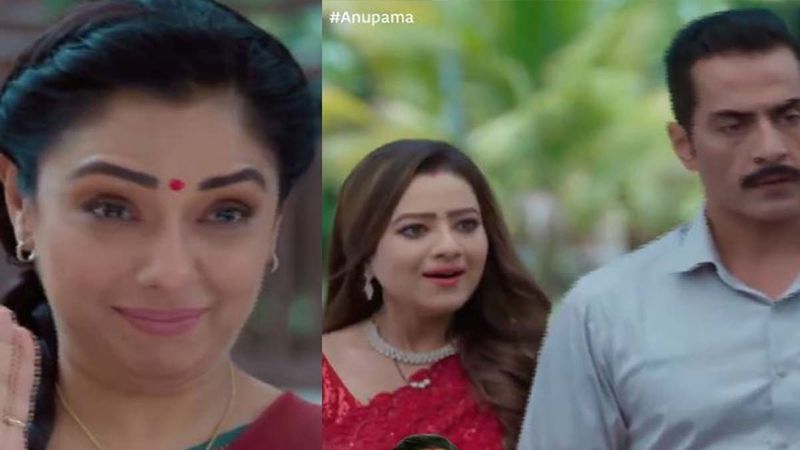 Audiences are hooked to the TV show, Anupamaa ever since it began, in the latest episode after Anupamaa (Rupali Ganguly) divorced Vanraj (Sudhanshu Panday), now he is married to Kavya (Madalsa Sharma). Bringing in happiness to the Shah family is Anupamaa now recuperated from her illness and the family deciding to move to Ahmedabad. Meanwhile on the other hand, Kavya is thrilled to fulfill the duties as Shah family's daughter-in-law. Advait, who is unable to gift the newly married couple on their wedding, decorates their car and assures them not to worry about Anupamaa.
On reaching Ahmedabad, Bapuji announces the house to be divided in three parts – with Vanraj getting one portion, while Dolly and Anupamaa get the second and third portion. This leaves Kavya infuriated, while Vanraj is elated with it. Followed by Bapuji telling Anupamaa not to leave the Shah family ever, what will happen next? Also seems like the show might have Anupamaa becoming an independent woman as she is set to return the money to Advait. Also Baa won't be accepting Kavya as the daughter-in-law, the latter will be supported by Nandini.
Bapuji in the upcoming episode will discover that Kavya was not the reason behind Anupamaa and Vanraj's marriage hitting the rock bottom, thus making sure to have a happy atmosphere in the house. Bapuji holds Vanraj responsible for breaking the family. Also the episode will see Kavya's ex-husband Anirudh helping Kavya to sail through tough times.
Image Source: Instagram/starplus