Anusha Dandekar And Karan Kundra Take Their Little One For A Morning Stroll; Sport Matching Slogan Tees
Lovebirds Anusha Dandekar and Karan Kundra twin as they take their baby on a morning stroll, but it's not what you are thinking!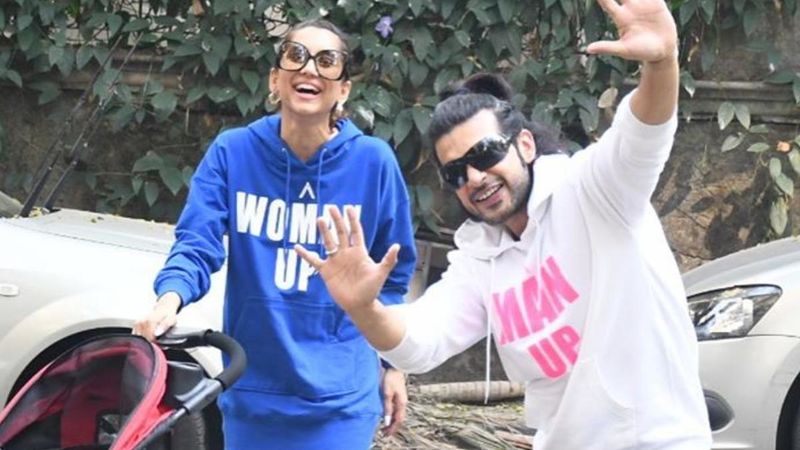 Anusha Dandekar and Karan Kundra are among one of the most romantic couples of the telly industry, thanks to their never-ending, yet adorable social media PDA. Their first encounter was in a flight and that's when cupid struck. Well, now, it has been more than four years since Karan and Anusha are dating and they have been inseparable. Recently, taking to her Instagram the popular VJ shared a couple of pictures of her and Karan Kundra talking their little one for a morning stroll in a pram but, wait, it's not what you are thinking!
A streak of pictures shared by Anusha sees her twinning with boyfriend Karan in a matching slogan sweatshirts that read 'woman up' and 'man up' respectively. While Karan wore a white one, Anusha looked chic in a long blue sweatshirt. The highlight of these pictures was, however, the couple's adorable four-legged but that nicely sat in the pram and enjoyed the walk. One of the pictures saw Karan pecking a kiss on their pet, as he cutely gazed at him. (ALSO READ -
Anusha Dandekar PROVES To A Fan That She Is Great Friends With Priyanka Chopra And Nick Jonas
)
Check out the pictures below:
A sight to behold indeed!
In the past, the couple, in a conversation with us, had opened up on who was the first one to confess his/her feelings. Karan said, "It was a gradual process between us. We were best of friends and never felt any pressure in our relationship. It was a slow realisation but yes, I figured it out sooner than she did that I want to be with her. So, I confessed first and luckily she said yes!" he added, "We were in the Philippines for a shoot and Anusha came back to Delhi for just one night and was supposed to travel to another country the very next morning. I took a night flight to Delhi just to propose to her and then again took 5 am flight back to the Philippines to resume my shoot."
image source: instagram/vjanusha