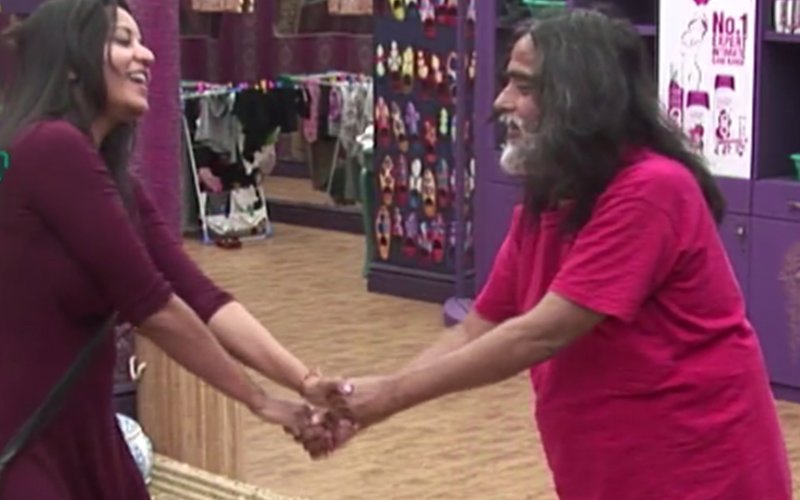 Last night,VJ Bani, Gaurav Chopra and Rahul Dev burnt the
midnight
oil in order to complete their punishment. They managed to give their fellow contestants a good night's rest.
Welcoming a new day with cheer and happiness of the task's completion, the contestants wake up dancing to the tunes of 'Hawa Ke Saath Saath'. Swami Omji and MonaLisa began dancing hand-in-hand in the washroom area.
Manveer Gurjar and Navin Prakash are seen talking about Manoj Punjabi's (Manu) behaviour. They feel he is pulling the team down by being sweet to the celebrities in the house.
At breakfast, Navin requests Swamjii to sing a particular bhajan. Instead of hearing the bhajan, the contestants witnesses Swami breakdown. He reveals that he is feeling detached from the Lord because of his anger and behaviour with others. He cries saying that daily while praying he feels like a failure as his present behaviour is contradicting the prayers.
Rohan Mehra and Gaurav Chopra talk to Karan and Nitibha in jail with regards to Swamiji's breakdown.
In the afternoon, Bigg Boss asks the celebrities to elect three contenders who performed exceptionally well during the luxury budget task – Raja aur Rank - to compete for Immunity. While discussing the names, Mona gets into an argument with Rahul because she she feels that her team won't recognize her efforts. After discussions, celebrities elect Bani, Lopamudra and Mona.
For the task, the contenders are given a pair of skis with three shoes attached to it. The contestant who stays on the skis for the longest time wins the immunity. During the task, none of the other contestants are not allowed to help these three in any manner. Navin is appointed the supervisor for the task. Regarding this we bought you details in our earlier post (
Bigg Boss 10, Day 19: Lopa Beats Bani, Swamiji Gives A Massage To Monalisa, Nov 4
).
Image Source: colorstv