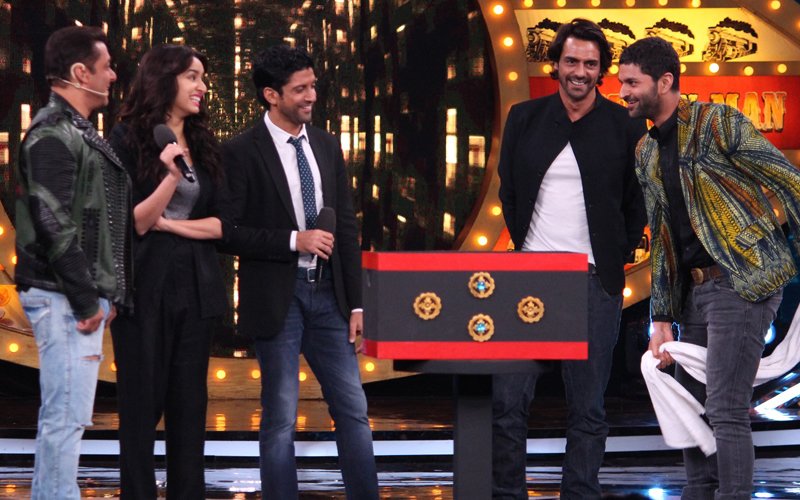 In yesterday's episode of Bigg Boss- Weekend Ka Vaar, host Salman Khan declared Lopamudra Raut, Manoj Punjabi, Manveer Gujjar and Bani Judge safe from the eviction this week. Salman kick-starts tonight's episode with a mind blowing performance of his hit 'Character Dheela Hai' from Ready.

In keeping with the unexpected twists and turns this season, Salman introduced a brand-new concept to the contestants – an Immunity Medallion – which will give the winning contestant the power to escape from two nominations of his/her choice.





Rocking the stage tonight will be the Magik band from Rock On 2 that is, Farhan Akhtar, Shraddha Kapoor, Arjun Rampal and Purab Kohli. They perform their song 'You Know What I Mean'. When asked about their visit to the Bigg Boss House, Shraddha and Farhan confessed that they found Swami Omji to be the most entertaining among all in the house.

Salman further asks Shraddha to sing 'Sun Raha Hai Na Tu' (Aashiqui 2) - with her eyes closed. But, just as she starts, Salman and Farhan tickle her with feathers. Why? Just to make her laugh while crooning the sad song. Things get funnier as Farhan sings 'Havan Karenge'(Bhaag Milkha Bhaag) to the tunes of 'Bheege Honth Tere' (Murder).

Taking the entertainment quotient a notch higher, Salman plays a game with the Rock On 2 cast. Here they have to enact a dialogue related to the item that they pick from a box. While the host indulged in these fun and games, the housemates got a reminder that karma is a powerful force.




Shani Dev, the protagonist of an upcoming show on Colors, entered the Bigg Bos House. Shani, the lord of justice, will speak to them about their actions and their consequences. He tells them that their future will be positive if they walk down the right path. After listening to Shani preach, all the contestants question their perceptions of what's right and what's wrong.




And just when it the contestants feel like they have decoded its meaning, Salman Khan introduces a new task - keechad task. Two contestants will be tied to a wall and will answer some questions to reveal their true intentions. Rohan Mehra – Manveer Gurjar and Manoj Punjabi –Karan Mehra face a volley of questions.

But, through it all, one question continues to bother the contestants and us. Whose time is up? Which contestant - Mona Lisa, Swamiji or Nitibha Kaul - will bid adieu to the Bigg Boss house tonight?


Image Source: colorstv