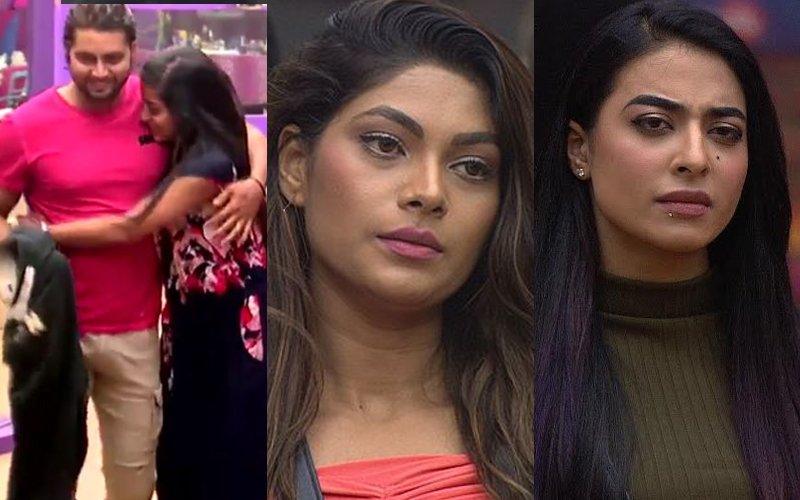 After Mona Lisa and Vikrant Singh Rajpoot's wedding ceremony last night, the newlyweds spend some quality time together in the secret room.


Today, Bigg Boss asks Vikrant to say his goodbyes to Mona and the remaining housemates. Mona gets very emotional seeing him going away, but he advices her to refrain from crying and also asks her to make decisions carefully.

All the housemates escort Vikrant to the main door and bid him adieu. Post his exit from the house, Manveer Gurjar and Manu Punjabi try to cheer up Mona. Manveer goes as far as to tell her that she made a wise decision by marrying Vikrant. He jokingly tells her that if she had married Manu, he would be worried of her being in wrong hands. Hearing this, Rohan Mehra and Lopamudra Raut join in the laughter.

But all good things come to an end, and it's no different in the Bigg Boss house. Bigg Boss announces a task that will have a direct and adverse effect on the season's finale nomination process. Manveer, who won the ticket to finale, is no longer safe from nominations. On the other hand, Rohan's fans have a reason to rejoice. The television hottie, who was nominated for the entire season following his fallout with Swami Om, will participate in the task in order to be safe from getting evicted.

For the task, the housemates are divided into two teams- Team Manu comprising Manveer, Lopa, Manu and Team Rohan with Mona, VJ Bani, Rohan. First up, Team Manu will be tied by a bungee cord and they need to walk ahead and place their hands on a red circle. The members have to survive for as long as possible without lifting their hands from the circle. In case any of the team members do not have either hand on the circle; he/she will be disqualified immediately.

As Manu's team tries and stays glued to the circle, Rohan and team have to distract them. Bani, Rohan and Mona are seen strategising ways to win the task. Bani suggests pouring water and breaking eggs over them to get on their nerves.



Once the task begins, Bani aims to pull Lopa away from the ring first. Besides pouring water and breaking eggs, team Rohan also pours oil, milk and other items on the contestants. Lopa and Bani get into an argument, where in the former questions Bani's standards. Rohan too pipes in and tells Lopa that he is trying to win the task, as it should not always be her winning.

We wonder till when will Manu, Lopa and Manveer keep up with the task. Also, it will be interesting to watch when the tables turn and Team Rohan is tied with the bungee cord.


Image Source:colors