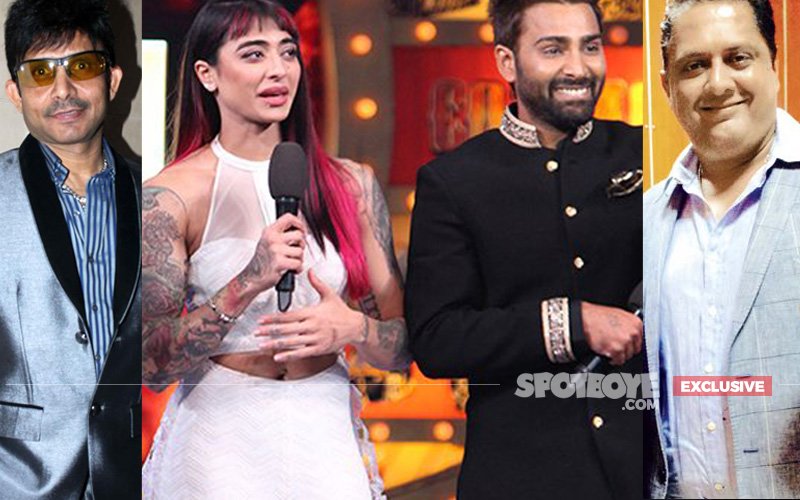 It all began last night when we announced the winner of Bigg Boss 10 much to Colors' dismay ahead of their telecast time- and we did not unpublish the story which they demanded us to- that Kamaal R Khan and Sanjay B Jumaani got into a Twitter scuffle.
The story goes that KRK had mocked at Jumaani on Twitter when he got one of his so-called predictions right, way back in June, 2016.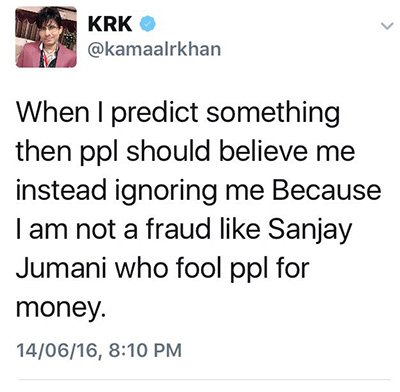 Had the forecaster erred on anything specific that KRK had 'predicted' otherwise? "No," says JUMAANI, "You know how he is, loves to take potshots at almost everyone without a reason."
Coming back to the present tussle, just a few days back, KRK announced VJ Bani as the winner of this season as he accused her victory to be fixed by the producers. Check out his tweet:
Congratulations to Bani for winning #BiggBoss10 n Congratulations to producers to make her fixed winner to save prize money of ₹40 lakhs.

— KRK (@kamaalrkhan) January 28, 2017
Jumaani, perhaps not the one to forget and forgive, was waiting for his chance to hit back when contrary to KRK's rubbish claims, Manveer Gurjar was announced the winner.
Elated that Manveer had beaten the KRK predicted candidate VJ Bani, Jumaani wasted no time in posting a message on Twitter, along the lines: Manveer Gurjar, our 1st choice wins Bigg Boss 10. Even as voting was still going on, he was our pick and Bani who was our second choice, came second.
Jumaani tagged KRK and further said: So you were wrong and me right # Bigg Boss 10 winner # manveer my choice. Leave predictions for us to make, you make Rs 2 films only. Tit for tat, in KRK style eh?
However, after the official announcement, KRK changed colors like a chameleon and started boasting that he came in between Bani and her victory and made the producers change their decision overnight!
Whole Bollywood wanted Bani to win #BiggBoss10 but The Brand KRK was standing in between trophy n Bani. And entire Bollywd can't defeat KRK.

— KRK (@kamaalrkhan) January 29, 2017
Hey you Bani supporters, fuck off. And never ever dare to challenge the Brand KRK coz I know how to force producers to change the winner.

— KRK (@kamaalrkhan) January 29, 2017
Really now? KRK you can flush down your thoughts in the toilet!

For those who've come in late, Jumaani had predicted Manveer's victory over Bani, yesterday morning. He had written: If Google is to be believed, then Manveer stands a good chance with Bani as both are from 1,2,4, 7 family. Finals are on 29th (2) in 2017 (1).
If Google is to be believed then Manveer stands a good chance with Bani as both are from 1,2,4,7 family.
Finals are on 29th (2) in 2017 (1).

— Sanjay B Jumaani (@sanjaybjumaani) January 29, 2017
We can bet our last shirt that KRK must have landed on a bed of hot coal ever since Jumaani sent out that tweet. Till the time of going online, the Haazir Jawab KRK had not replied.

Has he mellowed down? Or is he preparing his artillery to counter-attack? Rest assured we shall get you his response if any.

That Gauhar Khan wouldn't be fond of Jumaani is another story. We are coming back next with just that. Don't go away.


Thumbnail Image Source: storiesofworld, colors & fullonwedding