Bigg Boss 14's Nikki Tamboli Says 'Kya Hot Pictures Post Kar Raha Hai Abhinav Shukla'; Rubina Dilaik Reacts: 'This Is Tamboli For You Guys'- VIDEO
Bigg Boss 14's Nikki Tamboli recently met with Rubina Dilaik and Abhinav Shukla. Rubina's latest video showing Nikki playfully teasing Abhinav for his hot pictures, is unmissable!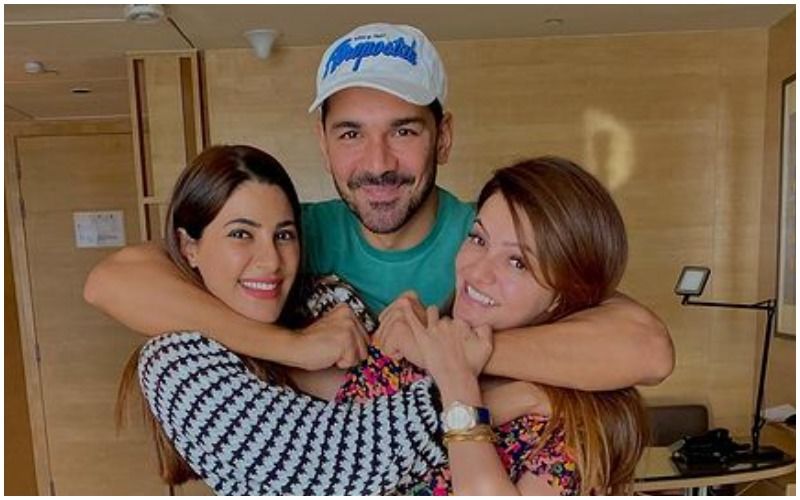 Popular television reality show Bigg Boss 14 ended a few weeks ago, and Rubina Dilaik emerged as the winner of the show. Her husband Abhinav Shukla had also been a contestant in Bigg Boss 14, and their relationship came out stronger after facing challenges together inside the BB house. While in the beginning, Rubina and Abhinav weren't on great terms with Nikki Tamboli, it all changed towards the end of the season. Nikki grew fond of Rubina and called her as her older sister, while she also became friends with Abhinav Shukla. Now, after Bigg Boss has ended, the three of them met each other, and made some fun and entertaining videos.
In the latest video that Rubina Dilaik has shared on her Twitter, Abhinav Shukla can be seen opening the door, while Nikki Tamboli enters and hugs him tight. She is in her usual chirpy mood, and she was seen teasing Abhinav for his hot pictures. Rubina is recording the video, and as Nikki enters the room, she is seen playfully telling Abhinav, 'kya hot pictures post kar raha hai Abhinav.' Abhinav asks her, "Kaunsi?" to which she replies with 'Saari ki saari."
Nikki is then seen greeting Rubina, and the video ends there. Netizens were extremely happy to see that Rubina and Abhinav's bond with Nikki Tamboli survived even after Bigg Boss 14 ended. While one fan wrote, "Nice to see the relationship last after BB," another fan wrote, "thank u for blessing us with content. Pls post more videos if you have made pls."
Image Source: Instagram/Rubina Dilaik