Bigg Boss 14 Winner Rubina Dilaik Has Had An Epiphany; Actress Regrets How Husband Abhinav Shukla's Fate In The Show Was Decided By Some 'Less Competent' Members
Bigg Boss 14 winner Rubina Dilaik just penned a long note talking about her biggest regret in the show that is related to Abhinav Shukla. Read her statement here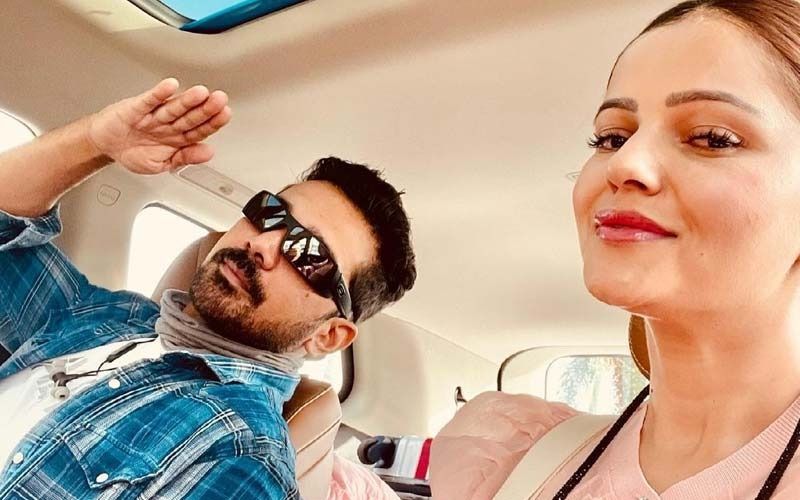 Bigg Boss 14 is long over, and Bigg Boss OTT is running high on viewership these days. But looks like BB14 winner Rubina Dilaik is still thinking about her season. The pretty actress managed to entertain the audience and survived in the house since day 1. After fighting, struggling and breaking down in the house, Rubina emerged to be the winner of season 14. However, on Monday, she took to her Instagram account and shared a note revealing her regrets in the house. She penned a note saying that her biggest regret was seeing her husband Abhinav Shukla's elimination and how his fate was decided by some 'less competent' members in the house.
So did she call Jasmin Bhasin, Jaan Kumar Sanu and Vindu Dara Singh 'less competent' as they picked Abhinav's name for eviction? Stating that she had an Epiphany, Dilaik wrote she had mixed emotions. She wrote, "I have been asked so many times, what was that one thing you regret doing or not doing in BB14 house! Then I didn't have a clarity of thoughts, had mend emotions and was overwhelmed with so much happening!" Her note further mentioned that she wished to walk out of the house with Abhinav after 'his unfair elimination.'
"Now when I look back, and one thing that hits me hard is the visual of the day Abhinav was eliminated! Fate of his BB14 journey was handed over to bunch of 'less competent' members who were not even in the race, and had clear ulterior motive and I didn't even protest! I was so soaked up in the pain and anguish that I couldn't see it for what it was… I wish I had walked out with him for his unfair elimination (not by Bigg Boss) by them who could not justify their own journey and existence on the show," her note further read.
Reading her 'Epiphany', her husband Abhinav left a motivational comment which said, "And baby you are a winner because you didn't give up, the kind of pressure, tirade and rebuke you endured without wavering is a victory, you finished my battle!"
Abhinav's other comment read, "Life is unfair, Big Boss is a great social experiment, when ever you feel its unfair smile and eat an apple ..but 2 min silence for those who got spent like a used cartridge emptied all they had and still got voted out."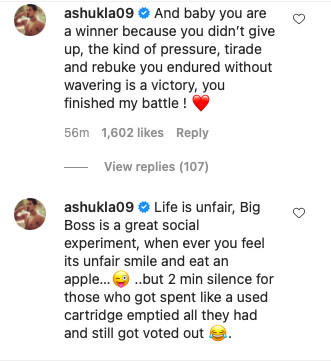 Rubina Dilaik was fighting with Rahul Vaidya for the trophy - who turned out to be the first runner-up while the former became the winner.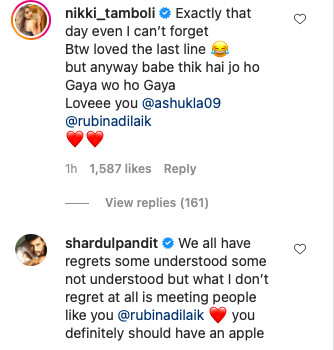 RubiNav, as the couple is fondly referred to by their fans, were going through a rough phase in their marriage when they entered the show. They, however, worked on their differences and emerged out stronger as they exited the house.
Meanwhile, Rubina was later trolled for the 'walking out' part of her epiphany. As a clarification, she tweeted, "A fun Fact …. Quit and Walk out are vastly different! We Quit 'when we give up' coz we dnt have the courage to face the challenges! We 'walk out' in protest, or when we rise up against injustice (unfair treatment)!"
A fun Fact …. Quit and Walk out are vastly different! We Quit 'when we give up' coz we dnt have the courage to face the challenges! We 'walk out' in protest, or when we rise up against injustice (unfair treatment)!

— Rubina Dilaik (@RubiDilaik) August 23, 2021
Image source: Instagram/ rubinadilaik