Bigg Boss Contestant KRK Threatens And Abuses YouTuber Shivam Trivedi For The Friendly Roast Video Dedicated To KRK-EXCLUSIVE
KRK threatens and abuses a Youtuber who roasted the Deshdrohi actor in a video. Shivam Tridevi is surprised by KRK's reaction.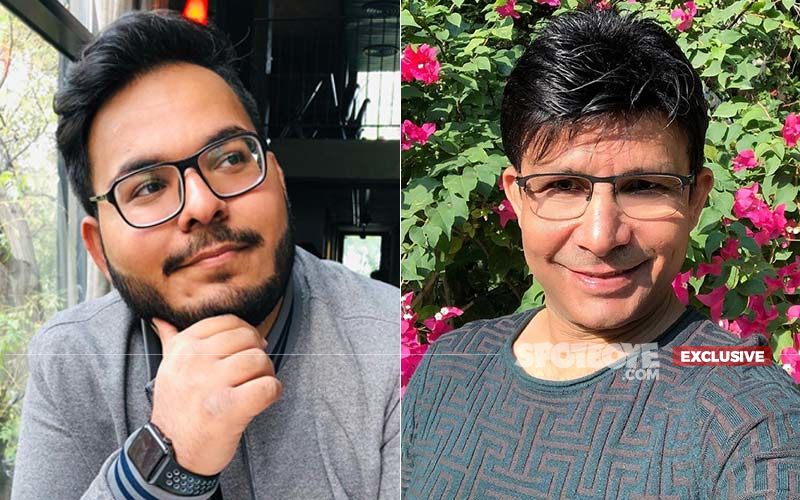 Shivam Trivedi, a 24-year-old digital content creator is known to making comic videos, family entertainers and non-abusive content. The young YouTuber is famous for making videos on various trending as well as day-to-day topics such as TV Shows, Instagram Reels, Social Media Comments, Bollywood Songs, Twitter fights, etc. However, his latest video on Bigg Boss 3 contestant and film critic Kamaal R Khan (KRK) did not go well with the subject of the video. Upset with Shivam's roast video made on him, KRK sent him a threatening message using a derogatory language. Now, Shivam has opened up on the same with us.
Talking to SpotboyE.com exclusively Shivam Trivedi said, "The message that I received last night from Kamaal R. Khan was completely out of the line. I made a video on him with a clear conscience and only for Entertainment purposes. KRK's own comments section is filled with hateful and abusive comments targeted toward him. Moreover, thousands of videos have been made on him but I decided to cut all the toxic, homophobic, sexist, body shaming and hateful remarks that he always makes in his videos (towards various Bollywood and Internet Celebrities) to keep the video family-friendly and clean. It was received well by the audience and is still garnering appreciation from them. On the contrary, KRK decided to threaten and abuse me via Instagram DMs. I have seen KRK flip out like this on various TV Shows and Award functions but didn't expect him to do so in real life".
ALSO READ: Bigg Boss 14: From Bani J-Swami Om To KRK-Rohit Verma, Take A Look At The Ugliest Fights That Have Happened In The BB House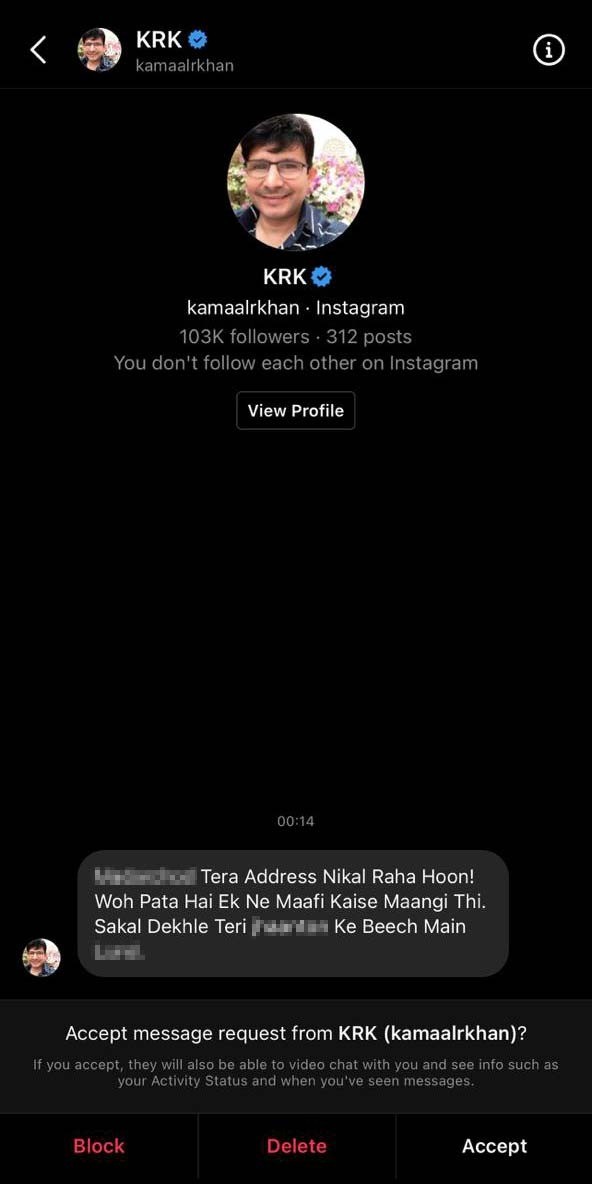 Shivam went on revealing he has received praises for his previous videos from the celebrities naming a few, "I keep my videos sarcastic and satirical with elements of music, animation, sketch comedy and a lot more. In my content, I have never abused anyone and in fact have always received appreciation from the people I have made roast videos on, including TikTok creators, Television stars and more. I genuinely feel that Content creators are important and the art needs to be respected. We're in the middle of a pandemic and digital content creators play a vital role in Entertainment".

He reveals, "I have received appreciation from Rakhi Sawant or even Deepak Kalal, I felt happy because as artists, they recognised the humour".




Image source: Instagram/kamaalrkhan