Bigg Boss OTT: Neha Bhasin Takes Ridhima Pandit By Surprise As She Kisses Her On Lips During The Statue Task
Neha Bhasin goes over the top during the statue task of Bigg Boss OTT. She surprises Ridhima Pandit with her love and kisses to distract her! Does Ridhima get distracted from her Putla pose? Read on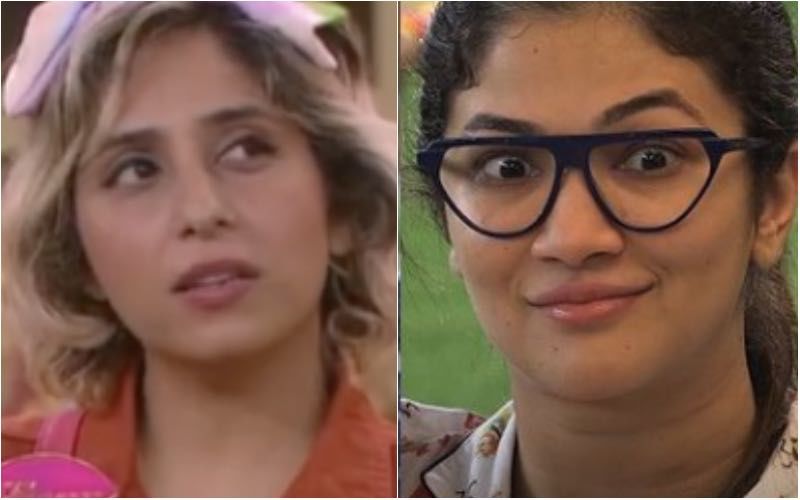 In the latest task of Bigg Boss OTT, Neha Bhasin was seen kissing Ridhima Pandit on the lips. Yes, you read right! This is Bigg Boss OTT, were you not expecting this already? As promised by host Karan Johar, everything about this latest season is literally, not even figuratively, 'over the top'. Well, it so happened that Bigg Boss assigned a task for the housemates where he divided the house into two teams - Team Moose and Team Neha. As the task began, Neha decided to spice up the task a little and take a bold move as she went on to give a kiss on Ridhima's lips.
The intention behind this was just to distract Ridhima from her statue pose. If she barges, then team Neha will win the round. However, it is yet to be seen if Ridhima actually leaves her position or will play along with her. Before entering the BB house, Ridhima was asked if she is ready with this season's OTT theme. To this end, she told SpotboyE.com, "Will I ever be ready? I'm not sure! And then another part of me says let's start right away! It's like waiting in the line for a rollercoaster. As scary as it looks, you can't wait to jump on and feel the adrenaline rush too!"
Well, it would be fun how this episode turns out to be. Check out the post here:
Moving on, speaking of the same task, when it was Team Moose's turn, Divya Agarwal lost her calm during the task as Ridhima Pandit poured antiseptic on her head, which entered her eyes. She was almost on the verge of hitting her but Ridhima apologised to her and tried to explain the situation.
"It wasn't the intention, I poured it on your head, it shifted to the eye," she said. But Divya wasn't buying it as she tried to throw a bucket of water on Pandit.
Image source: Instagram

/ voot/

nehabhasin4u