Bigg Boss OTT: Shamita Shetty Feels Jealous As Raqesh Bapat Consoles An Upset Divya Agarwal; He Then Kisses Her On Cheeks-Watch
In the recent promo of Bigg Boss OTT, Shamita Shetty gets a little jealous as she sees her connection Raqesh Bapat consoling Divya Agarwal after Zeeshan Khan's eviction. Take a look at how he tries to pacify Shamita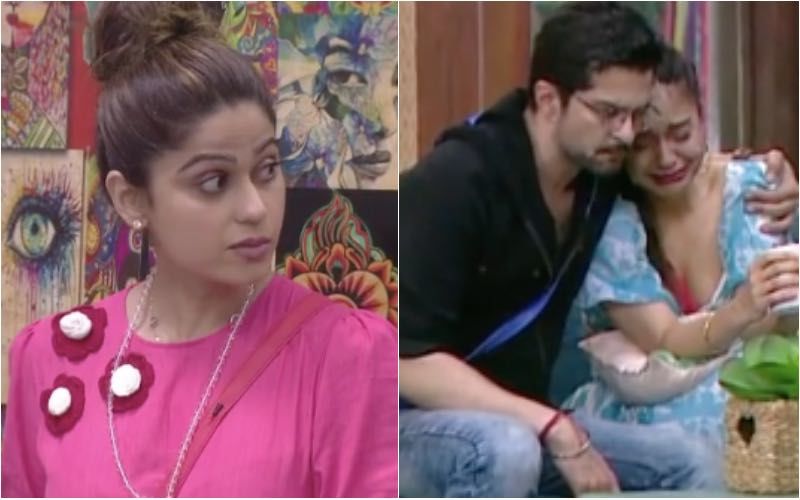 Even though they are not romantically involved and have no romantic feelings for each other (at least that's what they say), Shamita Shetty and Raqesh Bapat are now considered to be a cute couple of Bigg Boss OTT. Fans seemed to be loving their connection and of course, how they behave in the house. This time, we saw a little jealousy from Shamita's end and we wondered 'ye kya ho raha hai bhai, ye kya ho raha hai?' It so happened that Divya Agarwal was seen crying inconsolably after her connection Zeeshan Khan was eliminated from the house.
As she was upset with the sudden eviction, Raqesh came to her and tried to console her. He gave her a shoulder to cry and motivated her to be strong and to bring out her A-game in the house. Agarwal even mentioned that he should leave as people will think she is hitting on him. However, Shetty was a little jealous seeing Raqesh and Divya in close proximity. Bapat goes up to her and tries to pacify and explain things. Shamita tells him she didn't ask for any explanation as she is not her girlfriend.
As Raqesh continued to manaofy her with his cute antics, he even planted a kiss on her cheeks that left Nishant Bhat and Moose in awe. Later, we saw Shamita and Raqesh hugging it out and they were back to being cute.
Take a look at how he tries to pacify Shamita here:
After the video was shared, a fan wrote, "They are so funny and cute," while another one said, "They r so cute and funny."
Meanwhile, Raqesh and Shamita chose each other as connections for the second time. Ever since they started understanding each other, they have been inseparable. Moreover, netizens call them the 'cute married couple' of Bigg Boss.
Image source: Instagram/ voot