Chhavi Mittal REACTS To Getting TROLLED For Flaunting Breast Surgery Scars And Bikini PICS: 'I Cry About Discomfort I Am Subjected To On Daily Basis'
Chhavi Mittal gives a befitting reply to trolls who made insensitive comments about her breast surgery scars and bikini pictures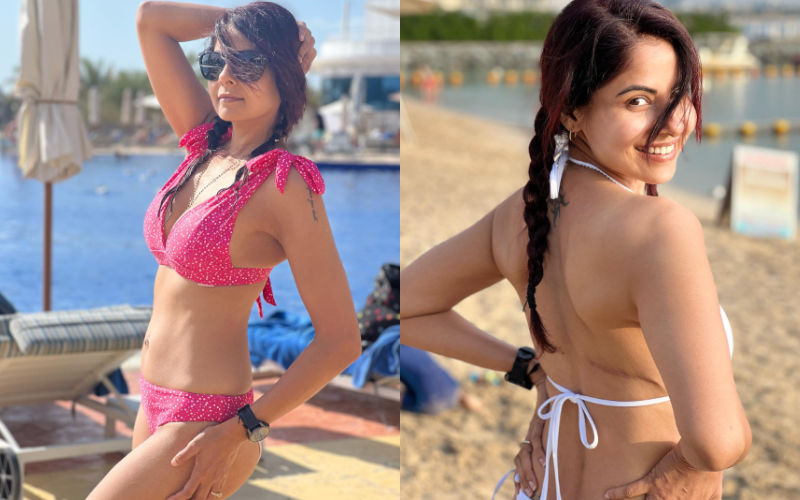 TV actress Chhavi Mittal is an inspiration for all women fighting breast cancer. Last year in April, she declared that she is cancer-free after a six-hour-long surgery and shared her battle with cancer on social media. Chhavi has never shied away from flaunting her breast surgery scars and recently she showed off her battle scars again during her Dubai vacation. However, she received insensitive comments about her bikini-clad pictures and on her scars.
Mittal took to her Instagram handle and shared screenshots of negative comments she received on her surgery scars and bikini pictures. Alongside it, she penned a lengthy note where she slammed trollers for discussing her breasts like a commodity. Her note read, "Yes. This insensitivity still happens. I recently posted some vacation pics/reels from a beach and this comment got my attention. My breasts are being discussed here like a commodity. May I begin by saying that I am a breast cancer survivor and have fought very hard to keep this organ alive and well."
ALSO READ: Chhavi Mittal Shares Glimpses Of Her Cancer Recovery Journey; Says, 'Some Wounds Heal, Some Nag You For Life'- WATCH VIDEO
The actress added, "While I completely understand the curiosity around the issue, a lil sensitivity wouldn't hurt don't u think? This person has gone to the extent of saying "celebs are used to such comments. Well, celebs are humans too. They have emotions like normal humans. They get cancer like normal humans. They survive or succumb like normal humans. So no. NOBODY is "used to" such insensitive remarks about the biggest fight for survival that one fights which has physical as well as emotional repercussions lasting a lifetime."
Chhavi also busted the confusion around her breast cancer surgery and explained that she underwent a lumpectomy where doctors removed just the lump in her breast instead of the entire body part. She ended her note by saying this is a new life that she is living and it's not the same as the previous one. Chhavi even admitted that though it's been 7 months, she still has emotional days when she cries about the discomfort that she is subjected to on a daily basis for no fault of hers.
Work-wise, she is best known for her TV shows like Bandini, Tumhari Disha, Teen Bahuraaniyaan and the YouTube show The Better Half.