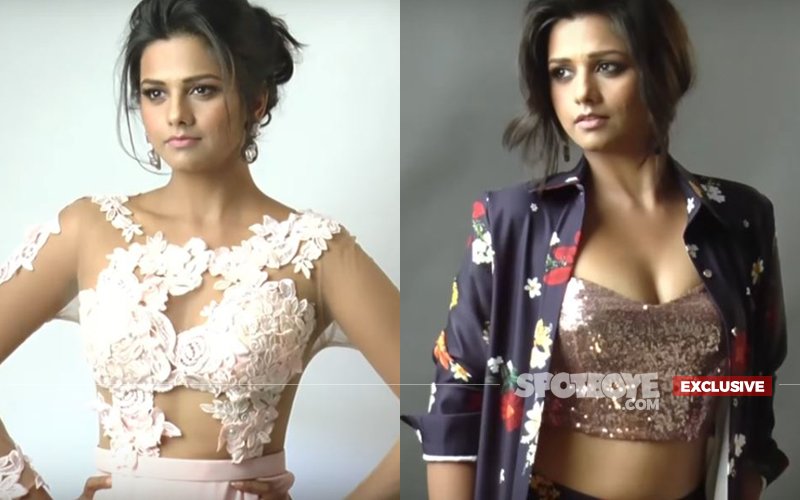 Your browser does not support the video tag.
Note the change in her spelling (she earlier spelt her name as Daljeet). Note the change in her body language (See the video of her new photo shoot above, it's bold my word!). Note the change in her voice; she sounds really confident. Note the change in her face, when had we seen her smiling like this last?

Daljiet Kaur is bouncing back big time- and how. The unarguably beautiful TV actress has done a hot photo-shoot with lensman Luv Asrani. Her son Jaydon also joins her in the shoot.

We have connected with her on many occasions with her when the going was tough for her. The time is right now to reconnect. As they say, there is light at the end of every dark tunnel.

The always frank and forthcoming Dalljiet (it's getting tough for me to write her new spelling, old habits die hard) is on a different trip now. Read on to find out what's going on in her mind:

What was the photo-shoot all about?
I did a wow photo-shoot with Luv Asrani only yesterday. It was hot and classy as well. I have finished playing Manjari in Balaji's Kaala Teeka. Now, I want to do something different.

Are you hinting that you want to play glamorous roles?

No, but I want a radical change. And I am bringing about a radical change in my real life too.

Elaborate...
Today, women share financial responsibilities in their respective homes. Motherhood is not restricted to getting up early, seeing your husband and kids off to work and school, readying the entire day's menu, and then waiting for them to come back.
I even see men taking to fatherhood more indulgently than ever before. I have friends who change their kid's diapers and even bathe them.
The mindests are changing, and many couples are adjusting beautifully.
As a single mother, my strength needs to come up. And it's happening. I am in a very happy space and able to sucessfully double up as Mom & Dad for my 3-year old son Jaydon. In fact, he too had joined me on Luv's photo-shoot (pauses).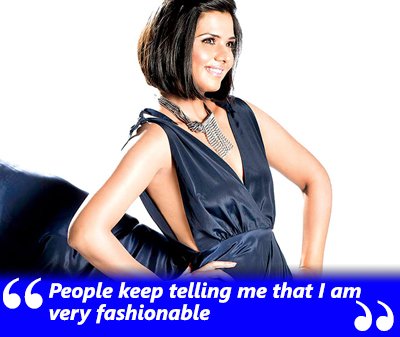 Go on...
Mind you, it's not that I have to wear a bikini to look hot and make a statement. Like in this shoot by Luv, I was wearing floral jackets, gowns, tuxedos, crop tops/shorts. I have worn a mix-match of many things.
Today's mothers need not go OMG agar unka duppatta khisak jata hai. That all is a part of motherhood no doubt, and so I love wearing sarees and salwaar kameez- but I also love donning shorts.
I have become thin and can carry them off. My funda is: Don't push yourself to be glamorous. Do it if and only if you are confident. I was not confident when I had a bulge sometime back.
But I lost 30 kg
.
People keep telling me that I am very fashionable. As I said earlier, fashion thy other name is confidence. If I can carry off skimpy clothes confidently, why not?

There is a deluge of bikini pics on Instagram. Telly actresses have made it a habit to post such suff. And then, they get trolled. People have a fixed image of them after seeing them in a different avatar in serials....
It has happened with me too. But this needs to end. I lived Manjari for one-and-half year. But do I have to wear a saree 24 X 7? Are you going to judge whether I am a good mom if I don shorts and go out?

A large part of our society still does that isn't it?

Yes it does, but as I said earlier- things are changing for the better. People are becoming more accepting.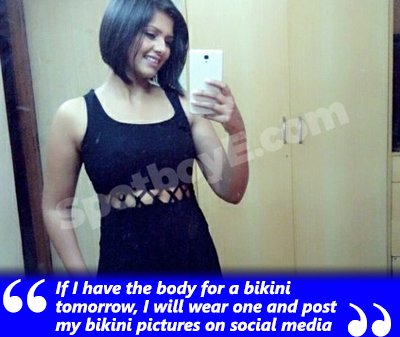 That doesn't answer my question: Will you wear a bikini...
(Interrupts) If I have the body for a bikini
tomorrow
, why not? I will wear one and post my bikini pictures on social media. At the moment, I don't have that kind of body.
I am not aware about the trend which you're talking about but what I want to stress here is that let people do what makes them happy. Let's stop being judgmental. There is nothing wrong if any girl is putting out her bikini pictures on Instagram or FaceBook. You know what?

What?
What essentially bugs me in daily life is that I get to see double-faced people. These same ones watch Hollywood stuff and term it cool, but when it comes to a kissing or lovemaking scene in Indian films/shows, they react saying that it shouldn't have been done. As long as we aren't doing anything immoral or unethical in front of kids, it's fine by me. Like, I watch Game Of Thrones- but I don't get scandalised if I see bold stuff in our movies.

Mind you, I am not advocating porn films.

If a couple is happing going out in bold outfits, it means they are happy wearing all that. It's just that we need to be happy for them. In this whole circus of hypocrisy, we have stopped being happy for others.

If anything immoral/unethical is being done in public, and in front of children- then I am all for granting punishment to the people in question.

If you were to describe your ideology in just 2 words?
No hypocrisy.

Thumbnail Image Source: youtube/SpotboyE