Dirty Details of Kamya Punjabi-Karan Patel Split: Two-timing, Obscene Photos, Alcohol & Depression
Here's the latest update from the world of Bollywood. We bet you wouldn't want to miss this. Read on for details... Sordid tale of unrequited love. Was he at her house even last month?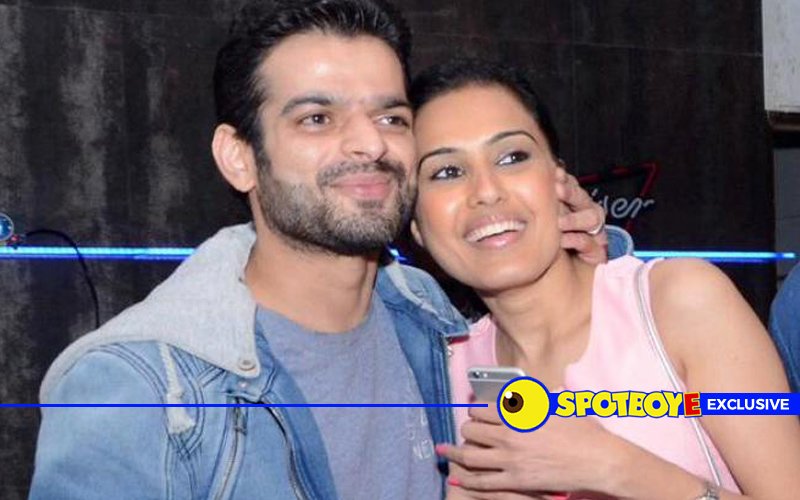 A lot of eyebrows were raised when Kamya Punjabi recently said that she still loves Karan Patel but wouldn't want him back in her life. Going to the other side, Karan says 'We are not the best of friends'. What's the full story? The parting was ugly, but how did the animosity set in and how did it escalate?

Just a small query, and if one talks to the right person in the glamour world, you often get a can of worms.

A common friend of Karan and Kamya (on condition of anonymity) sat down with SpotboyE and spilled all the details, err, the dirty details. Said the friend, "Thank God Kamya doesn't want him back. Karan gave her a lot of pain. She has barely recovered."



Image Source: india-forums

Two-timing
It all began at the Box Cricket League last year when Kamya discovered that Karan was two-timing her with Pratyusha Banerjee.

A common friend of Kamya and Karan brought this to her notice and Kamya almost dropped dead hearing about it. She looked at Pratyusha and said: WTF! Karan is dating me, darling.

And then? Kamya confronted Karan, who warded it off with the usual lies that a man tells his wife/girlfriend when he is accused of cheating. Kamya even had a word with Pratyusha, who eventually left Karan only to jump from the frying pan into the fire (Rahul Raj Singh).



Image Source: docbao

But their relationship had undergone a sea change after Pratyusha. While Kamya was still giving him another chance, Karan was never the same again. His 'loyalty' had been exposed, and surprisingly he didn't care.

The friend dropped a bomb, "Karan tried to hit on me too. Naturally, I told Kamya," and then added, "Believe it or not, there were nights when we didn't know where he was, who was he with..."

Obscene pictures
And then suddenly one day, Kamya found some wild, dirty pics on Karan's phone. She made a few investigations and when confronted about the same, Karan had a big fight with her.



Image Source: indiawest

There were days when Karan even raised his hand on her, not to forget the volley of abuses he had started hurling at her. He started telling her: Ya toh tum mere sharan mein raho, ya phir charan mein raho.

Added the friend, "Worse still, he used to be cruel to her at nights and profusely apologetic in the mornings."

Alcohol
Fights had become more frequent between the two. When one of their arguments got out of hand one day, Karan sent her a video where he was drinking and saying: Ab tu dekh main kya karta hoon.

Not even in her wildest dream did Kamya think that Karan would take any drastic step, but the next thing she knew and mind you, in just three days was that, Karan announced in newspapers that he was marrying Ankita Bhargava, daughter of Abhay Bhargava who played his father-in-law in Yeh Hai Mohabbatein! When Kamya wanted to know why Ankita, Karan told her: You asked for it!



Image Source: idiva

And how did that man (Abhay) agree so quickly when he knew that Karan was in a torrid affair with Kamya? Revealed the friend, "Believe it or not, Aly Goni whom Kamya calls as her brother, stabbed her in the back, which only added salt to her wound. Aly played Cupid between Karan and Ankita! And whenever he used to meet Kamya, he used to give her a shoulder to cry on."

Karan tied the knot with Ankita on May 3, 2015 while Kamya was left nursing a broken heart.

Depression
Kamya went into a depression of sorts. "Friends rallied around her, else she might have needed a shrink," said the friend.

Last heard, Karan had gone over to Kamya's house even last month. The friend continued, "Kamya was chilling with her set of friends when Karan suddenly landed up. And he behaved as if he had not wronged her."

Why does she entertain him after he treated her so badly, we asked? "Simple. It's a tale of not just unrequited love, but also undying love," said the friend, and quickly added, "She still loves him because she loved him truly, unlike Karan. In fact, she has never loved anybody so deeply as Karan. She was imagining her entire life with Karan. She took care of even his work. Leave aside work, she was looking after his hairstyle and makeup too. And then suddenly, one day, it was all over."


Thumbnail Image Source: lockerdome