END OF ROAST On Krushna Abhishek's Comedy Nights Bachao, Thank You John Abraham
Govinda's nephew Krushna Abhishek has himself been 'roasted'. A call has been taken that there will be 'No Roast' hereafter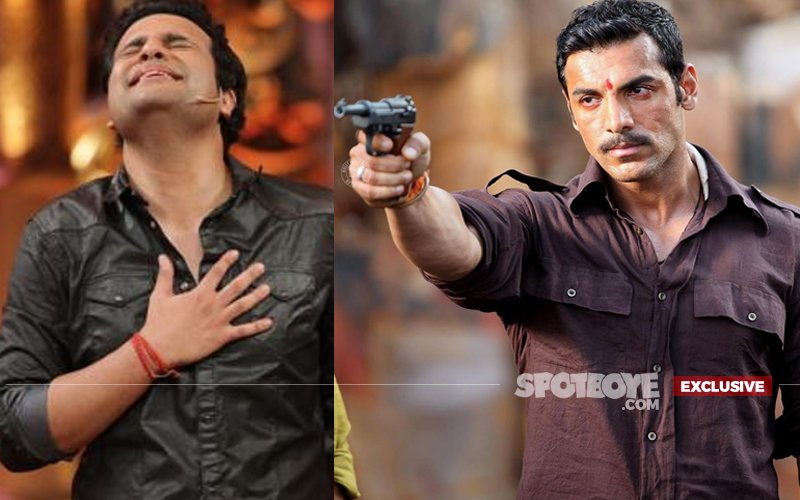 Two months ago, Tannishtha Chatterjee blasted Comedy Nights Bachao for making fun of her skin colour. Jacqueline Fernandez, Varun Dhawan, Hrithik Roshan and Akshay Kumar have reportedly refused to promote their films on the show, expressing extreme displeasure over the jokes cracked by Krushna and his gang. It needed a John Abraham to make Colors (broadcasters) and Optimystix (producers) of Comedy Nights Bachao understand that Roast ab aur nahin chalega.
Earlier this week, John stormed out of the set when Krushna criticised his acting skills and some of his previous films. Aur khalbali mach gayi, and it only snowballed this morning when the incident made headlines.
BREAKING NEWS :So this evening, the WhatsApp group of Comedy Nights Bachao writers got a message from their seniors which read on the lines of: 'Enough is Enough. Stop Writing Scripts Which Roast A Celebrity'.
What?!
Yes, so read on and like always, we give you a 360 degree story.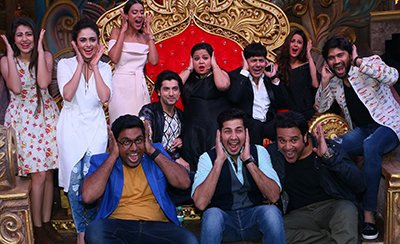 Image Source: Colors

A source who works on Comedy Nights Bachao leaked this information exclusively to SpotboyE, this evening. "We had no intentions of hurting John, but the situation really got out of hand. Four writers pen this show, and this is the doing of one writer I really don't want to name. I wouldn't blame Colors for allowing such stuff to go on screen, but it is our Creative Head-director Nikul Desai who looks into every aspect and makes changes. This time, he did not change the lines which hurt John".
There is no denying that Krushna Abhishek's show has gone overboard in its so-called humour and hit many celebrities below the belt- and the decision taken was in the coming anyway either sooner or later.
When contacted, Nikul Desai who directs Comedy Nights Bachao however chose not to divulge the conversation which had happened on his company's WhatsApp Group. "We have still not decided anything since we have a bank of episodes which have yet to be telecast (What bank! SpotboyE.com has it that they have ONLY TWO such episodes). So, I cannot make any such official announcement.
Moreover, we write this show based on the actor involved; we take his ability to take jokes into consideration. Let me tell you that last timeout, John had told us that he wants to be 'roasted more' which is why this time..." and he trailed off, and then quickly came back to say, "Maybe it was a case of mood swings and John was in a bad mood."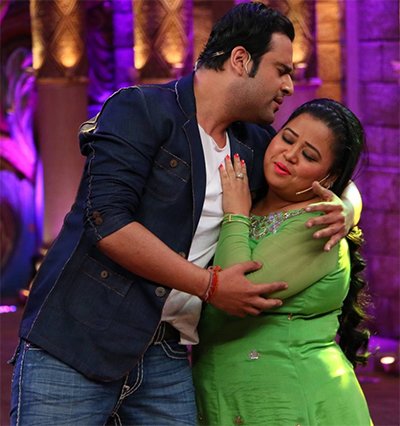 Image Source: Colors

One of the leading writers of The Kapil Sharma Show (arch-rival of Krushna's show) Vankush says, "Krushna is a very talented man who seems to have got a bit carried away. Krushna must have read his contract with the channel very closely, so why doesn't he scan the script?
We at The Kapil Sharma Show take utmost precautions that we don't get personal with celebrities. And I fail to understand this fetish of getting personal with anybody. Like a host calls someone kala/mota, is there any talent that he is exhibiting in that? No, he is only being rude. And pray, why should he be on television for that?"
Importantly, I think that the host should put his foot down if he has been asked to say lines which cross the line of decency.
It's not that we don't joke. But it is important of how you say rather than what you say. Let me give you a classic example. I remember Kapil going 10 steps backward and asking Sunny Deol: "It is the choreographers who are in charge of dances of other actors, but is it the action directors who take charge when you shake a leg?" Sunny burst out laughing. Should we have told him that he doesn't dance too well? Definitely not. We have no right to insult guests.
I have worked with Krushna on Comedy Circus for 3 years. He tends to apologise and then goes back to repeat the same mistake. I wonder why."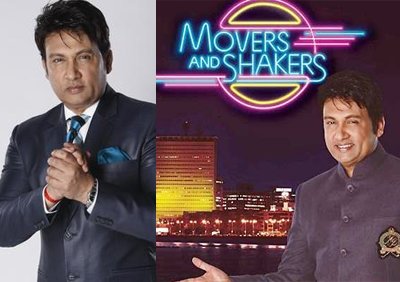 Image Source: twitter/ShekharDobaara

Senior actor, Shekhar Suman, who was phenomenal with his Movers & Shakers tells SpotboyE.com, "I wouldn't blame the host per se because he is not a famous star and he's simply trying to earn a living, but yes after a few episodes he must certainly have the sense of understanding of what is right and wrong.
Parched actress Tannishtha says, "I think it's the quest of serving to the lowest common denominator which is responsible for this crass. Now, that is a very stand-o-fish elitist attitude of trying to say that 'I am at least one class above you'. Around Shanti Niketan, auto-drivers explain the essence of Tagore's poems. I am simply trying to emphasise that you create the culture around you."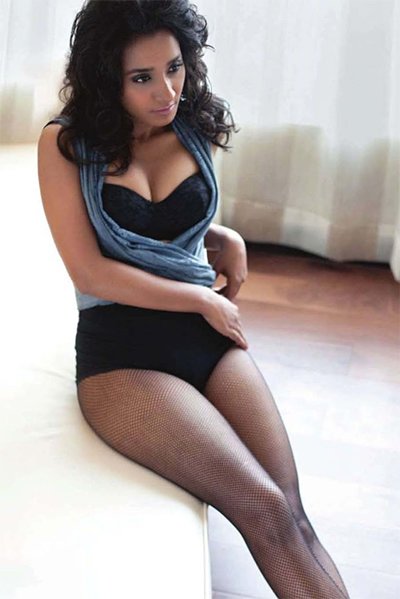 Image Source: magxone

Adds Suman, "As comedians, Krushna Abhishek & Co certainly have a responsibility. But Krushna and Bharti are doing Bachao because they don't have other options. If they had 10 better options, would they have been on this platform? I would blame the actors more, who land up at such shows. Why are they so surprised when they're insulted? Nobody has sprung on them from nowhere, they have not been conned; in fact they have been paid to come on the show and they are desperate for publicity. You don't go there and you won't get insulted. It's as simple as that. I have been invited for Bachao 100 times and likewise for Bigg Boss- but why would I enter a show full of sadism? Why shouldn't I chose a respectable platform to publicise my product?"
Extremely disturbed at the crass which Bachao is dishing out, Suman chips in again, "And what culture are we creating in the comedy shows of today? Today's kids say things like 'teri le li', 'teri phat gayi', 'choos liya'. That's because more than in films, they see such stuff blaring in their drawing rooms at the dinner hour.
So who does Suman blame? Is it just the actors who land up to campaign for their films which are round the corner (John landed up for Force 2)? "Firstly, I would blame the channel which broadcasts such crass. The landlord decides who will stay in his building- criminals or civilized citizens."
But think of it Suman, Colors has worked with Team Kapil Sharma too? They didn't force any dirty jokes into their scripts did they? Replied Suman, "I have a problem with Kapil's show too, why do men dress up as women? But no doubt, the show has a very sweet feel and flavour and does not harp on obscenity per se. After AIB in particular, comedy has fallen into gutter. Saying that 'we should learn to laugh at ourselves' is a sad way of getting away with sh**.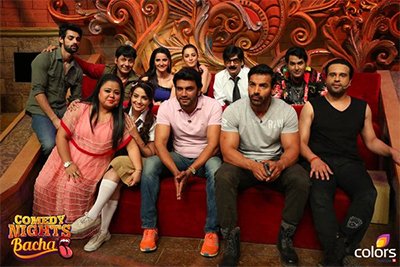 Image Source: Colors

Coming back to your question that Colors aired Kapil's show not too long ago, I would extend the blame on the Bachao producers too. Producing humour of 'banana jokes', 'daal diya', 'teri le li aage se peche se upar se neche se' is not something to be proud of, even if you are getting numbers (Sadly, Colors is failing to get numbers despite the crass humour in Bachao). If I pull down my pants and start abusing and doing obscene gestures, people will laugh. But is that what a channel/producer should perpetuate? Does it make sense to say tu kaala hai, tera mooh suar jaisa hai? How can you make fun of someone's lineage, background and skin tone? What clean comedy we had during the days of Dekh Bhai Dekh, Office Office and Yeh Jo Hai Zindagi? Let Americans do what they want. Do we use the F-word in our conversations with parents? There is clearly a paucity of good content on Indian television today- and that's that."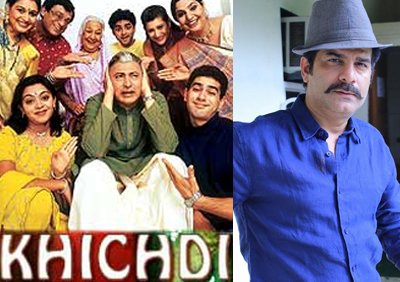 Image Source: facebook/JdMajethia

Senior producer J D Majethia (Khichdi, Sarabhai Vs Sarabhai) says that he has a solution. Out with it, sir. Says Majethia, "Stars should demand for contracts to be signed which state that they will have a say in the Final Edit. They jokes should be retained if and only if the stars have no objections to it."
But will a channel agree to sign such contracts? "Why not? Don't channels need stars to get higher TRPs in their fold?" Majethia shoots back.
Hmmm...
For now- let's see if Colors, Optimystix, Krushna Abhishek & Co stay true to their decision of staying away from 'Roast' and set their house in order. Or was that text message on the WhatsApp group of Bachao just a knee-jerk reaction for just some time?
Thumbnail Image Source: Colors and hdimages